Visiting France with Brittany Ferries
Last year we travelled to
Spain
with
Brittany Ferries
and you may recall it was
a rather eventful experience
 to say the least! This time we were looking to a somewhat more leisurely build-up to our crossing to France. Travelling out of Plymouth, we broke our journey up with
a very relaxing stay at Whatley Manor
in Malmesbury, which was very enjoyable. We opted for the Plymouth-Roscoff crossing for two reasons. Firstly, we prefer to do more of the driving in the
UK
, and a little less in France, where the roads are more familiar to us, and we feel better equipped should we break down or have a problem of some kind – all the more so when we are towing a boat trailer as was the case again on this trip (where our sons were competing in a sailing event).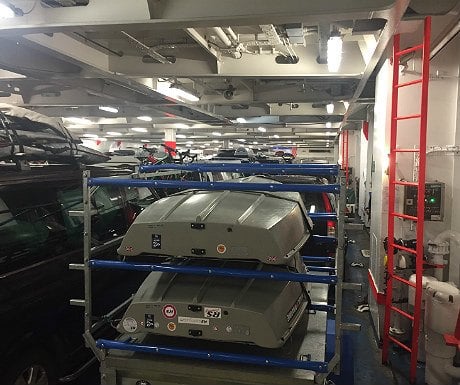 Secondly, we like overnight crossings. There's something special and exciting about travelling by ferry as a family – the excitement of boarding the ferry itself, settling down in your cabin, and then waking up at your destination the next morning, breaking up the next morning's onward journey with a stop for pain au chocolat at a French café (surprisingly, we found very little open for the first hour of our journey in France, and couldn't help but think that this was something of a missed opportunity for some local with sufficient entrepreneurial spirit to take advantage of a ferry-load of passengers each morning!). We were heading for Carnac which only takes about 2.5 hours from Roscoff so is very accessible, although we probably took more like 3-4 hours because we had a stop along the way and there was a detour due to some roadworks.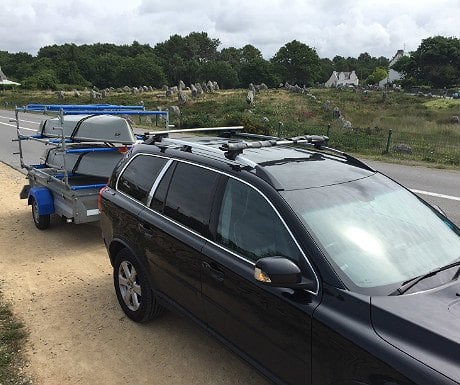 Our outbound crossing was an overnight one on the Pont-Aven ferry and we were able to watch the sun set over Plymouth as we set sail.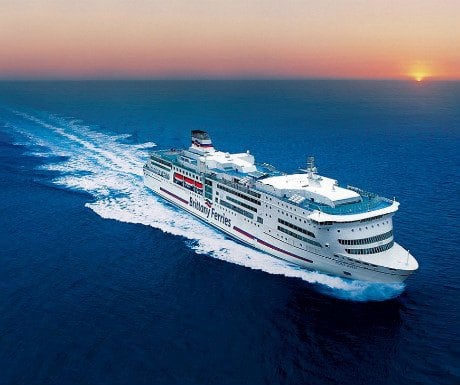 We have been on the Pont-Aven many times, and it is the boat we documented last time around, and – because it was late and we just needed to find our cabin and get a good night's sleep, I didn't take many photographs. It is, though, a superbly-equipped ferry, capable of carrying 2,400 passengers and 650 cars, complete with its own swimming pool (which I assume was closed given the time of this particular crossing), a choice of restaurants, cinema, shop and even a spa treatment room. It is Brittany Ferries' flagship ferry – and with good reason. You can also learn more about the Pont-Aven ferry by watching the following video: The photos you see from here onwards are in fact from Armorique, the boat we returned to Plymouth on with a daytime crossing, which was specifically designed and built with the Roscoff-Plymouth route in mind. There's a choice of 247 cabins – all of which are en suite and air-conditioned – plus a number of reserved lounge seats spread out through the ship. There are also a number of cabins adapted for disabled passengers.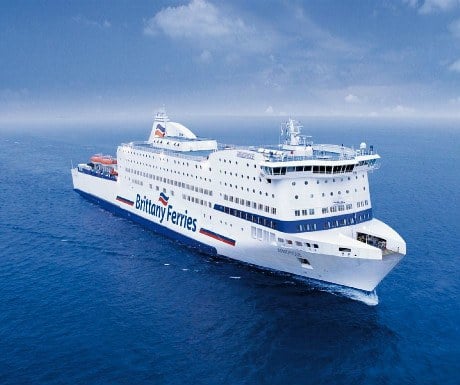 If you wander about on the deck outside, you'll find a couple of display boards that are well worth reading, and give you an insight into the vessel that you might not be aware of. In addition to the ferry's top class facilities which I'll run through shortly, Armorique is also a research vessel. Towed from the ship – at a depth of around 7 metres – is a Continuous Plankton Recorder, a scientific instrument that collects plankton from our oceans. By analysing plankton, scientists can get an insight into ocean acidification which is a consequence of increasing atmospheric carbon dioxide associated with global warming.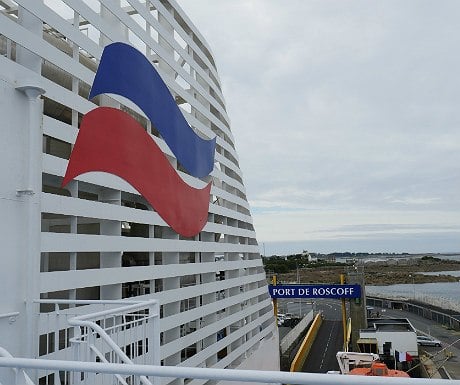 Armorique can carry as many as 470 cars (and 1,500 passengers)… and they certainly pack them in, so much so that some cars end up on a higher deck facing the opposite direction to the way they'd boarded. It is quite an art seeing how they manage to get everyone on board. Oh, and don't worry if you're one of the last to board – it can sometimes mean you're one of the first to get off. It's really just a bit of a lottery, and if I had a choice I'd sooner be one of the last to board and first to get off at the other end, that's for sure.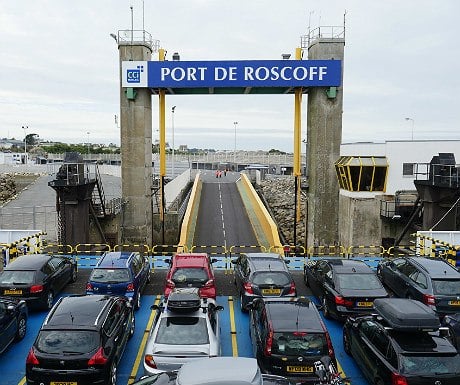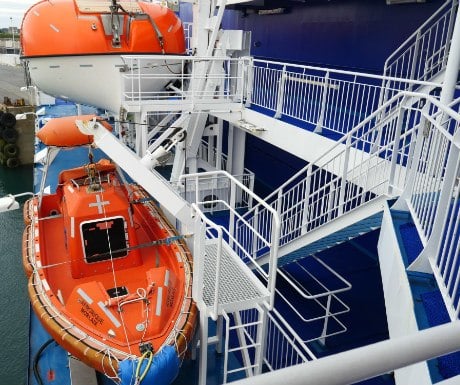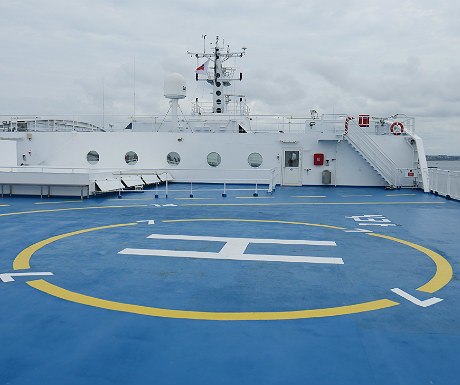 Since it was a daytime crossing for a return, a cabin was not essential for us but nevertheless it is handy to have a fixed base – somewhere you can leave a couple of bags if you wish, a place where you can freshen up a little with a shower and somewhere we could have a lie down and get a little rest, knowing that we'd be driving quite late at night later on.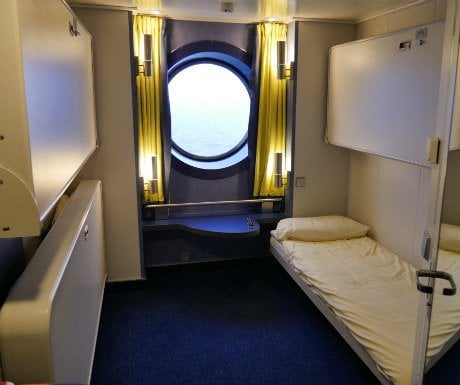 We had a four-berth outside cabin with a TV, coffee making and en suite facilities. The beds are very easy to put up and down, depending on your preferred configuration.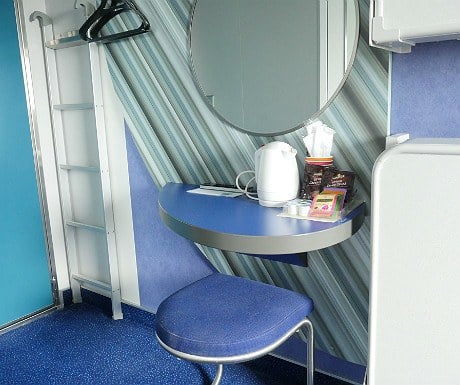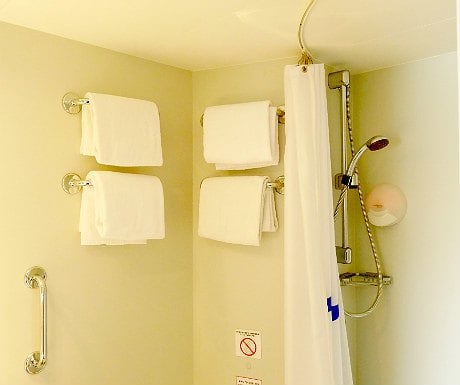 On board Armorique you'll find plenty of facilities to keep you occupied during your crossing. As well as cinemas, games rooms and shops, you'll find a self-service restaurant, situated towards the front of the ship on deck 7.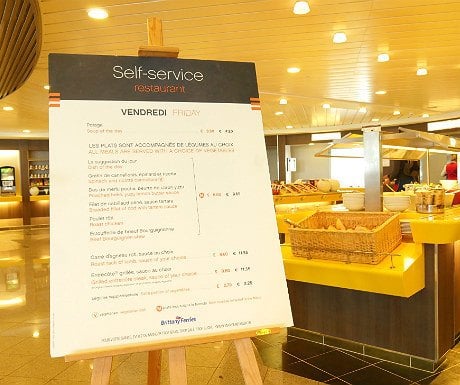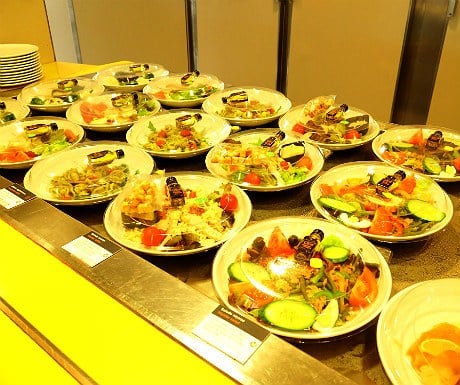 Cooked options included spinach and ricotta cannelloni, poached hake with yuzu lemon butter sauce and beef bourguignon.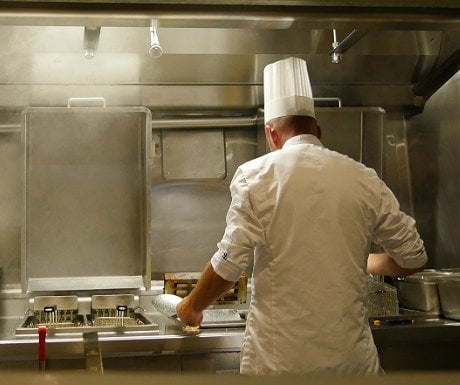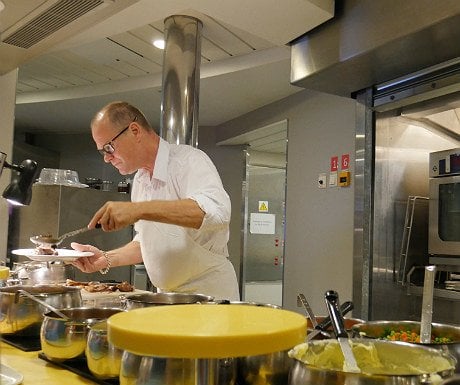 On the deck below, there's also a café and bar where you can order slice of pizza, so no shortage of options, but not the fine dining facility that you'll find on Pont-Aven so, if that's important to you, you'll want to check which vessel you're on when you book. The on-board shop also offers a selection of gifts and souvenirs, plus a range of spirits, wine, tobacco, perfumes and more.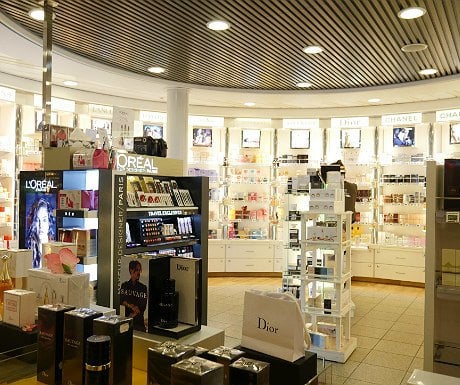 For more of an insight into Armorique, please see the following video: As for our trip being an uneventful one this time around, that ended up being not entirely true. On the penultimate day of our stay, our younger son slipped and hurt his ankle, resulting in a trip to A&E that put our ability to speak to French to the ultimate test! Following an X-ray and consultation, we were informed that they didn't think it was broken but that it wasn't so easy to tell with young children and that we should get it checked back home once the swelling had gone down.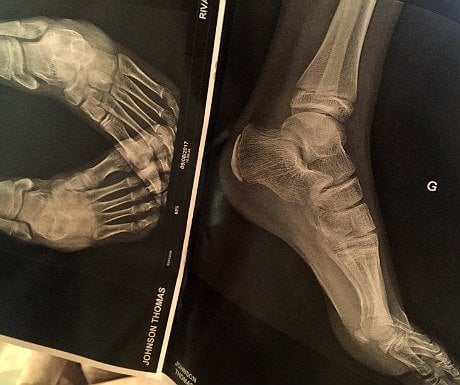 It was then a case of catching the pharmacy before it closed for some pain relief and a pair of crutches – the prescription we were given said the crutches were for hire but, on enquiring how much they were to purchase, it was a no-brainer at a little over 20 euros – otherwise we'd have been returning them the next day and then travelling home without any means of him being easily able to get about. Even getting from our car to our cabin was a struggle with the crutches but thankfully Brittany Ferries were able to come to our aid and loan us a wheelchair in exchange for my driving license (a sensible way of ensuring that the wheelchair was returned!).   I have to say this was extremely helpful since he was still in a lot of pain from the incident and unable to weight bear at all. Thankfully also there are lifts to allow you to easily get from one deck to another.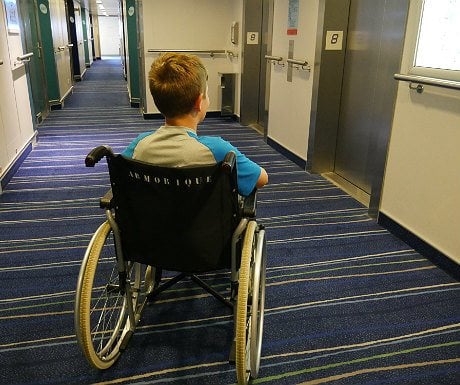 Hopefully next time we travel with Brittany Ferries, it'll be third time lucky and our build-up to each journey will be incident-free!
Disclosure: Our trip was sponsored by Brittany Ferries and Brittany Tourism.
Did you enjoy this article?
Receive similar content direct to your inbox.