By
Jennika Argent
on Jan 02, 2018 in
Attractions
,
Events
,
Food and Drink
,
Going Out
,
Leisure Travel
,
Mexico
,
North America
,
Regions
,
Speciality Travel
,
Travel Miscellany
The view from the window of the new Dreamliner showed a thick green carpet below as we landed into Cancun airport. Quite surprising, since my perception of Mexico had been one of deserts and cacti, probably obtained from watching too many westerns. The Yucatan Peninsula is an altogether different place, full of lush vegetation, with leaves as big as umbrellas. Recent scientific discoveries even suggest we might have this part of the world to thank for our very existence. The 15km wide asteroid which hit the earth here over 60 million years ago, would not have been so successful in wiping out the dinosaurs had it landed elsewhere, due to the nature of the limestone rock which vaporised into the atmosphere, blocking out sunlight, resulting in starvation and extinction. This not only played an important part in human history, but helped shape the area into the unique landscape that it is today.
1. Cenotes
Once used by the Maya for collecting fresh water, there are literally thousands of cenotes to explore. These underground sinkholes, connected by miles of submerged caves and caverns, are spookily decorated with the pointed teeth of stalactites and stalagmites. Many can be found along the rim of the crater caused by the asteroid, where the land collapsed to expose groundwater. These cave systems are home to bats, iguanas, fish and the occasional turtle, and can be explored on foot or by swimming, snorkelling or diving. Cenotes are an excellent way to cool down when the temperature rises, as the water is cool, fresh and clear.
Diving in the underground caves and caverns is an exhilarating, but chilly experience. The water gets colder and darker as you descend, lighting the depths with just a torch as the dancing rays of sunshine disappear from the opening. Sometimes, a 'halocline' can be experienced; this is an area where sea water and fresh water come together, the difference in salinity and temperature make for blurry patches of water. If you look up while swimming through the dark tunnels, you can often see pockets of air trapped between the water and the ceiling, which smoothly reflect the rock formations below into stunning symmetry. Another phenomenon which can be experienced here is 'Snell's window'; as you return to the entrance of the cenote, it's possible to see a completely clear view of what's above the water, by looking through the circular cone of refracted light coming in at about 96 degrees, a bit like looking through a fisheye lens. TIP: wearing two wetsuits will help keep you warm, although a dry suit is even better. Also stick to the guide-line, if you stray from this, its easy to get lost, never to return!
2. Diving and snorkelling
The Mesoamerican Barrier Reef system runs all the way from Isla Mujeres down past Belize. The reef is formed of a mixture of hard and soft corals. Depending on what time of year you visit, there is the opportunity to swim with the biggest fish in the sea, the mighty Whale Shark! The season runs from May through September, but don't let that time frame limit you, as there is so much else to see. Akumal is home to an abundance of beautiful green sea turtles all year round, which can be seen just off the beach. They are often accompanied by Remoras (also known as sucker fish) hitching a ride, and can be observed grazing on pastures of soft sea grass. Or surround yourself with starfish at 'El Cielo' beach on Cozumel Island, the name translates as 'sky' or 'heaven' and is perfect for snorkelling. For art fans, Isla Mujeres not only has some of the best craft shops and street art, but also has an underwater art museum in the form of over 500 human figure sculptures, which also act as a place for coral to attach and grow, thereby regenerating the reef.
3. Mayan ruins
The ancient Mayan ruins are very popular tourist destinations, and righty so. This is an area rich in cultural history, which is best explored alongside a passionate and knowledgeable guide. Our guide, Jorge from Ecotours Merida, really brought to life the stories behind the impressive stone structures. Chichen Itza is the most famous site, with its pyramid calendar, ball court and well preserved stone carvings and columns, and even its very own sacrificial cenote! I asked our guide what he thought of the film Apocalypto and he confirmed that unfortunately there was a lot of misrepresentation and also confusion between the Mayan and Aztec cultures. The ruins at Tulum are completely different, and reflect a more relaxed attitude to life along the abundant coastline, as well as being home to small troops of Quati's; medium sized, playful rodents, a little larger than squirrels. The less well known ruins such as Uxmal, are just as magnificent, but are much less visited. If you like to get up close and climb the structures, Coba is one of the only ruins where this is possible, as climbing the steep steps is gradually being restricted due to recent fatalities. TIP: take an umbrella, it won't rain, but it will stop you getting heatstroke!
4. Day of the Dead
The best time to visit a place is when the locals are celebrating. It may seem strange to celebrate death, but this is a time when the lives of loved ones are remembered and honoured by holding vigils and creating altars which reflect the life of the deceased. The festival was originally held early in the summer, but the date was changed after Spanish colonisation and now coincides with Halloween around 31st Oct – 2 November. Each city has its own way of celebrating. In Merida, there were jovial theatrical performances, which had the crowd laughing and crying at the same time. A traditional dance, called La Vaqueria Yucateca, a fusion of Spanish music and Mayan songs, begins with a Shamanic blessing, before skull-faced couples take to the stage, dancing in traditional white dresses embroidered with flowers. In Cancun however, the Cena de Muertos (Dinner of the Dead) held in Parque las Palapas, involves a drag queen competition, modern dance performance and a fair ground style celebration, where traditional foods are on offer. If you feel like blending in, face painters will decorate your face with a glittery skull in the style of Las Catrinas. A 'Catrina' is the opulently dressed skeleton woman, created by Mexican cartoonist, J.G. Posada in the early 1900s, as a satirical response to native Mexicans who were trying to emulate the aristocratic European style of dressing, instead of proudly wearing their traditional clothing.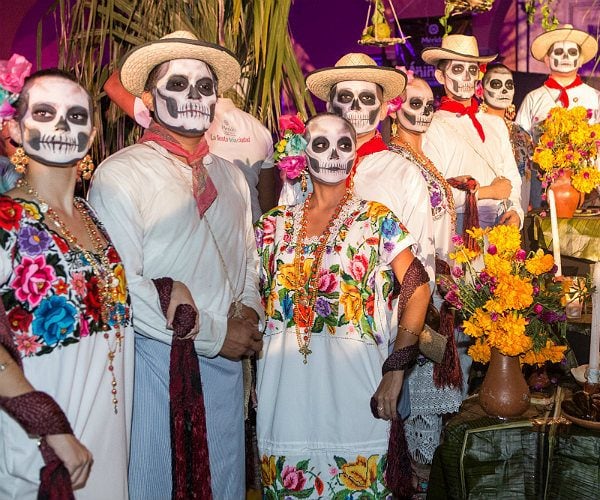 5. Yucatan cuisine
Most of us will be familiar with Tacos, Fajitas and Burritos, but there are so many more fabulous dishes to try in the Yucatan area. Coinciding with the Day of the Dead celebration, there is the Pib Fair, held in San Sebastian, Merida. Pib, shortened from Mucbipollo, is a dish consisting of chicken and pork enfolded in corndough and wrapped in banana leaves, which is then cooked in a prehispanic underground oven. My favourite two drinks to accompany this dish, would be either a cool, sweet Horchata (tiger nut milk) or a healthy green Chaya juice. Chaya is an iron-rich green leaf, a bit like a cross between a chard and seaweed. Top of my list however, is the citrusy, juicy, fresh Ceviche dish, which can be made from prawn, octopus and white fish such as grouper. The fish is marinaded in lemon juice, onion and coriander until its translucency disappears and it is effectively cooked. Then avocado, tomato and red onion are mixed in. Take note, this should only be done with the freshest of fish! If you have a sweet tooth, try a Pan de Muerto (Bread of the Dead) which is a festive sweet roll made around the time of the celebrations. It's like a cross between a donut and a fluffy brioche.
6. Tequila or Mezcal?
Tequila is a type of Mezcal, but not all Mezcals are Tequila… make sense? Basically, Tequila is made with only the Blue Agave plant, and is generally cooked and processed in big industrial ovens. Mezcals are made with up to 30 types of Agave plant and are generally cooked in a more traditional hand-made way in underground pits. The plant is smoked and caramelised, which gives it a slightly sweeter and smokier taste. Mezcal is generally not used in cocktails, and is served neat, with a spicy, red, salt rim and a wedge of orange. Whereas, tequila, can be mixed into a Margarita, which incidentally won THE most popular cocktail in the USA for the second year in a row in 2017. In Tulum, there is a great Tequilleria called Viva Zapata Tequileria. If you haven't heard of Emiliano Zapata, he is the Mexican equivalent to Che Guavara, who formed the Liberation Army, leading Mexican peasants in the Revolution of 1910. Tulum also specialises in gorgeously colourful hand-made glass, which can be found in most of the restaurants around town and makes a great gift to take home.