By
Matt Holmes
on Mar 28, 2018 in
Adventure Travel
,
Africa
,
Asia
,
Bhutan
,
Cruises & Boat Travel
,
Europe
,
Food and Drink
,
France
,
Iceland
,
Indonesia
,
Leisure Travel
,
Regions
,
Speciality Travel
,
Travel Miscellany
,
Western Europe
Travel is more than just checking off a bucket list or standing in front of famous sites. It's about interacting with other cultures, learning about diverse ways of life and beliefs, and having opportunities you can't get many other places. If not for those things, why would you ever leave your house? But there are certain experiences that are truly transformative and life-changing—experiences that create memories that last a lifetime and may even change how you view the world. For those who want to travel more deeply and authentically, and have a souvenir that's more than just a knick-knack, consider the following experiences.
Tea and conversation with Bhutanese monks
A Buddhist college clings to a steep, tall hillside at the end of a remote, winding road. It may seem like an unwelcoming place given the challenge of getting there, but visitors are greeted warmly by red-robed youth kicking around a soccer ball. The complex of temples, living quarters, and a library has an enviable view of the valley and mountains beyond, especially during sunrise, confirms the principal of the school. By special arrangement through a well-connected tour company, travelers in Bhutan can sit and chat with a few teenage monks who are bashfully eager to practice their English. The differences in cultural values are quickly apparent in the questions they ask and the information they choose to share about their lives and family. A developing nation, Bhutan has progressed rapidly in their luxury tourism with five-star international hotel brands and world-class guides, but uncontrived and utterly authentic experiences like this can certainly be found.
Silently observing wildlife on foot
With African safaris, you really get what you pay for. If you reserve the cheapest you can find, you will likely end up in a crowded vehicle with ten or even twenty other vehicles surrounding the same animal. It doesn't feel very wild. On the other hand, the smaller, boutique lodges and permanent camps situated deep in the heart of the bush ensure you get the wildest, most exclusive experiences possible. It's one thing to observe animals from the elevated view of a vehicle, it's quite another to watch them at eye level, your feet sharing the same ground. Not everyone can enjoy tracking on foot; it's only possibly with specially-trained guides in certain private reserves, but it's worth every penny for a safari experience that's more than just watching animals — you're a part of their habitat.
Completing one of the world's most epic hiking routes
The Tour du Mont Blanc is one of the world's most epic hiking routes for good reason—countless breathtaking vistas, incredible cuisine full of Alpine cheeses and Rhone Valley wines, the chance to cross international borders without taking out a passport, and charming inns in which to relax. While many thru hikers stay in the dormitory-style mountain huts, transferring into the villages for private en-suite rooms and 3-course meals is a welcome luxury after a full day on the trail. The greatest moment, however, is cresting the final hill on the last day when the entire Mont Blanc massif comes into view. What a feeling of accomplishment!
Witnessing natural phenomena
Nature's night lights—the Northern Lights—are ephemeral and often play hard to get. Even in places like Iceland with high-end hotels that offer unique viewing opportunities from outdoor hot tubs to viewing lounges with floor-to- ceiling windows to warm blankets and hot chocolate, they are never guaranteed to show up. Dinner is always filled with anticipation as guides check the aurora forecast. When it's finally time, everyone gathers outside or by the windows to wait until someone spots the first faint glow. It builds slowly until ribbons of color fill the sky—blues, greens, purples, and pinks. The show might last a few minutes or more than an hour. Some nights, the lights are more vibrant or active than others, it's mother nature, of course, and she is nothing if not unpredictable.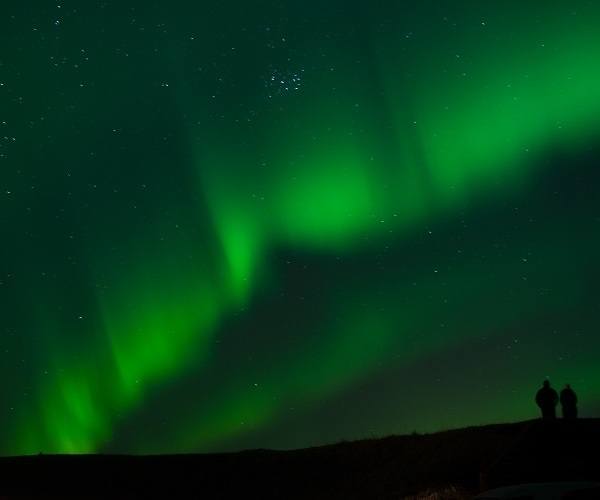 A yacht-based snorkeling expedition
At a time when many healthy coral reef systems are dwindling worldwide and remote destinations are becoming increasingly accessible, Indonesia's Raja Ampat Islands are still relatively unknown. At first glance, the lush jungles, white sand, and turquoise waters collide in an otherworldly paradise, but the true wealth of this region lies under the surface where an abundance of life thrives in these warm waters, including more than 1,300 species of fish, five species of rare and endangered sea turtles, and over 600 coral species. And what better place to base an expedition than a luxurious yacht with the flexibility to speed to the snorkeling sites where guides know the very best habitats to explore, a comfortable setting to relax at days' end, and a skilled chef creating flavorful meals.
Matt Holmes is the Founder & President of Boundless Journeys. Boundless Journeys is an award-winning tour operator that goes off the beaten path for immersive and authentic travel experiences.
If you would like to be a guest blogger on A Luxury Travel Blog in order to raise your profile, please contact us.