By
Paul Johnson
on May 16, 2018 in
Attractions
,
Eastern Europe
,
Europe
,
Featured
,
Food and Drink
,
Going Out
,
Leisure Travel
,
Regions
,
Restaurants
,
Russia
,
Speciality Travel
,
Travel Miscellany
During my recent trip to Moscow with 'Moscow Seasons' (see posts here and here), I called at TSUM (ЦУМ), Moscow's most fashionable department store. Located in the Tverskoy District just next to The Bolshoi Theatre, TSUM is managed by the Mercury Group – Russia's largest luxury goods distributor, with more than 20-years' experience in fashion retail.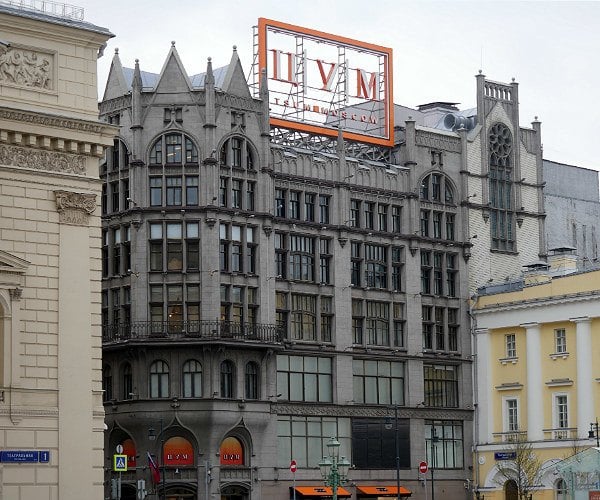 The store has more than 110 years of history to its name and a well-deserved reputation as one the Moscow's architectural and historic landmarks. It was in fact Russia's first department store, founded by merchants Andrew Muir and Archibald Mirrielees. After moving from St. Petersburg to Moscow, they bought a building on the Teatralnaya Ploshad, and hired the famous Russian architect R.I. Klein to undertake the new project – the same architect who is behind the Pushkin State Museum of Fine Arts.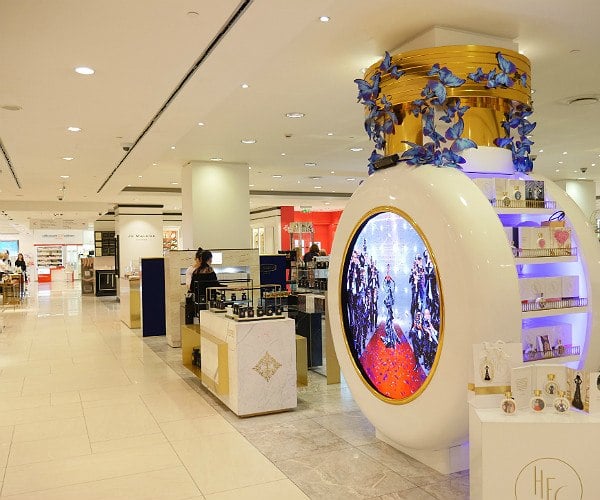 Then known as 'Muir & Mirrielees', it was the first store to house a perfumery department, even ahead of Selfridges. It later become known as TSUM (Central Department Store) during the Soviet period.
The department store covers an area of 70,000 square metres and offers a welcoming environment to global travellers and international shoppers. In fact, TSUM has made a concerted effort to appeal to foreign tourists by offering in-store navigation in both English and Chinese.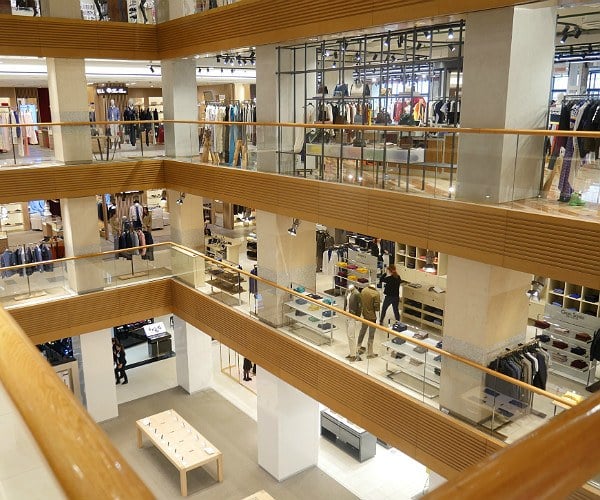 Today TSUM offers ready-to-wear clothing, shoes and accessories from collections of the world's leading fashion brands including Dolce & Gabbana, Valentino, Céline, Ralph Lauren, Kiton, Brioni, Ermenegildo Zegna, Tom Ford, Lanvin, Alexander McQueen, Louis Vuitton, Prada, Chanel, Fendi etc.; jewellery and watches by Rolex, Patek Philippe, Hublot, Chopard, Garrard, Graff, Mikimoto etc.; porcelain and homeware by Baccarat, Christofle, Lalique, Daum, as well as perfumery and cosmetics of the leading brands.
The ground floor also hosts an Apple Shop – a unique retail concept offering Apple goods together with exclusive master classes and individual consultations from Apple experts.
Another big draw for travellers is that this year TSUM began offering customers tax free shopping through new legislation which allows visitors from outside the Eurasian Economic Union to reclaim VAT on purchases of over 10,000 roubles on a wide variety of goods.
If you visit, make sure you venture up to the uppermost floors where you will find a lovely little restaurant.
The restaurant offers you the opportunity to take a break from your shopping. The floor is made from French rail boards bought at auction that were used in trains during the 1960s.
Inside you can enjoy anything from oysters to borsch in a tourist-friendly environment. If you're someone who likes to shop when they travel – as well as enjoy good food and some Russian classics – then TSUM should be on your checklist when you're next in Moscow.
Disclosure: My trip was sponsored by Moscow Seasons – a series of festivals held throughout the year in Moscow, with the support of the Government of Moscow.