Any of you that are frequent or even semi-frequent visitors to A Luxury Travel Blog will know that, when we are not away travelling, we spend quite a lot of our weekends taking our boys to race sailing events up and down the country, as well as overseas. And if there's one thing that's critical to their performance besides the application of their sailing skills and the fine tuning of their boats, it's their sailing gear. This is why we were delighted to team up with Helly Hansen once again recently and why we're keen to share with you the equipment that they're using.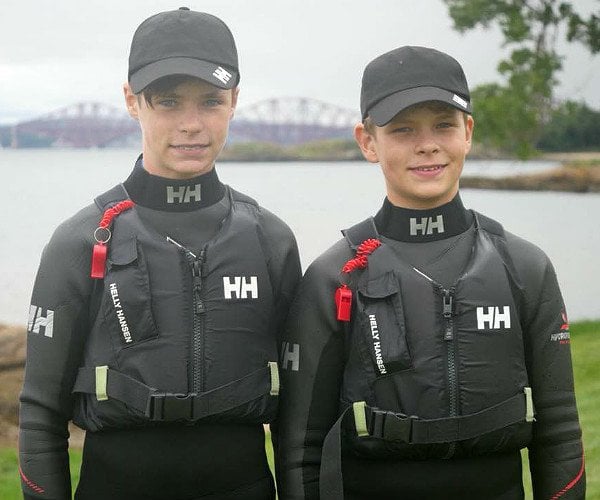 The picture above was taken at the RS Tera Pro Scottish Nationals at the end of August (in which I'm very proud to say that my older son won, and my younger son came fourth!) – it was just before we received the Rider stealth vest that you see below, but the other items you see in the picture (the wetsuits and the caps) are the ones you see described below.
Full length wet suit from Helly Hansen
A critical part of their equipment, particularly when sailing in the cold waters off the UK (and through the winter months), is the wetsuit. The Blackline Full Suit from Helly Hansen is great for colder spring days or when you feel like more protection from the sun and the sea.  It forms part of the new collection of HH neoprene products that deliver great functionality and comfort for watersports in wet conditions. It is made from 3mm high quality stretch neoprene and was developed in conjunction with the Norwegian National Team in sailing.
It has strategically placed wind block areas and flat lock seams for optimum comfort and durability. It even comes with the added benefit of a Velcro-fastened pee-hole (sorry, I can't think of a better way to describe it) which goes down very well with the boys. It's not a feature they've had on previous wetsuits and it saves them the trouble of getting half changed when nature calls.
Wet suit top from Helly Hansen
There are times when the boys are sailing – particularly in the Summer months or in hotter climates overseas – when they don't want to wear a full wet suit, but could still do with some upper body protection from the cold spray off the ocean. This functional neoprene top from Helly Hansen is perfect for those scenarios, providing maximum comfort in wet conditions.
Once again, the main fabric is made from 3mm high quality stretch neoprene and the glide skin cuff and neck seal helps keep the water at bay from any warm underlayers.
Rider stealth life vest from Helly Hansen
Without doubt the most important piece of equipment for any sailor is the buoyancy aid or life jacket. This Rider stealth life vest from Helly Hansen is not too bulky, and the foam within it has been ergonomically cut to provide the sailor with freedom of movement and the ability to still race effectively.
It is a tight fit to the body with elastic neoprene body panels to ensure it remains snug once on. It is worn by pulling it over the head and sliding it down, and has a front pocket and a webbing belt for secure wear. It has also been EN ISO 12402-5 certified.
Long sailing glove from Helly Hansen
There are so many different sailing gloves on the market but the ones our boys always tend to go for are those which have the forefinger and thumb exposed. That way, their hands remain warm but they can still attend to rigging, tie or untie knots, or doing any other fiddly tasks, should they need.
These long sailing gloves from Helly Hansen fit the bill perfectly for this. Not only are they durable, but they also give ample protection for those colder days.
Rider hardwear pant from Helly Hansen
Again for those warmer days, when a full wetsuit isn't required, these innovative graphic Helly Hansen hard wear pants are made from full stretch nylon lycra that offer UPF 50+ protection and provide maximum performance. They have no-chafe Flatlock seams (anyone who sails competitively will tell you how distracting chafing can be!) and come in a three-quarter length with perforated neoprene pads in the seat and knee.
They can be worn next to the skin to provide protection in warmer conditions, or be worn over the wetsuit to give it extra protection and wear. They are nice and stretchy and perfect for giving sailors a small tactical regatta advantage.
To round-off the look, these crew caps from Helly Hansen not only look great but they also provide protection from the sun. They're 100% cotton and have a washed finish. They're adjustable on the back and bear the Helly Hansen branding on the peak at the front. What's more, they're 'one-size-fits-all', so even I'm allowed to wear it (when they're not watching!).
If you have a product you'd like to see featured in the 'Luxury travel treats' series on A Luxury Travel Blog, please contact us.
If you have a luxury travel product that you'd like to see feature in one of our round-ups, please make sure you sign up on this mailing list in order to receive an alert when we are compiling the next one.