By
Judy Johnson
on Nov 24, 2018 in
Accommodation
,
Europe
,
Featured
,
Food and Drink
,
Going Out
,
Hotels
,
Regions
,
Restaurants
,
Travel Miscellany
,
United Kingdom
,
Western Europe
Ludlow has for many decades been the Mecca for foodies in the UK and now it has another. Sitting just outside the town is the elegant Georgian house known as Fishmore Hall. This remarkable building has been lovingly restored and now operates as a 3 star boutique hotel and spa with fine dining. The 15 rooms are modern and very comfortable with all the comforts you would expect from a hotel nowadays. My friend and I did not have time to experience the spa facilities unfortunately on this occasion.
The hotel offers both simpler bistro meals with a modern but traditional menu and the more elaborate eight course dinners in the Fornelles Restaurant which in Summer months enjoys wonderful views of the Shropshire countryside including the Malvern Hills and Clee Hill – both local beauty spots. I was fortunate enough to sample meals in both settings.
The Bistro offered a number of interesting starters and I was tempted with many of them but decided to try the ham hock croquettes and piccalilli salad. The piccalilli was home made and did not overpower the croquettes – my only criticism would be that there was one too many as I quickly became full but could not do anything other than enjoy them all!
The rib eye steak with tomato and field mushroom was cooked on the rare side of the blue that I had ordered but was very tender and flavoursome. The chips were to die for!
My friend could not resist the warm peanut brownie with chocolate sauce and vanilla ice cream and declared it "delicious".
There is much to see and do in the area from National Trust properties to visit, quaint villages in which to appreciate old black and white architecture so typical of the area or bracing walks amongst stunning scenery with beautiful views. We opted to go to Hereford about 30 minutes drive away and spent much time in the Cathedral admiring both its history and the more modern touches which included the new SAS memorial window with its stunning design of stained glass – well worth a visit in its own right. The star point of interest in the Cathedral however is the mediaeval Mappa Mundi and the Chained Library exhibition. One of the books on display was from the 8th Century.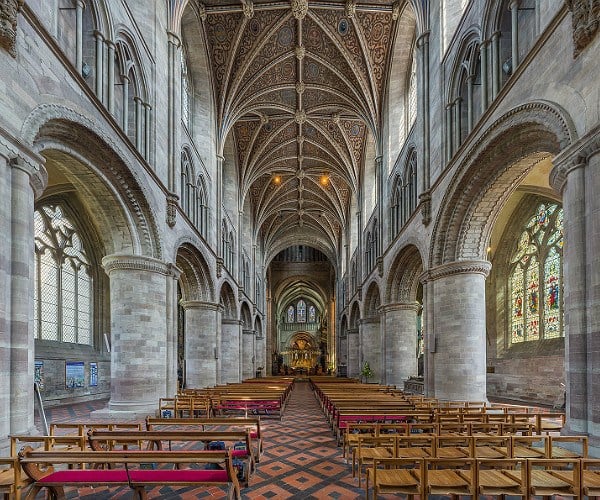 The second evening at Fishmore Hall we dined in the conservatory of Forelles restaurant. There you have the option of choosing to eat from the three course A la Carte menu or the eight course tasting or eight course vegetarian tasting menu. Both the latter can be accompanied suggested wines that are appropriate with each course chosen by the talented Head Chef, Joe Gould. The tasting menus are to be enjoyed by the whole table. Most of the ingredients used in the kitchen are sourced from within a 30 mile radius of the hotel.
Despite being omnivores we opted for the vegetarian tasting menu without the wine offered as their selections. We felt that 7 different wines would be too much for us. However we chose and enjoyed the Chilean Sauvignon Blanc with all the courses.
Before we started the menu we were offered three delightful amuse bouche – beetroot and wasabi tapioca, goats cheese pesto and wild rice in a filo cornet and ratatouille in choux pastry.
Then came a selection of bread and butter – sourdough and onion along with plain butter and Marmite butter and also plain salt and paprika salt which added a definite piquancy.
The first of eight courses was a wild mushroom with blue cheese, pickled walnut, beetroot and pea risotto. The second was a goats cheese brûlée served with red onion, parsley, cider, oats served with a walnut ice cream. It was pretty as a picture.
Next came celeriac with apple, rosemary, pine nut, fennel and celery. For my taste and preference there was too much balance towards the apple.
Following the celeriac came broccoli with pumpkin and blackberry but was in reality pumpkin served in three different styles.
Tomato, mozarella, artichoke, fennel, carrot and pesto followed. Then came red pepper along with spiced aubergine, the increasingly fashionable quinoa, this time flavoured with saffron, marinated tomato, feta and broccoli.
The dessert courses followed. Lemon crumble, meringue, honey, rosemary, gin and tonic. This was light and refreshing and cleared the palette beautifully.
We waited for a while before the waiter brought our last course and it became evident why there was the pause as it was a pistachio soufflé with milk chocolate, strawberry, chai tea latte ice cream and a ginger aero (marshmallow).
We declined the selection of British and French cheeses offered, the coffee and also the Pick and Mix – apparently a selection of sweeties – all offered as extras.
It certainly was a dining experience and like all the tasting menus I have eaten before takes time to cook and serve – over three hours in our case despite the fact that there were four waiting-on staff but only three tables of two occupied and one table was enjoying the a la carte menu, not one of the tasting menus.
We enjoyed our time at Fishmore Hall – it certainly deserves to be in an area renowned for its food.
Disclosure: Our stay was courtesy of Fishmore Hall.