Step out of time. Drop out of high-rise Dubai into a quieter almost biblical scene in Arabia's history. Jumeirah has deconstructed the concept of the big hotel. There are ten "bayts", traditional Arabic houses with clusters of rooms, dotted through the Al Seef heritage village to recreate the intimate hospitality of a bygone era.
Altogether there are just over 200 rooms and suites. Each bayt has a concierge figure who is more like a smiling benevolent aunt or uncle looking after their family of guests.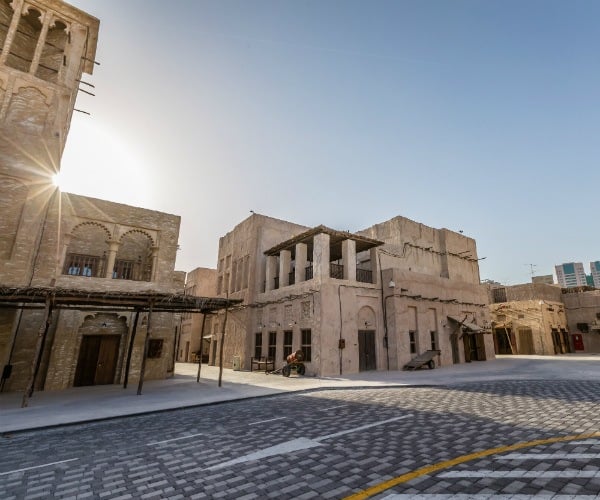 To get a sense of the heritage village think of the ultimate nativity scene with rough-cast plaster walls, exposed timbers and palm-frond thatch. Artefacts of hand-carts, battered wooden packing crates and the nets that were used to fish the Creek for centuries help create the atmosphere.
It's the sort of place where Indiana Jones would recuperate after a particularly gruelling Arabian adventure.
The welcome
Before you even arrive there's a courtesy phone call to check on your time of arrival.
A porter takes your bag, you quickly complete registration formalities, and then a buggy delivers you and your luggage to your room.
The rooms
Rooms are a paean to Old Dubai with photographs of fisherman on the Creek, caravans of camels arriving from the sandstorms of the desert and children playing on the fringes of the vast desert.
Telephones with rotary dials, old-fashioned wind-up alarm clocks, black light switches, retro radios and ornamental oil lamps recreate the aura of another era. But do not be deceived by the relatively small footprint, you will find everything you need for a comfortable stay. Behind the dark-wood camouflage there is a Nespresso coffee-maker, a mini-bar and whispering air-conditioning. A large double bed provides deeply restorative sleep after hours of exploring Dubai's heritage. There's a comfortable chair to slump into, swing open the wooden shutters and watch the world go by.
The bathroom
The hefty double doors look as if they began their career in Joseph and Mary's stable but they lead into a refreshing rain-water shower and a range of oriental toiletries including appropriately Seven Sands soap.
The facilities
The bayts are in the heart of bustling Al Seef so there are few facilities on site. Satisfy your contemporary cravings by taking a five minute ride on the shuttle bus to the sister hotel, Zabeel House by Jumeirah. There you will find a swimming pool on the seventh floor with great views over the Creek, a gym and a spa. It's impossible not to stay on for a sunset cocktail at the skyline bar and watch the evening's dhow traffic.
The restaurant
There is no more energising way to start breakfast than with a glass of camel's milk flavoured with with saffron.
Saba'a is a restaurant that serves all ten bayts  Saba'a translates as seven. Why call a restaurant seven? It is the ruling Sheikh's lucky number.
When in Arabia make the most of it. Try the eggs scrambled with spices, tomatoes, onions and served with a flatbread. Dip the halva, bite-size oval donuts, in a little honey.
Alternatively there is a traditional Arab breakfast of dips, breads and salad. Or if you really must there are cereals, cows-milk, eggs prepared the western way and white-bread.
Currently Saba'a is closed for lunch but in the evening there are two magnificent options. An Arabic buffet with grilled fish or lamb as the main course surrounded by countless small plates.
Waiters are excellent at describing this A to Z of Arabic food which is essentially a feast fit for a Sheikh. Two small bowls of soup, served simultaneously, one lamb and oats, the other lentil-based complement the other brilliantly. It is a feast with a grand finish as four desserts are served as the final generous offering.
Other nice touches
On the first and second floors of the houses are tables and chairs for guests to soak-up the sun or socially share tea and coffee.
In the reception area of every bayt there are a number of books for you to borrow to read up on your Emirati culture and history.
Cost
From around £150 per night for a double room depending on season.
The best bit
As well as being in the heart of buzzing Al Seef, you are just a short walk from an abra to take you across the creek to the fascinating Dhow harbour.
At a mere one dirham for the crossing it is one of the great travel bargains of the world.
The final verdict
Al Seef by Jumeirah is a welcome antidote to a world of towering glass and steel hotels which isolate you from your surroundings. It's Jumeirah's shout that small can be better. Sometimes we need to stop and look over our shoulder to appreciate where we have come from.
Disclosure: Our stay was courtesy of Jumeirah.