The ski industry, as we know it, wouldn't exist if it wasn't for the mountains. That is a blinding obvious statement to make, of course. But isn't it pretty amazing that the thing we love to do is carried out in such an awe inspiring environment. The majesty of the Alps are, without doubt, one of the reasons why the ski industry thrives and will continue to do so while ever there is snow to ski. Millions of skiers have stopped, mid piste, and stood completely motionless in silence and been left speechless by the utter jaw-dropping and staggering beauty of the panorama that surrounds them. I've done it myself countless times. It makes the soul sing. The pristine, glistening diamond white snow, the vastness of the landscape that can leave you feeling insignificant, humbled by the scale of the towering edifices that have stood for millennia. Sometimes it's all too much and makes me break out the widest Cheshire Cat grin. It's moments like these that make me thankful to be alive.
I vividly remember my first sighting of the Alps. I was a young boy with my parents on our way to a camping holiday in Annecy. As we crested the col that drops down into Geneva, there they were. It was almost surreal. 80k's away on the horizon, the jagged bony plates of some sleeping behemoth, covered in snow. It was a very exciting moment and truly awesome sight. So far, yet so near. Little did I know back then that I would spend the better part of a decade living amongst those distant peaks.
I could wax lyrical all day long about how unbelievably gorgeous it all is, furthermore, I can think of dozens of 'best views' but for now, here are six. I'm pretty sure that anyone who spends any time in the mountains will have their own 'best of' vistas.
The Grande Motte, Tignes
Reaching an ear popping height of 3,456m, this is the highest lift in Tignes and easily accessible from neighbouring Val D'Isere. Despite the cable car being able to transport up to 3,000 people per hour, you still manage to feel like it's just you and an infinity of mighty peaks laid out beyond.
Once you have regained your breath, how about throwing your altimeter completely out of sync by descending all the way back down to Tignes Les Brévières at 1,550m.
Aiguille du Midi, Chamonix
Twenty minutes is just about enough time to start admiring your magnificent surroundings as you ascend from Chamonix town centre, up to 3,777m.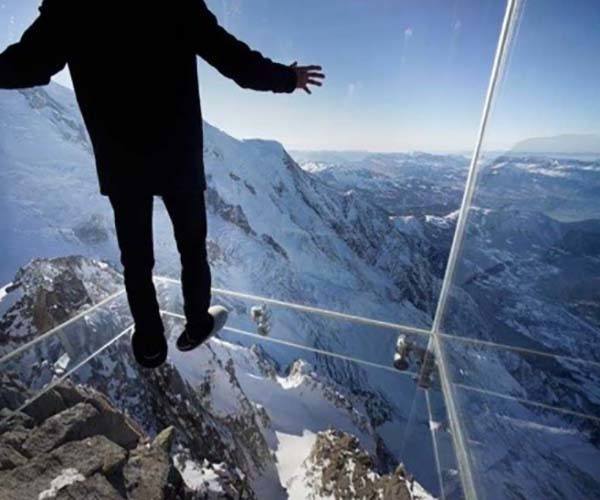 You'll want to layer up in the elevator as you reach the summit at 3,842m. If the 36o views of the French, Swiss and Italian Alps aren't breathtaking enough, Step into the Void. This glass box, complete with glass floor is suspended at 1,000m and has to be the ultimate way to immerse yourself into this awe-inspiring landscape.
Klein Matterhorn, Zermatt
Within Europe, the Klein Matterhorn is the roof of the World. At 3,883m, this is the highest lift on the continent and a sight to behold. The Matterhorn, 7kms away, will always take pride of place in any vista of Zermatt.
However, look beyond the Theodul Pass and onto Italy's Aosta Valley and Mont Blanc in the distance. The year round ski area of the Matterhorn Glacier Paradise really couldn't be more aptly named – you really have found paradise.
Mont Vallon, Meribel
Combine humbling views, Meribel's highest skiing at 2,952m, north facing slopes and two adrenalin inducing red runs back down and no wonder this is a lot of people's favourite skiing in Les Trois Vallées. No holiday would be complete without experiencing the Combe Vallon just once.
If off-piste is what makes your favourite week, Mont Vallon is renowned for its backcountry but remember not to stray into the Tueda Natural Reserve. An area regularly patrolled by pisteurs who do not look favourably upon lost skiers.
Valluga Mountain, St Anton
At 2,811m, the summit of the Valluga Mountain offers one of the most stunning views found in the whole of the Tirol. Take the Valluga Gondola up to immerse yourself in completely unobstructed views of the Three-Thousanders.
A term fondly adopted for the ocean of high altitude peaks averaging 3,000m in elevation, looking West to admire Switzerland on the horizon. Even the non-skiers in your party can get an insight into your World with a scenic ride up the Galzigbahn and Vallugbahn gondolas.
Mont Fort, Verbier
An outstandingly glamorous resort with equally outstanding vistas. From 3,330m, atop of Verbier's highest point, Mont Fort, you will be treated to the ultimate display of panoramic views.
Let's start with ticking off the Matterhorn, Dom, Dent Blanche, Dent d'Hérens, Grand Combin and the Mont Blanc massif, along with an array of glaciers, including the largest, Glacier de Tortin. In winter and early spring, Mont Fort is the culminating point of Les 4 Vallées ski area, accessible by the Mont Fort cable car.
Danny Frith is Director at SkiBoutique. SkiBoutique is a luxury ski chalet agency based in Switzerland.
If you would like to be a guest blogger on A Luxury Travel Blog in order to raise your profile, please contact us.