By
Carmen Caballero
on Jul 01, 2019 in
Africa
,
Asia
,
Bhutan
,
Hawaii
,
Honeymoons
,
Leisure Travel
,
Mexico
,
Mozambique
,
North America
,
Regions
,
South Africa
,
Speciality Travel
,
Tanzania
,
USA
If you have finally decided to take the step with your loved one, you have a lot of work ahead of you.  I know the organization of a honeymoon is long and stressful; that's why I want to help you choose the idyllic destinations for your once in a lifetime journey. Here is an article where I introduce some of the most remote destinations for a romantic honeymoon to connect with nature.
Quirimbas Archipelago, Mozambique
To live the magic of love, whether it's a honeymoon or a couples vacation, there are places that deserve to scratch your pocket and enjoy those well-deserved vacations. One of those destinations, is the Quirimbas Archipelago, in Mozambique.
It is a coral reef composed of more than thirty islands located off the northern coast of Mozambique. The group opts, for its beauty and excellent state of preservation, to become a World Heritage Site by Unesco. The most remote islets are closed to tourism to protect the natural wealth, but the largest islands such as Ibo, Matemo and Medjumbe are a true oasis for its white sand coasts and turquoise water beaches.
Maui, Hawaii
Maui has led for more than 15 consecutive years the ranking of the magazine Condé Nast Traveler as the best island in the world. The possibilities of this Hawaiian paradise are endless in terms of activities, routes and enclaves. The island offers, for example, a sunrise at 3,000 meters high on the top of Haleakala volcano, taking the Road To Hana through the most unexplored places on the island, and a dinner with sunset on board a boat in the middle of the ocean.
Thimpu, Bhutan
It is one of the most unknown countries in the world. Practically virgin and free of tourism given its adverse location in the middle of the Himalayas. His impenetrability has kept his culture intact and his capital, Thimbhu, is proof of that. The strict isolation that has prevailed in the country for centuries, has caused that its 750,000 inhabitants live immersed in an immense natural oasis free of technology and massive tourism that offers a picture dotted with Buddhist temples and wide moors dedicated to the most traditional farming and livestock.
A honeymoon at the tip of the African continent is a safe bet. It is a city embraced by the rugged rock walls of Table Mountain and the immensity of the South Atlantic. According to the prestigious magazine Traveler, Cape Town offers one of the most beautiful sunsets in the world and is gradually becoming popular among couples seeking a luxurious experience in which to combine adventure, relaxation and nature.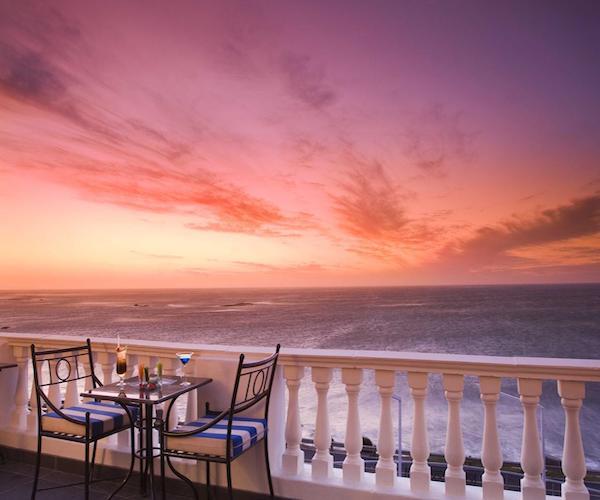 Zanzibar is another example of sustainable tourism. Specifically, the island of Pemba houses one of the best preserved marine coral ecosystems in the world and holds prestigious international awards in sustainability and ecological initiatives. It is only possible to access by boat.
Nayarit, Mexico
Playa del Amor, located in the state of Nayarit and which can only be accessed by sea, has a wealth of biodiversity of great magnitude, housing a great diversity of marine species in which thousands of species of fish are protected. There are two theories about the fact for which they have given him such a peculiar name. One is due to the fact that it is one of the only beaches in the world that unites two seas – Mar de Cortés and the Pacific Ocean – and the other is a more romantic theory, which points out that this beach witnessed the love relationship of two young people of the 18th century whose family was opposed. Also known as «Playa Escondida», the place also houses underwater sand waterfalls, one of the most outstanding and impressive natural phenomena that can be contemplated.
Carmen Caballero is Founder of Exotik Traveler. Exotik Traveler is a luxury travel design and consultancy firm which creates unique experiences for luxury travelers, tailored to their needs.
If you would like to be a guest blogger on A Luxury Travel Blog in order to raise your profile, please contact us.