Many people visiting Cumbria and the English Lake District do so for the walking, and it is little wonder in a landscape that has inspired many famous artists, authors and poets over the generations. Peaks such as Scafell Pike, Helvellyn, Skiddaw and Coniston Old Man are all popular, as are many of the lower level hills such Orrest Head, a personal favourite of William Wordworth's. But the Lakes is also an outdoor playground for many other activities – climbing, fell running and a host of watersports to name just a few.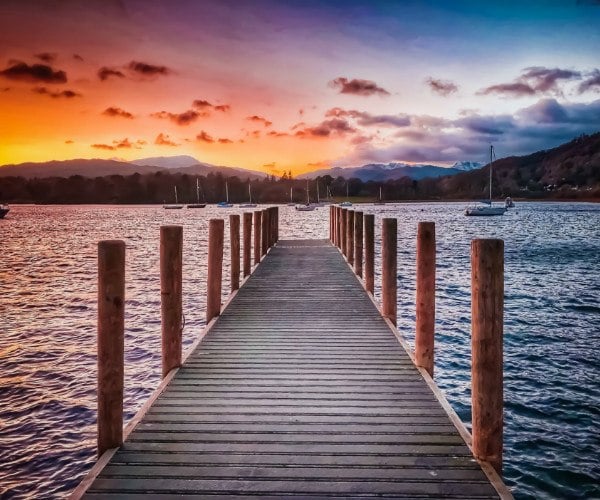 And of course mountain biking. There are many trails in the Lake District that are not suited to road bikes but allow you to get off the beaten path, explore the scenery and cover quite a bit of ground in a shorter time that you might otherwise by walking. Over the coming months, we hope to share some of these trails with you, and the first of these is the 'Three Rivers' mountain bike trail in Kentmere in the southern Lake District.
Starting from the road that hugs the River Kent to the north of Staveley, a short drive from Kendal, the route is so called because you make three river crossing during the course of the ride. And to take on this ride, we used the Ridgeback MX4 mountain bike which I've mentioned in an earlier blog post. Built with a lightweight alloy frame and, Shimano gearing, Suntour suspension forks and Tektro Novela disc brakes, these bikes were more than well-equipped enough for the terrain that lay ahead.
I should stress, though, that we are far from being mountain biking aficionados so we will not be covering any routes that are super-technical; instead, they should be relatively achievable even by people with a low level of competence (like me!!).
The first portion of this ride is a gradual ascent through open countryside which saw us climb just over 500 feet in a little over 3.5 miles – other than a short ascent after just leaving the road, it never really felt that you were climbing that much and so this would be manageable even with quite young children in tow (but probably not toddlers!). The gears on the bike are intuitive and easy to operate, so finding the right gear is never really too much of a problem.
The terrain along this route consists mostly of gravelly trails, with lovely, open views either side and the occasional large puddle to add to the interest!
You still have to watch the terrain, though – once or twice I found myself in quite deep ruts that could easily unseat you if you didn't have your wits about you. We actually did this ride in late October – at the tail-end of the school half term – yet we encountered very few other people during the time we were out. The occasional walker or fell runner, as well as a mountain biker who was sorting out a puncture. (We stopped to see if we could help but he seemed to know what he was doing!) People often complain that the Lake District is too busy but, pick the right location and time of year, even if it is school holidays, and you can still largely have the place to yourself.
One of the most fun parts of this ride is crossing the tributaries – in places, these are deep enough to get you wet to the ankles, so bear that in mind – especially if you're planning on cycling a longer loop, as you might want to take a spare pair of socks with you!
After the third and final river crossing, you are at about the highest point of the route and there's a lovely, long downhill stretch of grassy hillside with beautiful views out into the distance that are a highlight of the ride.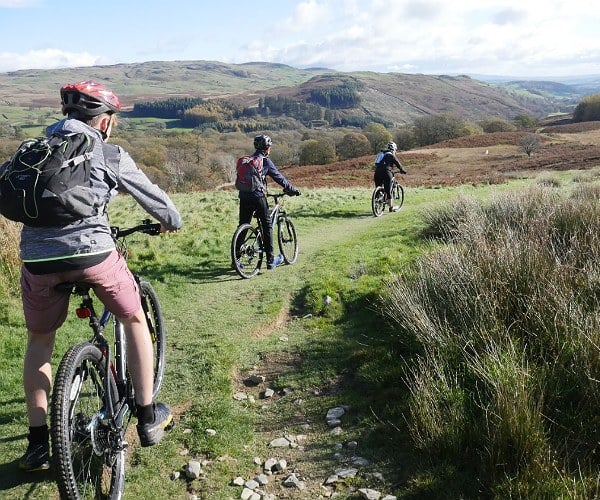 This then turns back to gravel as you continue your descent back towards Staveley…
…before taking you along a small stretch of woodland…
…and back out on to the open road where you can enjoy views across the Kentmere Valley. For those who would like to see the route we followed in more detail, or download it on their phones so that you can easily follow it yourselves, you will find it on my Strava here.
A regular haunt for anyone enjoying activities in the area is the Staveley Mill Yard, the site of a former bobbin mill which, in addition to being home for a whole variety of small businesses, is also home to the long-established Wilf's Café where you can enjoy a light lunch or just a coffee and a cake – whatever you feel you've earned!
Disclosure: The bikes were kindly supplied to us by Ridgeback who introduced mountain biking to the UK in the early 1980s.