The Mediterranean is Europe's summer playground, and home to almost 200 destination islands. From the big hitters like Sicily to the smallest island nations such as Malta, this beautiful sea offers visitors compelling places to enjoy the joys of a very special Summer lifestyle.
The Balearic Islands
Formentera, Ibiza, Menorca and Mallorca make up the Balearic archipelago. Close to the eastern coast of the Iberian peninsula, these are some of the most beautiful Mediterranean islands. Few can compare to the Balearics when it comes to their winning combination of accessibility, friendly locals, natural beauty, and picturesque beaches. What's more the islands offer a sophisticated infrastructure and high-quality services for the discerning visitor.
Whether you're looking to just flop on a beach; immerse yourself in a different culture; or travel to enrich your health & well-being, then there's an island for you.
Choosing your island escape
Looking for some boho-chic in the Mediterranean? Balearic beats while enjoying a spectacular sunset? Hiking in unspoilt countryside? Or indulgence in sophisticated luxury?
Well, firstly you're sure to find a warm welcome across all the islands. After all, the Balearics are part of Spain, the world's favourite destination. What's more, you'll find getting there pretty easy too, with direct air-bridges to three of the islands from cities like Barcelona and other European hubs.
The Balearics are surprisingly diverse – each island allows visitors to combine nature, culture, history and gastronomy. Yet Formentera, Ibiza, Menorca and Mallorca each have their own energy and style:
Formentera
The smallest island of the Balearics has retained much of its boho-chic style that evolved during the 1960s when it was the go-to retreat for artists and musicians like Joni Mitchell. These days high profile visitors are more likely to be A-Listers from film and fashion, royalty or the super-rich that come ashore from their mega-yachts to enjoy a long, lazy lunch at one of the stylish beachside chiringuito restaurants.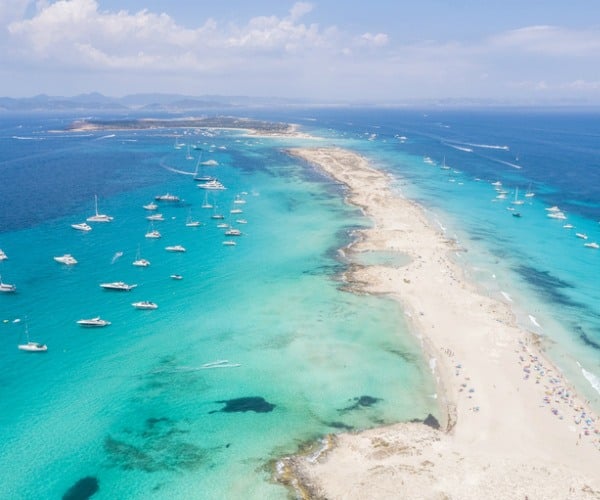 Yet despite being a favourite escape for the elite, Formentera still maintains its sleepy island authenticity. On the whole, the vibe is laidback, a compelling mix of influences from the hippie culture of the 60s and today's more refined, contemporary barefoot luxury. The island's crystalline waters and white sandy beaches are a little piece of the Caribbean in the Mediterranean.
To reach Formentera, one needs to take the ferry from Ibiza Town.
Ibiza
The White Island has a reputation for music and partying. Undeniably, Ibiza is the hub of world-class nightclubs ad venues; an island with an international reputation for a vibrant music culture that has evolved over decades. Each summer it is at its peak, when Playa d'en Bossa and San Antonio are transformed by renowned visiting artists and DJs.
Yet there are plenty of antidotes to the island's famous Balearic beats. Pine clad Ibiza is a great deal more tranquil than many might expect and you're sure to find your corner of paradise from where you can enjoy the island's legendary sunsets; and all in total privacy and peace.
Menorca
Menorca is the slow travel destination for those looking to be immersed within the rural island culture of the Balearics. UNESCO has declared the entire island a Biosphere Reserve, recognising Menorca's unique flora & fauna; its picturesque coves and bays; as well as its predominantly artisan, agricultural way of life. Menorca is the Mediterranean as it used to me.
The island is a favourite with foodies too; a place where one can tuck into superb '0km' cuisine prepared from local produce, encompassing everything from world-class cheese to artisan locally made gin!
Mallorca
The largest of the Balearic islands, Mallorca is amongst the most diverse. Renowned for its beaches, chic accommodation, and Michelin-star dining, this predominantly upscale, family-friendly island offers a sophisticated take on Mediterranean island life.
Yet it's not all elite beach clubs and fine dining. There are natural wonders such as the UNESCO recognised Tramuntana mountain range. Within less than an hour from the coast one feels world's away, lost in the magical charm of villages like Valldemossa and Deià, surrounded by pine forests and peaks.
The island's capital of Palma is an architectural and cultural delight too – home to a magnificent gothic cathedral, and a beautiful, restored old town.
This is the Balearic island where one can have breakfast over-looking a turquoise bay; spend the morning enjoying upscale shopping in designer boutiques; have lunch on a world-class marina; go hiking or cycling on country lanes in the afternoon; and dine in a Michelin-star restaurant in a castle in the evening. The possibilities are captivating.
Paola Fiocchi Van den Brande is Director of Passepartout Homes Ltd. Passepartout Homes Ltd. offers an exclusive portfolio of luxury villa rentals in Italy, France, Greece, Croatia, Thailand and worldwide.
If you would like to be a guest blogger on A Luxury Travel Blog in order to raise your profile, please contact us.