The ultimate luxury resort experience in Crete
When visiting Crete, the opportunity to indulge in the deep blue Aegean Sea and an incredible resort might be too much to resist. Thankfully,
Daios Cove
is ready to capture your imagination.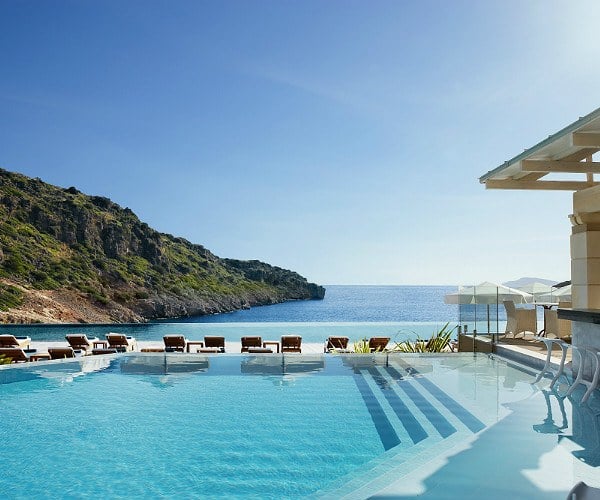 This 5-star luxury resort in Crete is situated in Vathi near Agios Nikolaos in the north east part of the island. Its wonderful location is private with incredible views and a fabulous choice of Deluxe Sea View rooms and suites, suites with private pools, waterfront villas and luxury villas with private pools, and The Mansion – a true home away from home unique to this
luxury hotel
in Crete.
With spacious bedrooms, private terraces, sophisticated décor, marble-lined bathrooms and living spaces, and stunning views, this is pure indulgence. Whichever you choose, all of the accommodation at Daios Cove will give you an experience of exceptional comfort and wonderful amenities. When creating this luxury hotel in Agios Nikolaos, the secluded location was chosen for because of its private beach, rugged landscape and uninterrupted views of the Aegean Sea. But the accommodation and location are only part of its appeal. Daios Cove has created a complete experience for its guests set around music, food and a collaboration with one of the world's 50 best bars. A rich programme of visiting artists is provided throughout the summer which this year includes some of the most talented and entertaining vocalists, musicians, DJs and musical styles. From jazz tunes to African beats and funk, these global stars descend on Crete to entertain you with their music.
The Native Sounds project music events at the Daios Cove Beach House are exhilarating experiences for the senses which blend together instrumentals and live electronic sets from some of the most talented global musicians, who manage to blend the sand, sea and stars into their music. Also a firm favourite among Daios Cove guests are the exclusive Magic Mondays which summon ancient spiritual ceremony and merge it into memorable night time events with renowned artists and DJs at The Beach House. If that builds your appetite, then why not indulge in a culinary journey at one of Daios Cove's restaurants with top award-winning chefs from around the globe? Stars to grace the kitchens this year include Michelin-starred Fredrik Berselius, Head Chef at Berlin's Panama restaurant Sophia Rudolph, and Pavlos Kyriakis who created an innovative dining experience showcasing the best of Greece. These masters in the kitchen are sure to make your luxury holiday in Crete extra special as they unlock their trademark dishes and flavours, sourcing local produce to create a wonderful fine dining experience to share with you.
After dinner head over to the Crystal Box, The Beach House or Ocean Bar where you'll discover an extensive list of cocktails to sample. These have been crafted by The Clumsies – the pioneering
Athens
-based cocktail masters who are continuing their collaboration with Daios Cove following a hugely successful first season. Awarded 7th place in the World's 50 Best Bars 2018, the elegant signature cocktails they have created are inspired by the natural surroundings of this 5-star resort and the unique Cretan flora and plant life, which provide key ingredients to its classic recipes and flavours.
There's so much to enjoy about Daios Cove and you'll find it hard to leave this 5-star luxury resort in Crete once you've sampled a holiday there.
Disclosure: This post is sponsored by Daios Cove.
Did you enjoy this article?
Receive similar content direct to your inbox.