Amani means desire or wish in Arabic. The Palais Amani gives guests the chance to fulfil their dreams of living at the heart of Fez's ancient and authentic Medina. For guests the Palais Amani, with its opulent Arabian-Andalusian style, is their home for a few precious days, as they savour an imperial city of colours and flavours.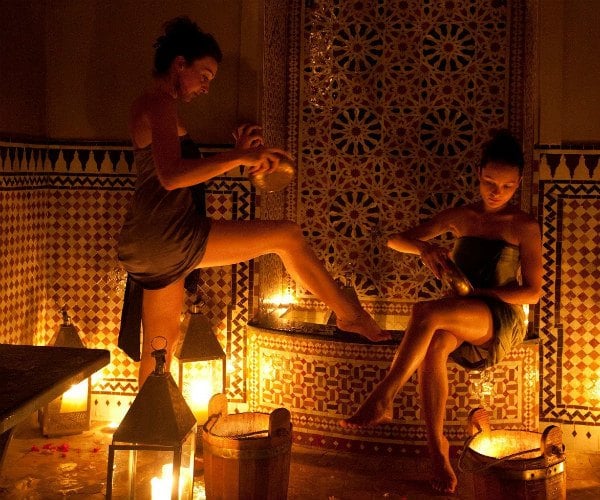 Fez is a city where there are hands-on opportunities to engage with the people. Guests may learn traditional Fez skills such as baking, calligraphy and cooking. Or they can just relax in the Hamman.
The welcome
Leaving the car and the 21st century behind, a porter took my luggage through the entrance into the labyrinthine tangle of over 9,500 alleys – beyond mapping and beyond GPS – that is Fez's ancient Medina.
At the Palais Amani there is a traditional Arabic welcome for weary travellers: chilled flannel, iced lemonade and biscotti. I relax on a sofa in the riad's haven of peace – amongst lemon, orange and pomegranate trees and a trickling water feature. Meanwhile the necessities of check-in were completed.
The room
The Palais was built, in the 17th century, so ceilings are lofty and cooling. This palatial riad was a home for a merchant and his extended family of some 50 souls. Efficient 21st century air-conditioning finishes the cooling job. Thick cedar shutters muffle the imam's pre-dawn call to prayer, mute the clatter of a town of some 60,000 people.
The co-owner of the Palais first visited Fez at 13, never imaging that one day she would marry Abdel from Fez and would have a trio of sister-in-laws called Fatima. Nor anticipating that she, Jemima Mann-Baha, and her husband, would buy a rather tired looking Palais in 2006 and spend almost four years restoring it.
Traditional dark Maroc furnishings are lit with filigree lanterns backed by artfully placed mini-spotlights. There is a magical Arabian Nights ambience – but contemporary expectations are met with Nespresso coffee-maker, spacious mini-bar and upscale tea tray. It is almost an impeccable Vogue photo-shoot for Fez stylish living.
Camouflaged against the dark wood there is a flat-screen television but no-one comes to Fez to watch TV. There is no need, the Medina is pure theatre.
Even in entry level Classic rooms the beds are huge oases of comfort. In the opulent and regal Grand Suite, taking over one entire floor of a wing, you gaze through stained glass windows down onto the tree canopy of the riad.
The bathroom
For Moslems the call to prayer, which echoes through the Medina skyline, is also a call to cleansing and purification before prayer. Bathrooms are important for Moroccans. This mosaic tiled bathroom has a spacious rain-fall shower, large heated towel rail and two hanging white bath-robes: bidet but no bath. Though in the Grand Suite the bath, celebrated on a podium, is fit for a sultan.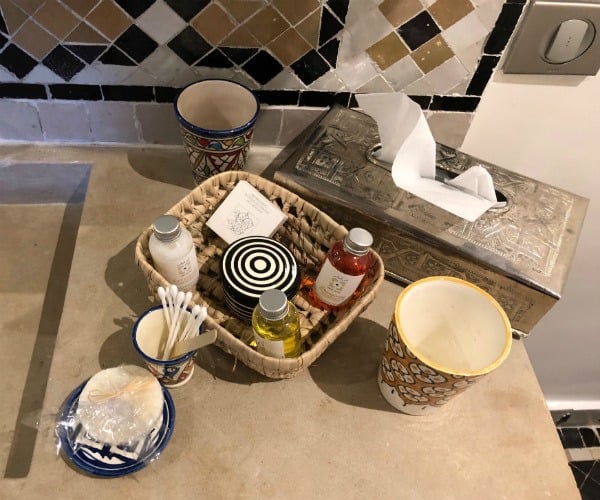 Traditionally oil from the Argan tree was used for rehydrating skin, appropriately for Fez's soaring temperatures, Argan soap is provided.
The facilities
Birds soar and swoop around the trees, flitting above the geraniums, papyrus and roses of this Garden of Eden. Unsurprisingly, the restaurant is called The Eden restaurant.
Finding Fez begins with breakfast. Everyday of the week there is the option of a different "Discovery". Perhaps d'chicha, a thick tomato and semolina soup. Chorea – a traditional vegetable soup served with eggy bread. Krachel – a brioche throwback to the French Protectorate. And so on …
Alongside there are fruits, yogurts, flatbreads with olives, oil, butter, cheese, nuts, honey and jams. Eggs are available to order too.

The only place to be for sunset is the roof terrace bar: a 360 degree view of the Medina and across to a grey granitey mountain that's geologically classified as part of the Middle Atlas. Sip a cocktail, maybe a pomegranate mojito, amongst bougainvillea, lavender, olive trees, roses and vines. As the sky turns shades of apricot and saffron a thousand birds' evening chorus crescendos.
Then back down, in the lift, a rarity for a riad, to dine in The Eden Restaurant. Every week a three course bistro menu changes to reflect the seasons. Though the a la carte menu always honours the classic traditions of local Fassi cuisine. Perhaps a starter of mixed Moroccan salads, followed by a chicken tajine or duck confit with prunes and finally, maybe, a lemon mousse. Semolina served with almonds and honey finally exorcises the ghosts of school dinner semolina.
A lighter tapas style menu is available too, celebrating the Arab Andalusians who fled from Córdoba to Fez during the Reconquest of Moorish Spain.
Location
Accessed only by foot, the Palais Amani, is in the heart of the Medina. Forget the electricity, filter out the mobile phones. Focus on donkeys, men and mules as beasts of burden. Watch craftsmen ply age old trades – blacksmith, calligrapher, tanner, tailor, cooper, book-binder, knife-sharpener, quill-maker. As Morocco's holiest city, Fez's Medina is where thousands quietly live and toil with dignity. It is a living, thriving town not a mere tourist attraction.
You are but a short walk from the centuries old Chouwara tanning pits, Qu'ranic schools, the world's oldest continually functioning university and the Al-Qarawiyyin library, the world's oldest library. Visit the women's weaving co-operative, stocking at least 13,000 items, that created rugs for the Palais Amani. Another option is to have a leather jacket bespoke made at Maisonette de Cuir Sidi Moussa. Delivered in under five hours, it may be back at the Palais Amani before you are.
Other nice touches
A treatment, in the Palais Amani's serene Hamman is more than just a therapeutic steam bath. For Moslems, originally the Hamman was a ritual of both physical and spiritual purification before prayer, a social event at public steam baths.
At the Palais Hamman, it becomes a more individual journey, as you are guided through cleansing with black Argan oil soap, steam and exfoliation: water trickles and candles gently glow as body and mind relax.
If you still need to relax further, yoga sessions run on most days.
Costs
A classic room, including breakfast, begins at around £245 while the Grand Suite costs from £640.
The best bit
The Palais Amani encourages guests to engage with Fez's sensuous world, to get to know it's people. Marrakech replaced Fez as the political capital in 1912 but Fez remains supreme as Morocco's Foodie Capital and Capital of Crafts.
Take the Palais' Fez Cookery School course to get an insight into Fassi cuisine. Breakfast at the stalls of the Medina whilst you shop with the chef for your ingredients to create a chicken tajine, a smokey aubergine salad and a dessert of phyllo pastry and orange blossom cream.
With a hands-on baking course, a calligraphy lesson based on storytelling of yesteryear Fez and a hike in the nearby mountains, guests have the chance to take part in the crafts and activities that have made Fez such a vibrant imperial city.
The final verdict
As an intimate boutique hotel, with immaculate service, the Palais Amani is not just a place to stay, refuel and relax.
Every conversation, every detail and every flavour makes a connection. Guests are invited into Fez's peaceful world, it's arts and crafts, it's past and present.
Disclosure: Our stay was sponsored by the Palais Amani.