By
Ravi Coutinho
on Nov 14, 2019 in
Africa
,
Attractions
,
Caribbean
,
Dominican Republic
,
Going Out
,
Hawaii
,
Leisure Travel
,
Mexico
,
Morocco
,
North America
,
Regions
,
South Africa
,
Speciality Travel
With cold weather in full swing in most of the northern hemisphere, playing golf outside is probably the last thing on your mind. But that doesn't mean you can't slip away for a few days on the course in a warmer destination. Check out some of our favorite winter holiday golf trips to find a destination to get you out of the winter doldrums and back on the fairway.
South Africa is in the southern hemisphere, which means December is their mid-summer. On top of that, the climate in and around Cape Town is mild year-round, so even in the summer, you won't have to deal with extreme temperatures. Cape Town offers a slew of wonderful restaurants, bars, and cultural experiences, including world-class museums and shopping. Nearby Fancourt is one of the top resorts in the country, and offers the best golf in the area as well. Spend a bit of time on the Garden Route and you can also get to Arabella, Pezula, Simola, and the stunning Pinnacle Point, where you can watch Southern Right whales breaching as you play the difficult coastline course. And of course, no trip to South Africa would be complete without a few days on safari, specifically in a five-star safari lodge where you can view exotic animals while enjoying spa treatments and the best in lodging.
Punta Cana, Dominican Republic
If you're looking for warmth and luxury while staying in the northern hemisphere, the Dominican Republic is quick to get to and offers some of the best beaches on both the Caribbean and the Atlantic. La Costa del Coco (the Coconut Coast), which is the combined coastline of Punta Cana and the just-north Bàvaro region, is studded with five-star, all-inclusive resorts. The area offers plenty of outdoor activities and adventures, like kayaking and sailing, or zip-lining and windsurfing for the less water-inclined. Our favorite part of Punta Cana is the Corales course at the Puntacana Resort & Club, spread across coral cliffs overlooking the Caribbean sea. The rest of the island isn't hard to get to, either, and offers plenty of challenging, beautiful courses for you to hit up in between stints of sunning yourself on the beach.
Los Cabos, Mexico
For another trip with a tropical vibe, check out the municipality of Los Cabos, Mexico, located on the very southern tip of the Baja Peninsula. A Resort Corridor links the two towns of Cabo San Lucas and San José del Cabo, spanning 20 miles of beach side properties and, of course, championship golf courses. Quivira Golf Club offers a thrilling cliff side overlook right on the sea, while the Ocean Course at Cabo del Sol is known for being one of the most beautiful courses in the world. The entire area is devoted to top-notch service, and you will have no trouble finding world-class golf, food, and entertainment.
Kauai, Hawaii, USA
There's a reason Hawai'i is referred to as an island paradise. Even during the rainy season — which happens to November to March — it only rains for a short period of time and the temperatures stay pretty warm. With warm beaches, stunning hikes, and ancient history to explore, Kauai is one of the best islands for anyone in search of an escape from bleary winter climes. Ocean-front golf courses are de rigeur on Kauai, and you won't want to miss the Poipu Bay Course, Princeville Makai Golf Club, or the Ocean Course at Hokuala.
Morocco is making a name for itself in golf these days, with courses dotting the country from the Atlantic coastline to spaces further inland. As with the other locations on the list, the weather in Marrakech is wonderful in the winter months, and there are many high-end resorts worth staying at. The local history and world-renowned cuisine add another level of interest to this winter holiday trip. Most of the courses in Marrakech,  such as Royal Golf Marrakech, Samanah Golf Club, and Assoufid Golf Club, offer stunning views of the snow-capped Atlas Mountains with contrasting desert and palm trees.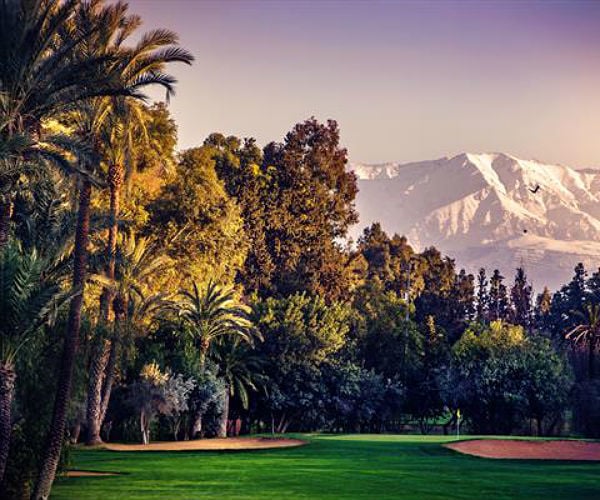 Regardless of how far you want to travel or whether you want a cityscape or a beach, there are many luxurious golf travel destinations available to get you out of the cold this winter.
Ravi Coutinho is Founder and Lead Golf Travel Expert at Worldwide Golf Adventures. Worldwide Golf Adventures is a luxury golf tour operator that arranges custom golf vacations for clients around the world.
If you would like to be a guest blogger on A Luxury Travel Blog in order to raise your profile, please contact us.