We can say – with the certainty that comes from years of living here – that when travelling to Africa the famous proverb 'you can't have your cake and eat it' can be firmly put to one side. Because, at least in the case of East Africa, you most definitely can indulge in the best of both, although we aren't actually talking about cake. It's something even more decadent – a luxury safari and beach holiday in Kenya. This country has enjoyed decades of fame for its untamed wilderness and idyllic beaches along the Indian Ocean coastline.
The combination of a bush safari and a barefoot beachside break has long been considered the ultimate African holiday. It's recommended to do them in that order because the excitement and exhilaration of an adventure in the wilderness is then so perfectly complemented by the relaxing rhythm of seaside living. This combination comes together to you give you the much-needed and -deserved respite from the busyness and responsibilities that is part of everyday life back home. It really is Africa at its best!
This is why we love luxury safari and beach holidays in Kenya. And we are quite sure that after reading this, you will fall in love with this an incredible vacation idea to cure your wanderlust after this travel hiatus.
Catch Africa's famous wildebeest migration
Dramatic wildlife encounters, non-stop action, and spectacular sunsets over savannah plains – these are the scenes that characterise The Great Wildebeest Migration. The enormity of the herds, the distance covered, and the many dangers faced, truly make this wildlife event one that is hard to beat. This annual migration of about 2.5 million blue wildebeest, Burchell's zebra and gazelle is a round trip of about 300 miles (482 kilometres) across the greater Maasai Mara and Serengeti region.
With the herds following rainfall patterns, the animals arrive in the Mara between July and August, at which point they are forced to make the dangerous Mara and Grumeti river crossings. With hundreds of animals at a time braving the rushing water and crocodiles, there are many moments that will make you gasp. This endless journey of chasing the rains is a race to survive, is a wildlife spectacle like no other and an experience everyone should be part of, at least once.
Meet the Big 5 – Africa's wildlife celebrities
The annual migration is undeniably great, but it's not the only thing to get excited about while in the Maasai Mara for the first part of your Kenyan holiday. It is also a stronghold of Africa's Big 5 – rhino (both black and white), leopard, lion, Cape buffalo and elephant. This collective was first crowned the Big 5 by game hunters who found these animals particularly hard to successfully hunt. While no longer associated with hunting, the Big 5 are still highly regarded today for their strength and fearlessness, and to sight them all in one safari is a travel goal for many wildlife enthusiasts.
Between August and November each year, the chance of seeing lions and leopards chasing game over the savannah plains increases with the mass movement of wildebeest, zebra, and gazelle and impala into the Mara. Along with these big cats, the Mara holds healthy populations of elephant and buffalo, and a small, well-protected population of the critically endangered black rhino. Along with Africa's 'Fabulous Five', the Mara is also the home of cheetah, giraffe, hippo, and crocodile.
Stay in an elegant bush villa
A private bush villa in the Maasai Mara immerses you in the authentic luxury and romance of the safaris of old all while surrounded by the beauty and secluded wilderness of the Seventh Natural Wonder of the World. It is an unforgettable setting for your luxury safari and beach holiday in Kenya. In a time when exclusive-use is understandably trending in travel, villas are ideal for group getaways, whether it be with family, friends, or both.
With an abundance of wildlife, a guarantee of privacy, and the highest standards of professional guiding, a bush villa in the Maasai Mara gives you front-row seats on the savannah plains that carry The Great Wildebeest Migration. The exclusivity of the safari experience extends beyond the four walls and into the bush, with privately guided game drives (both day and night), bush walks, swimming, and fishing. Even though the Maasai Mara holds the largest concentration of land wildlife on earth, the adventurous spirit of a safari in the Maasai Mara is about quality rather than quantity and exploring both the vastness and intricacies of its wild spaces.
Play in the warm waters of the Indian Ocean
After the magic of the Mara, it's onto a relaxing post-safari beach break along the Kenyan coast. The blue and white city of Mombasa is the country's oldest and second largest, with a long history as a busy trading hub for the region. South of Mombasa, soft white sandy beaches meet the gentle waves of the Indian Ocean, which is well-known for being warm and perfect for a seaside holiday.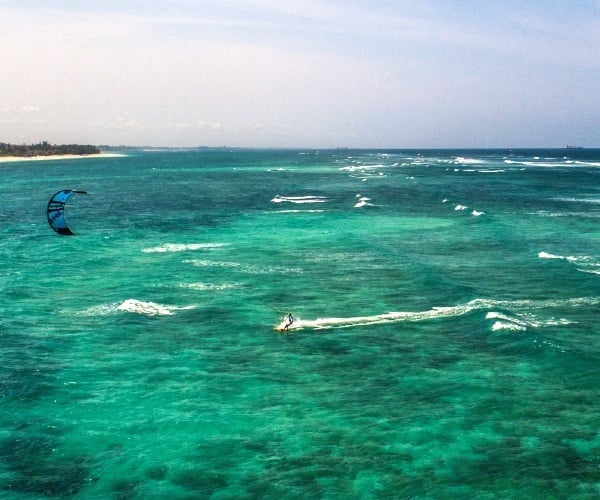 Along this stretch of coast is Diani Beach, often ranked internationally as one of the best beaches in the world. It is known for its large, colourful coral reefs, black-and-white colobus monkeys, and the Shimba Hills National Reserve that looks out over the Indian Ocean. Whether swimming and snorkelling in the shallow waters, diving down into its deep-sea canyons, or taking to the sky while kitesurfing, each day is yours to do as much as you like.
Indulge in seaside pampering and relaxation
You can also do as little as you like! The solitude and relaxation that Diani offers makes it the perfect extension to a safari in the Maasai Mara. When you aren't hiking through the coastal forest of Shimba Hills or sinking a ball in the 18-hole golf course, you can indulge in simply doing nothing. While lounging on the beach with an ice-cold drink, you can stare out across the stunning Indian Ocean, or enjoy a snooze on a typically warm day.
And what would a tropical beach holiday be without daily pampering sessions to make sure you return home without an ounce of stress left. Spa treatments and massages in the villa garden or poolside, with only the sounds of gently lapping waves and birds chirping in the surrounding trees, are the final treats you need to have that special glow that only a long holiday can bestow on you.
Unwind in a classic seaside villa
Barefoot luxury and exclusivity are what classic seaside living is all about. A private beach villa is perfect for lazy days needed to unwind after the adventure of a bush safari. Wake up to the warm glow of the sun rising over the Indian Ocean, indulge in fine food characterised by fresh seafood and local flavours, and curl up on large comfortable sofa with a good book. What better way to end off an incredible holiday Kenya!
Kenya offers a double dose of off-the-beaten-track experiences. First, in the remote Maasai Mara wilderness that bursts with animals rather than people. And second, along the Indian Ocean at the beautifully scenic and secluded Diani Beach. Luxury safari and beach holidays in Kenya may just be what we all need when travel resumes after a long hibernation.
Calvin Cottar is Director and Owner at Cottar's 1920s Safaris. Cottar's 1920s Safaris is an award-winning luxury 1920s safari camp and private bush villa located in the famous 'seventh' natural wonder of the world, the Maasai Mara in Kenya, and owned and managed by the oldest established and continuing safari family in Africa.
If you would like to be a guest blogger on A Luxury Travel Blog in order to raise your profile, please contact us.