Zürich, the biggest city in Switzerland, offers a plethora of jaw-dropping attractions and things to experience. If you're looking to go beyond the well-known Zürich attractions, then follow the recommendations below and add these fantastic secret wonders to your Zürich bucket list.
Open air baths
With its incredible lakes and the beautiful river Limmat, Zürich offers loads of great opportunities for a swim. The water is more precise than in most European cities and excellent for swimming in.
The Frauenbadi at the Stadthausquai allows females only, while men flock together at the nearby Schanzengraben. Another outstanding stop is the Seebad Enge, offering superior vistas over the Alps or the Strandbad Mythenquai with its beautiful shore.
Several baths transform into stylish bars just after the sun sets, offering guests refreshing barbecues and alcoholic drinks to make the perfect end to a summer day.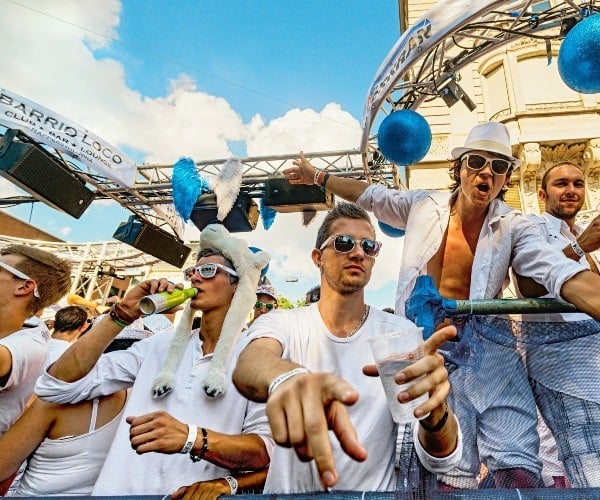 Zürich Street Parade
Zürich truly comes to life in summer. In August, the techno parade will make the city vibrate, and you can witness hordes of peoples dancing on the streets of Zürich.
The Street Parade hosts an unbelievable party atmosphere with hundreds of DJs, 30 love mobiles, and seven stages nearby the Lake Zürich basin.
It is the greatest techno party in the world and an undoubted spotlight on Zürich's event calendar. Since its beginnings in the 90s, different electro music styles like Drum'n'Bass, House, and Dubstep have placed a foot on the scene along with Trance and Techno.
After the famed Street Parade, people enjoy parties in several clubs, and the traditional "Lethargy" is celebrated in the Roten Fabrik.
Rote Fabrik
Once a factory, The Rote Fabrik is now serving as a cultural center in Zürich. Music is a prominent thing here: there are above 100 concerts, festivals, and parties each year.
The Rote Fabrik offers some of the most attractive and versatile entertainment in the city, from poetry slams, theater, and films to the restaurant, drink bar, and incredible electro-music concerts.
Additionally, local graffiti artists are supported to showcase their talent by adorning the exterior of the artistic hub with their advanced creative outbursts.
Positioned right at the lake, which is beautiful, especially the warm days, will surely invite you for outdoor fun at the lake.
Cabaret Voltaire
Musicians, artists, dancers, and literati gathered at the Cabaret Voltaire and called each existing art into question. From here, Dada got into the world – and a worldwide art revolution was born.
Today, the Dadahaus, with its events, exhibitions, bar, and small specialized lending library, is open for you. Dada enthusiasts will indeed enjoy a night at the Hotel Limmatblick, where all the rooms are decorated individually in Dada style.
Then, why not head to Cabaret Voltaire for one of their tasty cocktails and experience a wonderful evening of provocative and artistic shows which are sure to leave a memorable impression.
Zürich Jazznojazz Festival
Zürich is one of the best stops for jazz music enthusiasts, offering some of the top artists and venues on the continent and hosts the most significant jazz celebrations in the world.
Jazznojazz draws artists from several related genres, covering funk and soul to blues and other general styles to show their talent and encourage the crowds.
There is always an excellent atmosphere at Jazznojazz, which is why the halls at the ZKB Club and on Gessnerallee fill up quickly. Individual tickets are available for every concert, but music fans can also purchase day and festival passes.
The Secret Dinner
Are you up for a culinary experience? Why not engage with Zürich's Secret Dinner organization and allow yourself a shocking night of gourmet food and excellent drinks.
The event occurs at top-secret places around the city, which are not revealed until you arrive at the site itself. The Secret Dinner idea covers everything from multi-course meals and alcoholic beverages to shuttle bus services.
Since its beginnings, the event has seen an incredible number of guests seeking to be part of its novel take on the Swiss dining scene.
Zürich Kunsthaus (Museum of Fine Arts)
Kunsthaus museum has a vast collection of above 4000 artworks of various artists over hundreds of years, many of them Swiss.
The collection has excellent modern artworks, including paintings from Claude Monet, Alberto Giacometti, and Pablo Picasso. Works from well-known artists such as van Gogh and Matisse are displayed too.
Aside from paintings, the museum also has panels and sculptures from Italian and Dutch baroque styles. The current expansion process of the building will make it the biggest museum in Switzerland.
Zürich West
This earlier industrial area is where the most modern bars, hotels, shops, and nightclubs are located. Industries have walked away, giving their large expanses of space to creative minds.
Here, tourists can spot Switzerland's one of the tallest buildings, the Prime Tower, and experience a delightful drink at the Cloud's Bar on the top.
You can enjoy the musical tunes of skilled artists who get to the stage at Schiffbau, a late factory transformed into a theater. Or, you can stroll around the enormous square of Frau Gerold's Garten and enjoy organic dishes.
MFO Park
The former Maschinenfabrik Oerlikon (MFO) place in Zürich-Nord is built by a double-walled latticework steel framework open on three sides.
The Virginia creeper offers rise to a great play of colors in fall, while in summer, visitors are welcomed by verdant green foliage.
Especially in summer, the building is often used for many cultural events, such as open-air movie theatres or festivals of all types.
Pegasus Small World Toy Museum
The Pegasus Small World Toy Museum highlights a massive collection of toys dating back to 1890. Founded in 1962 with a toy collection of 4,000 essential items, the museum has now one of the rarest collections in Switzerland. Teddy bear lovers can witness 700 Steiff teddy bears on impressive display among the dozens of glass cases.
A family-run museum, Pegasus Small World is entirely full of strange and enchanted toys with an off-kilter grace that only a Swiss museum could have.
Conclusion
It is hard to cover all these secret wonders in Zürich unless you have a big holiday planned in the city. But, we wish we might have encouraged you to a few places that you must tour on your next holiday to Zürich.
Wanhua Qiao is Managing Director of Venez Discover Switzerland. Venez Discover Switzerland by Tourismus Group crafts some of the finest private tours and multi-day journeys throughout Switzerland and has established itself as a leading tour operator in Switzerland.
If you would like to be a guest blogger on A Luxury Travel Blog in order to raise your profile, please contact us.