With six double bedrooms, comfortably able to accommodate a dozen guests, this is the ultimate self-catering house.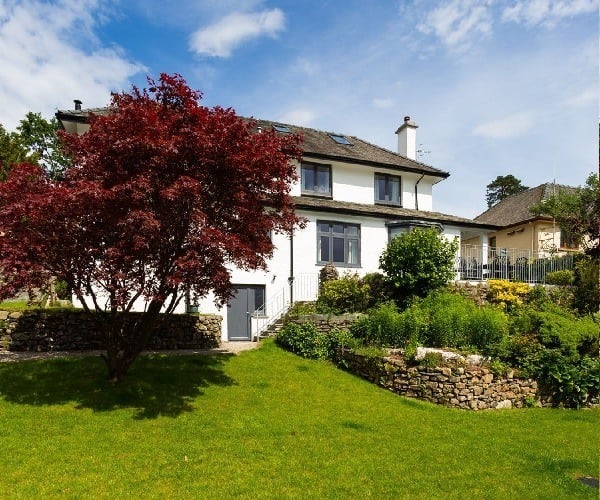 Stylish contemporary decoration, with Orla Kiely fabrics, makes this spacious house a luxurious place for grand reunions of family and friends.
Though, in such a large house, it is always possible to find a quiet corner for a spot of reading or a quiet one-to-one chat.
The welcome
Lakelovers issue guests with a code to the external key box so there is no pressure on arrival times. Bookings run from Friday to Friday which reduces the annoyance of congested weekend traffic.
The kitchen is equipped with a welcome pack of tea, coffee, milk, biscuits and two bottles of chilled white win in one of the two fridges. During the week, a gardener drops by to mow and trim.
The room
There are six bedrooms, five of them en-suite and a sixth with a bathroom immediately opposite. Hanging rails are equipped with laundry baskets and shoe baskets. Every room has a remote-controlled television
These are havens for deep restorative sleep after bike rides, hikes and wild swims. Chunky timber doors and lush-piled grey carpets make superb sound proofing. Far from the madding crowd, all you will hear is bleating sheep.
Penthouse style, the master bedroom takes up the entire top floor with a large bathroom, dressing area and a view of Lake Windermere.
The bathroom
Bathrooms always feature a shower. Some have a bath too and the top floor master bedroom has a stand alone deep bath.
Every bathroom, and the downstairs loo by the kitchen, is equipped with fluffy white Lakelovers towels and liquid soap.
Facilities
You expect to see James Martin or Nigella Lawson cooking in such a well-equipped kitchen: there is even a choice of size of from three cafetières. Alternatively, you can use the top of the range Delonghi Dinamica coffee-maker that freshly grinds the beans and heats the milk.
A five ring range and two ovens, a choice of electric or gas, help cater for groups of up to 12 people. Two tall SMEG fridges stand ready to store a week's groceries whilst there is also a freezer in the garage.
This is is a kitchen that could host Masterchef with its ingenious Joseph and Joseph utensils. Not only is there ample crockery and cutlery for 12, there are complete sets of glasses for fizz, beer, wine, GT and perhaps the most thoughtful touch of all – plastic beakers and plates for children.
A wrap-around high level terrace hosts a large table for al fresco dining. Another elevated patio, with rattan garden furniture, sits amongst a vibrant front country garden: it is sheltered by waving fronds of yellow lysimachia punctata, thriving  asparagus and the quintessential cottage garden scent of pink roses.
Location
Wynford is a peaceful rural retreat on a single-track road, used as much by sheep as cars, about a mile from the centre of Ambleside. A ten minute walk back downhill takes you to the Golden Rule pub whilst The Unicorn is round the next corner.
Step out of the front garden, which has space to park six cars, and immediately you are on the Fairfield Horseshoe Walk, a challenging 10 mile trek that takes in Wainwrights, Birketts, Nuttalls, Hewitts and even a Marilyn.
When that one is ticked off there are many more walks at Skelwith Bridge, Stock Ghyll Waterfall, Lougheigg Fell, The Vale of Rydal and Lake Windermere. For cyclists there is plenty of room in the double garage for storing bikes.
Other nice touches
With up to two medium sized dogs permitted there are bowls and blankets for canine guests, though a stair gate prevents paws from muddying the light grey carpets.
The best bit
Wynford is designed for lakes living, realistically accepting a local climate that provides above average rainfall.
By the front door there is a boot scrapper and seat for removing muddy boots. Next to that there is a large boot store. Within the porch there are plenty of hooks for drying damp coats. This is a house thoughtfully designed for all seasons.
The final verdict
An exceptionally well-equipped house, a short walk from bustling busy Ambleside. Right at the heart of the Lake District, Wynford is superbly placed for biking, boating, golfing. hiking and sailing. If you want to take a break from the kitchen there are many excellent restaurants within a short walk or drive.
Visit https://www.lakelovers.co.uk/ for more details.