Our plan was to travel to Largs today, for the next stage of our Scottish Summer adventure: a sailing holiday, much like we did last year. But before we took the two-hour drive north, we went for one last mountain bike ride at Glentrool.
Some of the routes at Glentrool are short enough for us to take George with us. He could come on the longer rides, too, but – being a Springer spaniel – he has no self-limitation when it comes to exercise and will just keep going and going, to a point that's probably more than is good for him!
So, instead, we just did a short ride and let him cool off in the river afterwards.
The river here is known as the Water of Minnoch. It's very picturesque at this point as it cascades through the rocks, before meandering its way southwards to join the River Cree. There are areas both above and below the falls that are popular with wild swimmers, though we resisted temptation on this occasion.
George wasn't going to be able to join us on the next stage of our adventure (dogs aren't allowed on the boat), but we had planned ahead using the website rover.com to identify a dog sitter close to Largs who could look after him for the five days that we'd be sailing. It's like an airbnb for dogs and our chosen host's reviews were all good, and communication had been excellent too, so we felt confident in the choice we had made. The beauty of doing it this way also was that George had been able to join for at least some of the holiday, rather than us putting him into kennels back home for what would have been the best part of two weeks. He would also enjoy more personal care by being in someone's home rather than a kennels.
Access to our host's house with the motorhome wasn't so easy so we arranged instead to meet at a local country park. They asked all the right questions when we met them and, soon after resuming our journey, we were already receiving updates and photographs via Whatsapp to put our minds at ease. In fact, this worked so well that we wouldn't hesitate to use the same hosts again.
We arrived in Largs with plenty of time to spare so went for a run along the seafront whilst the kids cycled some more. Largs lies on the Firth of Clyde and enjoys westerly sea views out towards Great Cumbrae and Bute.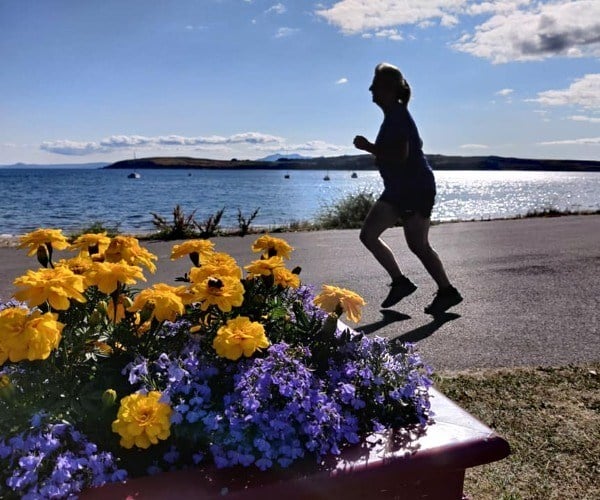 Back at the marina, we showered and freshened up before meeting our skipper for the week. Like last year, we had elected to use Go West Sailing for this leg of our adventure. At just 19 years old, Archie was our RYA Yachtmaster-qualified skipper (an incredible accomplishment for someone so young) and he showed us to the boat, Mistral – a Beneteau Oceanis 393 – that happened to be the same vessel as we were on last year.
We transferred our bags, dined at Scott's at Largs Marina and watched the sun set, before climbing aboard and having a relatively early night, so that we would be fresh and ready to set sail in the morning.
An active family holiday in Scotland:
You can read the full trip by clicking on any of the links below:
Day 1: Mossyard
Day 2: Mossyard – Kirroughtree – Glentrool
Day 3: Glentrool
Day 4: Glentrool – Largs
Day 5: Largs – Scalpsie Bay – Tarbert
Day 6: Tarbert – Ardishaig – Otter Ferry
Day 7: Otter Ferry – Ardmarnoch Bay – Portavadie
Day 8: Otter Ferry – Ardmarnoch Bay – Portavadie
Day 9: Portavadie – Largs
Day 10: Largs – Glasgow
Diclosure: Our sailing holiday was sponsored by Go West Sailing.