Last Summer our eldest son did his RYA Day Skipper qualification (which you can do once you turn 16) with Go West Sailing and our plan this year had been for him to do the next step up – his RYA Coastal Skipper. You do need to quite a bit of study for this but, in the lead-up to the holiday, he had so many other pressures – his Maths A-level which he was taking a year early, the mock exams for his other A-levels that would determine his predictions for University applications, his driving test theory, some work experience and more, that we decided it would be best if we just treated it as more of a holiday. We could use this year as an experience builder, without any pressure – after all, there would always be future opportunities to do the RYA-recognised qualifications.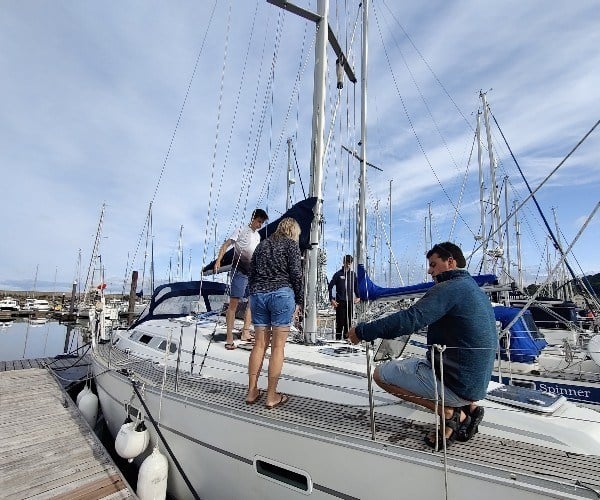 So, with this pressure aside, we started the day with a safety briefing, checked the oil levels and set off out of Largs Yacht Haven – first under motor as there was little wind, but later the wind came in and we were able to reach speeds of 5 or 6 knots comfortably under sail.
We hadn't been on the move for long before we spotted a seal, before later enjoying a number of dolphin sightings as we passed between the islands of Great Cumbrae and Little Cumbrae and on towards the southern end of Bute. As we emerged from between the islands, we could see Arran ahead of us and, in the distance to the south, could make out Ailsa Craig, a granite outcrop famous as a source of curling stones.
We anchored at Scalpsie Bay off Bute to have lunch before continuing on, sometimes under motor, but more often under sail, and for the final stretch goose-winging our way downwind towards Tarbert (with the mainsail going one way, and the jib the other, with the wind behind us).
We arrived at Tarbert harbour, went for a run up to the castle, freshened up and rewarded ourselves with fish and chips from the Loch Fyne Fish Bar.
Tarbert is a lovely village and has a maritime history that goes back many centuries; it has a bustling community with a ferry link to Portavadie, as well as the nearby Kennacraig ferry to Islay, and serves as the headquarters for the Loch Fyne fishing fleet.
An active family holiday in Scotland:
You can read the full trip by clicking on any of the links below:
Day 1: Mossyard
Day 2: Mossyard – Kirroughtree – Glentrool
Day 3: Glentrool
Day 4: Glentrool – Largs
Day 5: Largs – Scalpsie Bay – Tarbert
Day 6: Tarbert – Ardishaig – Otter Ferry
Day 7: Otter Ferry – Ardmarnoch Bay – Portavadie
Day 8: Otter Ferry – Ardmarnoch Bay – Portavadie
Day 9: Portavadie – Largs
Day 10: Largs – Glasgow
Diclosure: Our sailing holiday was sponsored by Go West Sailing.