Heralding the start of the upcoming yacht show season, the Miami International Boat Show and Palm Beach International Boat Show are highlights of the US yachting calendar and much anticipated every spring. Delivering the opportunity to visit the latest superyachts for sale and charter, meet yacht brokers, view the newest water toys and innovative marine equipment or chat with shipyard experts, the insight available in one location is amazing. Even if you are not in the market for a yacht, these shows offer a popular day out for the whole family to soak up the atmosphere and discover the marine world a little further.
From 16 to 20 February, the Miami International Boat Show hosts a non-stop showcase of displays and activities, with the on-land portion taking place at the newly reimagined Miami Beach Convention Center and Pride Park. The in-water side of the show is found at Sea Isle Marina, One Herald Plaza, Museum Park Marina, and IGY Yacht Haven Grande at Island Gardens. Billed as one of the largest boat show experiences in the world, Miami delivers atmosphere, diversity and a great variety of nautical offerings. From vast superyachts to personal watercraft, the exhibitions include safety equipment, navigational apparatus and marine electronics, displaying an array of innovation and future vision for all to enjoy. With family activity zones, lifestyle activities, educational seminars and a range of superyacht exhibitors, to name but a few, there is so much to enjoy over these five fabulous days. Besides the sun, sand, sea and surf in Miami, soak up the vibe and take time out to view a live production in the decadent Fauna Theater, a leisurely stroll in the Design District or head to Artechouse where digital technology meets art.
Rapidly growing each year with increased dock space, more marine brands and larger yachts, the Palm Beach International Boat Show hits the water from 24-27 March on the West Palm Beach waterfront along Flagler Drive. Famed for top quality exhibitions, not to mention the generally excellent weather, Palm Beach does tend to boast smaller crowds in the hub of America's wealthiest zip code. 2022 may prove better than ever with a number of new to the market yachts on display, such as the exceptional 68m Abeking & Rasmussen SOARING finally making her US debut. With yacht ownership becoming one of the most popular ways to ensure a safe and private vacation on the water, the exclusive opportunity for yachts like this will undoubtedly be in high demand. Expect exciting all-day demos in the Aquazone and kids fishing clinics with marine experts plus numerous other attractions. As one of the top shows, Palm Beach is more relaxed and laid back than other US shows. Easily accessible and in the heart of Palm Beach, guests can enjoy taking a day to view yachts and toys, grab a bite to eat at some of the fabulous restaurants within walking distance from the show and chat with yacht brokers, all with relative ease. For a break from the show, shopping on Worth Avenue is akin to Rodeo Drive, while the Henry Morrison Flagler Museum provides a great cultural distraction.
While the sheer size and volume of yachts on display can be overwhelming, following a few tips can ensure that you make the most of a boat show experience:
1. Know your goals
Do you want to buy a yacht or charter a yacht? What size vessel are you looking for? Most yacht shows have separate areas for smaller vessels, superyachts and accessories – and there is often quite a distance between them. If you are looking to seriously view yachts at a show, engaging the skills of an experienced broker is highly recommended. However, if you are viewing yachts without assistance or just enjoying a fun day out, be sure to consult the event map ahead of time. It is often said that the magic number of yacht viewings in a day is three, anything over this and the details will start to blur, so take note and plan carefully. The fact that boat shows span several days is a great advantage, as with so much to see and numerous distractions, it is important to adopt a measured approach.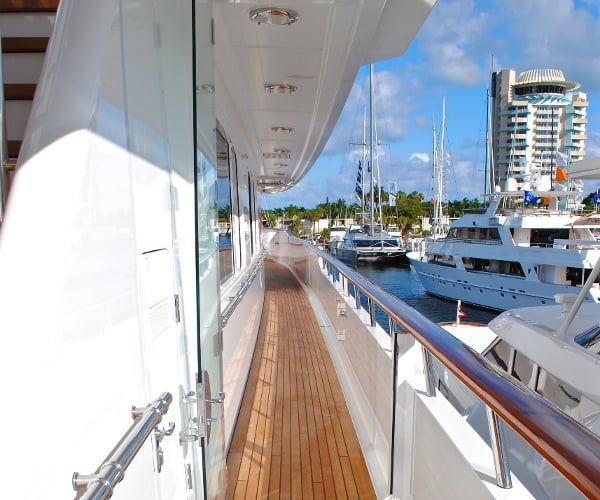 2. Broker knows best
In much the same way that a successful stock or real estate broker studies and knows their market, yacht brokers are continually analyzing theirs in order to be up to date with pricing trends, supply, demand and global yacht listings. Most luxury yacht brokers will have a team on the ground at all major shows, however contacting them ahead of time can give you an advantage. Scheduling ahead with your broker ensures preferred access for yacht visits alongside a respected industry member aligned with your best interests at heart so do let them know you're coming and what you may be interested in looking for. Your broker can then put together a list of options to view, wholly specific to your desires, with a plan to maximize time at the show.
3. Comfort is king
Essential items such as a hat, sunglasses and sunscreen are vital as it can often get pretty hot when yacht-hopping. Shoes need to be easy on and off, as these are left quayside to protect the delicate teak deck when heading on board – additionally comfortable footwear is crucial while walking the jetties. Your broker can arrange tickets, but if going unaccompanied these are worth ordering ahead of time.
Whether a potential charterer, a yacht owner looking to upsize or just a local resident with a love of boating, both the Palm Beach International Boat Show and Miami International Boat Show are fun events to attend. With such a wide selection of yachts on the water all in one place, this is truly an amazing opportunity for enthusiasts to pursue their passion.
Nicholas Dean is Managing Partner of Ocean Independence. Ocean Independence is a global leader in luxury yachting, providing a bespoke experience across yacht charter, sales and management.
If you would like to be a guest blogger on A Luxury Travel Blog in order to raise your profile, please contact us.