Home > Travel Guides > Morocco > Marrakesh Travel Guide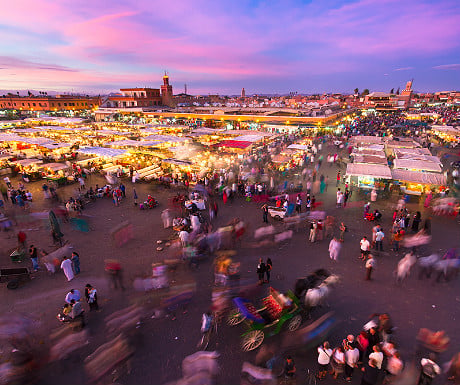 LUXURY TRAVEL
Marrakesh Travel Guide
Over the centuries Marrakesh has been an oasis in the desert. Once an Imperial city, it has come to be known as the "Red City" because of the Kasbah wall that surrounds the Medina. Visiting Marrakesh is like stepping into another world, one that has been stuck in time.
Introduction to Marrakesh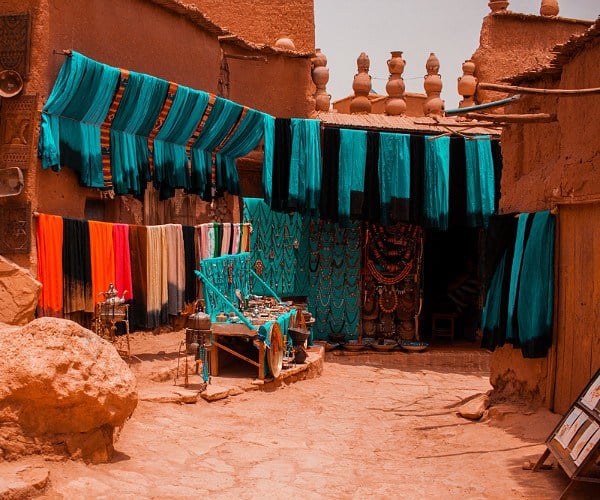 Once a trading and resting spot for caravans along the Saharan routes, Marrakesh is now the fourth largest city in the Kingdom of Morocco and a trendy destination combining old and new, and appealing to every taste and budget.
To the south, the magnificent Atlas Mountains enclose the city and, during the winter months, the snow-capped peaks provide a fantastic contrast to the desert landscape.
To the north, you will find La Palmeraie, a palm oasis where you can enjoy many fun activities, such as quad bikes or camel riding.
Since Morocco was a French and Spanish protectorate, the new city (Ville Nouvelle) shows European influence, while the old Medina looks like a scene form a thousand years ago.
In fact, the Medina in Marrakesh is a protected UNESCO World Heritage Site.
When you first arrive in Marrakesh, brace yourself for a sensory overload; you will instantly be surrounded by intoxicating smells, the most vibrant colors and a cacophony of sounds that welcome you into the city and pave the way for an amazing experience. Let yourself be enchanted by the Muezzin's call to prayer five times a day from the loudspeakers of every Mosque in town.
Marrakesh boasts some of the most exquisite examples of Islamic architecture. Beautiful tiled courtyards, intricate stone work and masterfully carved wooden doors can been found at every corner.
From Jema El – Fna you can find the entrance to the Medina, which houses hundreds of souks (markets) winding in and out of narrow streets and alleyways. Here you can find all kinds of goods imaginable, ranging from enticing spices to Aladdin's lamp!
Outside the walls of the Medina lies Guéliz also known as the Ville Nouvelle, which offers a modern, progressive facet of Marrakesh. Here you can find chic boutiques, contemporary restaurants, museums, gardens and a bustling night life. It only takes a 15 minute walk to go from ancient to modern!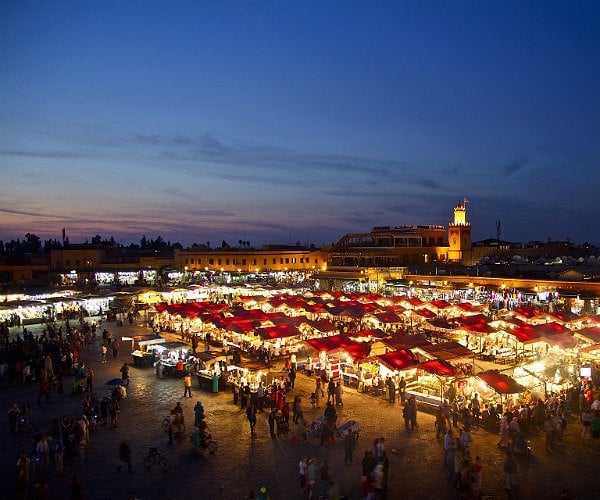 History of Marrakesh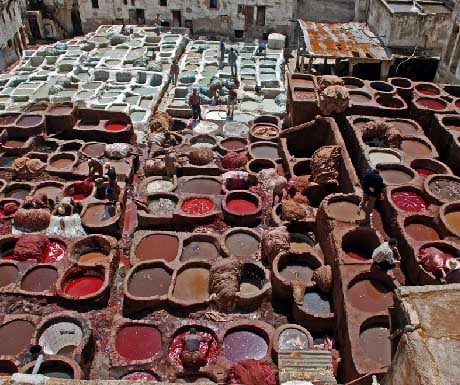 The history of Marrakesh goes back nearly a thousand years. It began as nothing more than a watering hole for the local Berber tribes until the city was founded by the Almoravid leader Youssef Ibn Tashufin during the mid-11th century.
Under Almoravid rule, Marrakesh served as the capital and developed into a magnificent Islamic city, until 1147 when it fell to the Almohads, who basically destroyed all existing religious and civic structures.
Nearly one hundred years later, in 1269 the Marinids took control of Marrakesh but they preferred to use the northern city of Fez as their capital. As a result, a period of steep decline followed and Marrakesh was largely neglected for almost 300 years.
In 1525 the city was captured by the Saadian sharifs and, after they captured Fez in 1549, Marrakesh resumed its status as Imperial capital of a unified Morocco. During this time the city reached its grandeur because the Saadians greatly embellished it.
Examples of architecture from this period are The Saadian Tombs, Al Badi Palace and the Ben Youssef Madrasa. In 1669 the city was captured by the Alawite sharifs and, although Marrakesh served as a residence for the sultans, it was not used as a definitive capital, since the sultans chose to move their courts frequently between cities.
Almost another century went by before Mohammed III brought the city back to life in the mid 1700s. Until 1867, the sultan had to grant permission to European travelers to enter the city but European influence began to expand in Morocco as it became the subject of imperial rivalries, European countries seeking its privileged position as a trade route.
In 1912, the Treaty of Fez, which was designed to protect the kingdom while providing stability to the country, created the French and Spanish protectorates . The French extended their influence over most of the country, while Spain's can mostly be seen on the northern strip of the territory.
Morocco regained it's independence in 1956 and since then has become a haven for visitors from around the world, who flock here to soak in its rich cultural history.
.
Where to stay in Marrakesh
Choosing where to stay can be a very daunting task and you will need to consider everything the city has to offer. Marrakesh itself is divided into two sectors: the old Medina and the modern European district. Having said that, there are five main distinctive neighborhoods, each with its own vibe and feel. Here is a brief description to help you decide where to stay according to your own interests and travel style. If you choose to stay in the Medina, most attractions are reachable on foot, while taxis may be necessary from other districts.
The Medina is definitely the best area to stay if you want to experience the true and traditional Marrakesh, this is the heart and soul of the city.
Hivernage is the coolest neighborhood, known for its first class hotels, elegant restaurants and classy bars.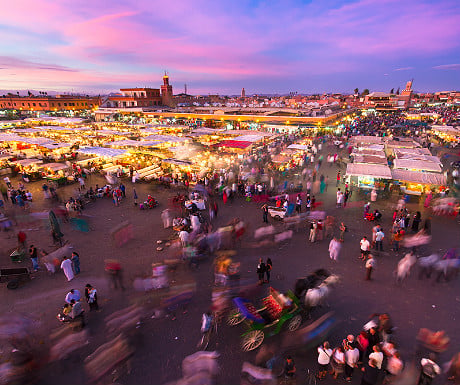 Gueliz is located in the European sector of the city, where you can find contemporary art galleries, modern boutiques and trendy restaurants
Chrifia, south of the Medina, is best suited for families with children. Although a bit further out from the city center, it has lots of fun activities, such as fun waterparks, lush gardens and golf courses. A perfect neighborhood if you want to avoid the hustling and bustling of the Medina.
Kennaria is a small neighborhood located within the walls of the Medina just east of Jemma El-Fna. It is home to many artisanal shops and it is famous for having more Hammams than any other area of the city.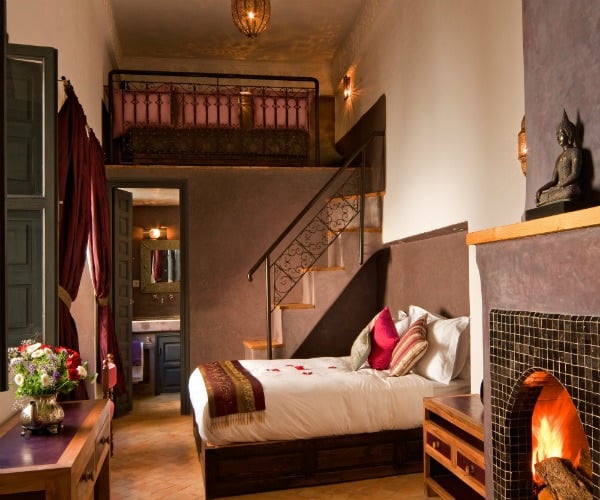 Accommodation in Marrakesh
When considering where to stay in Marrakesh, we would most definitely recommend staying at a Riad, preferably inside the Medina. These traditional Moroccan houses are full of tradition and charm, while providing all the amenities you would expect from the best hotels. Riads are characterized by classic Moroccan architecture, gorgeous courtyard pools, and more often than not, a deliciously abundant breakfast, which you can enjoy on the roof top terrace while enjoying the view.
Most of these riads are owned and operated by friendly locals. This will allow you to experience the culture first hand, and enjoy first class service in an intimate setting. If you are travelling during high season, be advised it is best to book well in advance, since they tend to fill up rather quickly.
Here are some the best riads Marrakesh has to offer:
Riad Farhan offers a spa, a terrace and an indoor pool where you can enjoy a traditional Moroccan breakfast. The Riad Le Clos des Arts where, according to legend, this traditional arab house belonged to an arts trader. The Riad Charmes d'Orient is an adults only traditional riad. The gorgeous Riad de Tarabel offers colonial style and is filled with French antiques. The beautiful tree lined terrace of the Riad Camila offers magnificent views of the mountains and the Medina. The romantic Riad La Sultana offers cooking classes of traditional Moroccan cuisine. The elegant Riad Adore boast bright and airy rooms with luxurious furnishings and balconies.
If staying at a small, traditional riad is not your cup of tea, you can always find "big hotels" which capture the beauty and culture of Morocco. Among the best you can find La Mamounia, one hundred year old history but still inspiring. You can also try Les Jardins de la Koutoubia, The Oberoi Marrakesh or the Mandarin Oriental.
If you are feeling more adventurous and are willing to travel 30 kilometers outside of Marrakesh, you can plan for a stay at the Cameleon Camp in Agafay. Here you will spend the night in a tent, where you can enjoy traditional Moroccan fare for dinner and breakfast, as well as camel riding and ATV tours of the desert.
Places to visit in Marrakesh
You should consider staying in Marrakesh at least 3 days in order to experience everything the city has to offer. You could consider an additional day or two if you are planning to visit the desert.
Just taking in the atmosphere is one of the main attractions the city has to offer and most points of interest can be found within the Medina, so put on your comfy shoes and let's explore!
Jema El – Fna is most definitely at the center of daily life in the city; this square is a vibrant cornucopia of musicians, snake charmers, water men and story tellers. Merchants from food stands selling refreshing orange juice, mint teas, dates or even snails are always vying for your attention.
Busy during the day, Jema El – Fna transforms at night into a veritable carnival where you will find hundreds of food stalls to have dinner for just a few dirhams. If you want to escape the madness, you can always visit one of the many roof top cafés or restaurants and enjoy the sights from above.
Off the northern part of Jema El – Fna you can step into the labyrinthine Medina (old city) where you will find the famous souks of Marrakesh. As you meander the narrow streets and alleyways, experience a myriad of colors, scents and sounds while you put your haggling abilities to the test.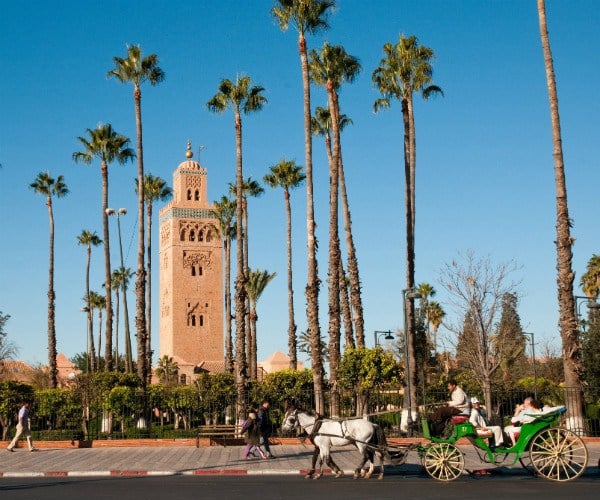 The souks are divided into different categories, such as, spices, basket makers, carpets or leather artisans are all grouped together; but these are just some of the merchants you will find in the vast markets.
Unless you explore streets that are fairly close to Jema El – Fna, it is very easy to get lost in the souks. After a while, all streets start to seem the same and, since most passageways are covered, it is very difficult to get a sense of where you are. If your time is short, the best way to explore the souks is with the aid of a licensed local guide.
Visible for miles in every direction, the 70 meters tall minaret of the Koutoubia Mosque is the best known landmark in Marrakesh. Unfortunately, non Muslims are not allowed to visit the mosque.
Inside the Medina walls, The Ben Youssef Madrasa was once the largest theological college in Morocco, housing around 900 students for religious studies. Built around 1565, it's a magnificent example of Islamic architecture. Get lost in the beauty of the elaborately decorated main courtyard, but don't miss the upstairs where you experience extraordinary stucco work.
In the Saadian Tombs you can find the burial ground for 66 members of the Saadian dynasty, which ruled Marrakesh for over 100 years during the 16th and 17th centuries. The tombs were walled up by the Alawite and were just rediscovered in the early 20th century.
Built at the end of the 19th century, the Bahia Palace is one of Marrakesh's most impressive buildings. It served as the residence of the grand Vizir serving under Sultan Moulay Al-Hasan I and it showcases the opulent lives led by those who were high up in the sultan's court at that time.
The Marrakesh Museum is housed in the Dar Menebhi Palace which once belonged to a defense minister of Morocco. The palace itself is a great example of classic Andalusian architecture and the museum's collection consists mainly of weapons, textiles, pottery and other traditional Moroccan objects.
Even though it now sits in ruins, the Badi Palace was once a magnificent palace built by Saadian rulers. Today you can explore the remnants of the palace's stables, dungeons and the main courtyard, as well as the high enclosing walls, from which you can get a magnificent views of the surrounding Medina.
The tanneries of Marrakesh are not as well known as those in Fes, but you can still get a sense of how artisans have worked leather for generations. It is best to get there early and to take in the view from one of the shops terraces. Be advised that the smell can be overwhelming but most shop owners will offer you some mint to mask in the odors coming from below.
Outside of the city walls you can find a small oasis in the Menara Gardens. If you want to escape the hustle and bustle of the Medina or are simply looking for some peace and quiet. come here for a stroll. Admire the beautiful pavilion and reflective pool where, on a clear day, you can see the magnificent Atlas reflected in the water.
Located in the Gueliz (Ville Nouvelle) sector of the city, the Jardin Majorelle offers another respite from the craziness that is the old town. Originally created by French artist Jacques Majorelle, Yves Saint Laurent bought the property, brought it back to life and opened it to the public. On the grounds you will find the Musee Berber, which houses traditional Berber jewelry, textiles, costumes and cultural artifacts. There is also a small restaurant where you can enjoy a nice, albeit expensive, meal.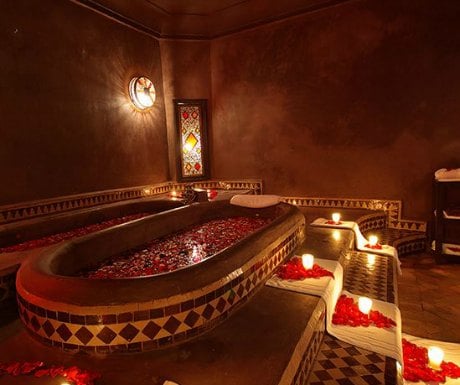 Things to do in Marrakesh
The first thing to do when you arrive in Marrakesh is go to Jema El – Fna and soak in the atmosphere. It is a must to have a cooling drink in one of the rooftop terraces of the many restaurants surrounding the square. This is the best vantage point to observe the madness below.
Another must do is to get lost in the Medina. Visit the souks and put your haggling abilities to the test, even if you don't buy anything, it will be a fun experience.
For a different perspective on Marrakesh, you can take on a hot air balloon ride, which will for sure be a very memorable experience.
One of the highlights of any trip is to sample the local cuisine, a way to take this one step further would be to participate in a traditional Moroccan cooking class.
After a hot day of strolling through the Medina and shopping to your heart's content, a good way to wind down is to take a hammam. A soapy rub, hot steam and an energetic exfoliation will leave you feeling like new.
Another fun experience is to attend a traditional Moroccan Dinner and Folklore show, where you will enjoy a sumptuous meal and a memorable show featuring belly dancers, acrobats, folk music and fireworks.
If you wish to leave the city, there are many companies that offer 2 or 3 day trips to the dessert where you will be able to ride camels, ride ATVs in the dunes, sand board and sleep under a Berber tent. This will certainly be one of the highlights of your trip to Marrakesh!
Food in Marrakesh
One of the pleasure of travelling to new lands is to sample the traditional cuisine. Moroccan dishes are full of flavors, inspired by Berber, Jewish, Arab, Spanish and French cultures.
Whether you choose to sit at a nice restaurant or stroll through the stalls in Jema El – Fna, there is certainly no shortage of places to choose from and you are sure to find something to fit your taste and budget.
These are some of the dishes you must try while in Marrakesh:
Tagine is a Berber dish named after the clay pot it is cooked in. There are many kinds of Tagine cooked with meat, chicken fish or vegetables and an array of delicious spices.
Briouates are made with flaky phyllo pastry and filled with cheese, lamb or vegetables and it's usually served as a starter. They are simply yummy!!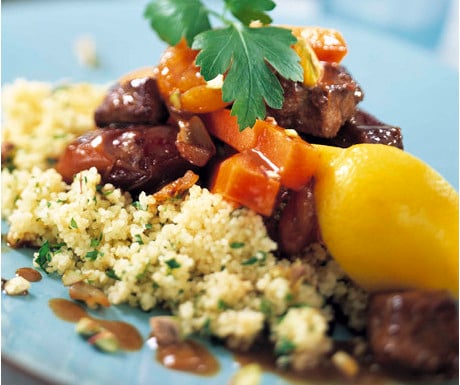 Harira is a traditional, hearty soup made with lentils, tomatoes, chickpeas and spices.
Couscous is made with durum-wheat semolina (which resembles a light pasta) and it serves as the base for various dishes cooked in the same pot using an assortment of lamb, vegetables and spices. A trip to Morocco is not complete until you try couscous!
Pastilla resembles a savory pie; made with flaky phyllo dough, it is filled with pigeon meat, almonds, eggs and sprinkled on top with powdered sugar and cinnamon. A must try delicacy!!
Zaalouk is a side dish (kind of like a salad) made with tomatoes, eggplant, olive oil, garlic and spices.
Sweet mint tea is a staple offering in Morocco, from local vendors in their shops, restaurants, tea shops or local stands, you can find it everywhere and it is absolutely something you must try during your visit to Marrakesh.
Alcohol is available in Morocco, however there is a strict no alcohol policy inside the Medina. The Ville Nouvelle does not have that restriction, but it is still forbidden to drink in public spaces.
Finding the best place to eat in Morocco is no easy feat as great food is served everywhere. In places like Marrakech, the rooftop terraces throughout the medina and around the Jema El – Fna are usually all great, with a view to match. The Grand Café de la Poste is a colonial French brasserie which often has a waiting list, while the Terrace des Epices serves traditional cuisine close to the souk. Chez Chegrouni also has a terrace with front-row views of the carnival that is the Jema El – Fna below.
There are a couple of Michelin star restaurants to try in Marrakech, including Al Fassia and La Grande Table Marocaine with its elegant dining room.
Getting around Marrakesh
Marrakesh is served by an international airport with scheduled flights form several European cities.
If you are flying in from somewhere else, you may have to make a stop in Casablanca. The airport is about 4 miles out of the city and taxis or buses run all day long.
If you are travelling from other cities within Morocco, it is very convenient to take the train. The gare de Marrakesh is located in the Gueliz neighborhood and, therefore, quite far way from the old city; it is best to take a taxi if this is where you are staying.
The best way to get around Marrakesh is on foot, specially in the Medina.
However, taxis are readily available for longer trips, usually along fixed routes. You can also use petits taxis which are more flexible and can take you anywhere you want. Be aware, however, that they are more expensive and don't usually use the meter; you need to bargain with the driver before you embark on your journey. Another popular way to get around is on a caleche, which is a horse drawn carriage. Again, set the price with the driver before you hop in.
When to visit Marrakesh
Marrakesh enjoys a hot, semi-arid climate with hot Summers, mild winters and comfortably hot Springs and Autumns.
During the Winter months, the temperature during the day is warm and comfortable but at night it can get really cold.
Rainfall is very low throughout the year in contrast with sunshine hours which are consistently high.
The best time of year to visit is from September to May to avoid the Summer heat and the crowds. Having said that, there are some festivals and annual events that take place during the summer months.
Another time that would be best to avoid is during Ramadan (note that this falls on different dates each year) since many shops or restaurants might be closed.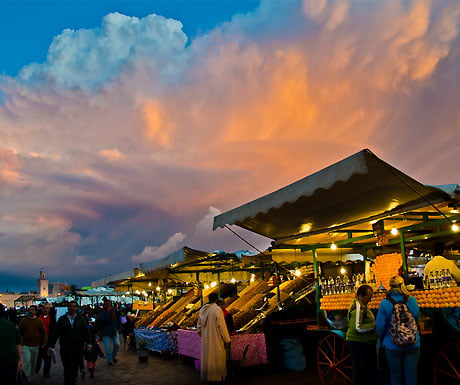 Events in Marrakesh
Here is a list of public holidays and festivals in Marrakesh.
January
Marrakesh Marathon
Festival of Ashura (nationwide)
February
Moussem Festival (nationwide)
March
Marrakech Biennale Art Festival
April
Jardin d'art Festival
May
Race of Morocco/Marrakesh Grand Prix
Kalaat Mgouna Rose Festival
June
Marrakech du Rire Comedy Festival
July
Feast of the Throne National Holiday
National Popular Arts Festival
August
Imilchil Marriage Feast
September
Oasis Music Festival
October
Marrakesh Art Fair at El Saadi Palace
November
Independence Day (nationwide)
December
Marrakech International Film Festival
New Year's Eve and Yennayer
Luxury travel tips
Luxury in Marrakesh comes in many shapes and sizes, but you don't have to break the bank to experience it.
You can indulge yourself in the simplest of things, such as dipping your toes in the turquoise waters of the pool or savoring a succulent breakfast on your riad's terrace. One can also find luxury hotels or resorts that cater to the most sophisticated tastes.
Marrakesh is very well known for its spas and particularly its hammams. Local hammams can be as inexpensive as 50 dirhams, while a luxury one can run you up to 700.
If you want an authentic first class experience you must visit the Spa at La Sultana hotel.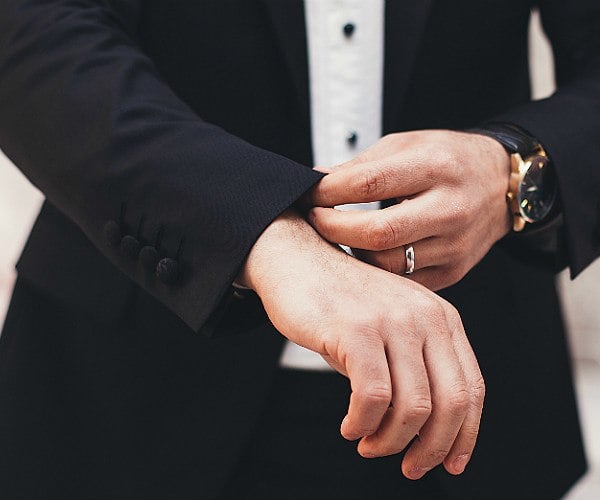 When you think of shopping in Marrakesh, your mind immediately goes to the exotic markets and souks. While this might be a thrilling experience, if you are in the hunt for something a little bit more refined, one can also find fine shops, designer boutiques and locally produced luxurious products.
Another truly luxurious adventure is to book a private Hot Air Balloon ride that will take you over Marrakesh's countryside while you enjoy breakfast and Moroccan pastries from your vantage point above this breathtaking landscape.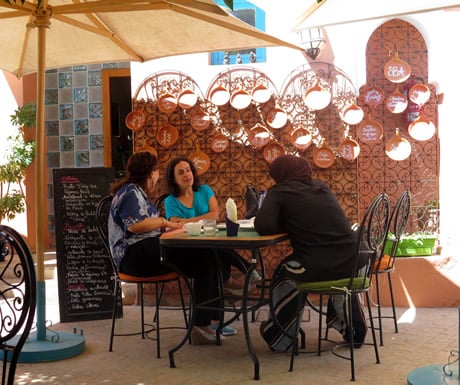 Language and culture
Having been occupied by various cultural and ethnical groups and serving as the functioning capital city of Morocco, Marrakesh has become a folklore wonderland. It's mix of influences has built a culturally diverse scene, that can be seen in interesting music that combines Spanish, African and Arabic sounds or in their fashion which brings together traditional breezy Moroccan clothes with the newest trends from the West.
To fully understand the culture, the best place to go is the Medina. Getting lost in the souks and finding traditional figments of the Marrakesh experience, like the abundance of the color red in art to represent the Red City itself. But the best way to be a part of Marrakesh is by blending with the locals and observing their local customs such as keeping to the right whilst walking and haggling with vendors, or getting a spot of fresh mint tea everywhere you go.
Just like in the rest of Morocco, Marrakesh's main language is Arabic; however the Berbers, which are the largest ethnic group in the city, still speak their own version of an Arabic dialect. Due to extensive French influences in the region, French also functions as a central language. As a tourist, relying on French over English would be the safest bet, seeing as much of the population doesn't speak English. However, many Morrocans can speak 3 to 4 languages, so language barriers shouldn't be a source of trouble.
Marrakesh , like the rest of Morocco, is officially a Muslim country and almost all its citizens practice Islam. You will see many symbols of the Islamic religion, such as mosques, religious inscriptions, medersas and, of course, hear the call to prayer from every minaret five times a day. As a tourist, when visiting Marrakesh you should be respectful of Muslim traditions and religious beliefs.
Useful phrases
Hello – As-salaam Alaykum
And unto you peace – Walaykum As-salaam (said in response to the above)
Hi – Salam
Goodbye – Beslama
Good morning – Sbah el kheyr
Yes – Iyah
No – La
How are you? – Labas?
Good – Mezya
Please – Afak
Thank you – Shokran
You're welcome – Al 'afw
Sorry – Smahli
English – Ingles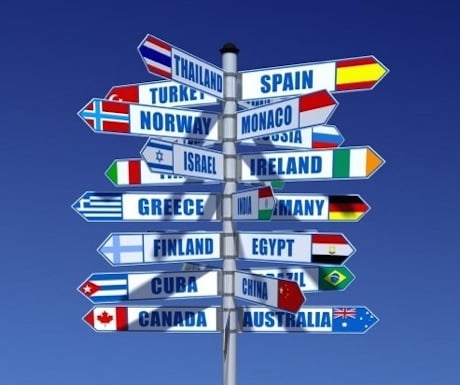 Weather in Marrakesh
Visiting Marrakesh soon? See below for the latest weather forecast for Marrakesh.
MARRAKECH WEATHER
Useful information
Currency
Morocco's currency is the Moroccan dirham. See www.xe.com for current exchange rates with the British Pound, Euro and the American Dollar.
Power
The California operates on 220V / 50Hz system and has two-pin plug sockets accepting type C or E plugs. Appliances with a voltage of 220-240V can be used here with the correct adapter. UK appliances would need a standard European two-pin to three-pin adapter.
Telecommunications
Mobile coverage in Morocco is excellent in all but the most remote regions. You can connect to the networks, provided by Méditel, Maroc Telecom and Inwi using European and UK mobiles. To avoid roaming charges you can buy a local SIM card if your phone has been unlocked. They are available from news stands and kiosks, supermarkets and convenience stores, usually for around $10 or 100 dirhams.
Tipping
There is no set rule for tipping in Morocco. Most people will leave a few dirhams after a meal or waitress service. In tourist areas it's common to add a 10% service charge to your bill, in which case a tip is not necessary. Tip taxi drivers by rounding up to the nearest 5 dirhams. Hotel staff, including cleaners, appreciate a tip for good service.
Timezone
UTC + 1 West European Summer Time
WiFi
Free WiFi can be found in many places in Morocco, including most hotels, cafes, restaurants, larger shops, airports, bus and train stations.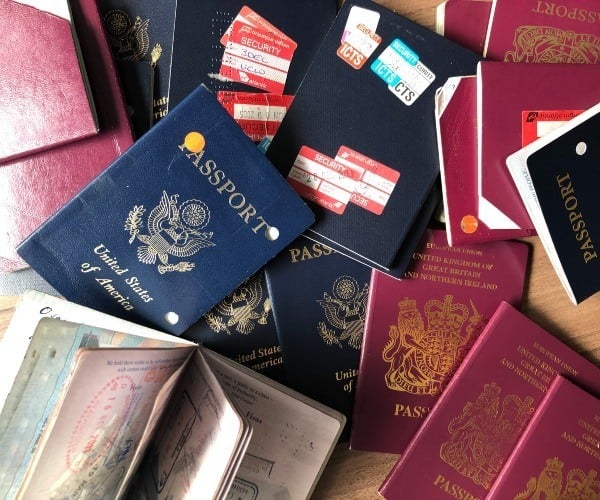 Want to contribute to our travel guides? Please contact us for details…