Home > Travel Guides > Tanzania Travel Guide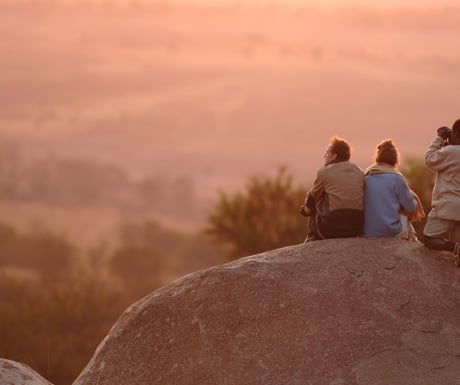 LUXURY TRAVEL
Tanzania Travel Guide
Nowhere in Africa provides such an enticing combination of action-packed safari and glistening Indian Ocean beaches than Tanzania. Home to the most spectacular natural event on the planet in the Great Wildebeest Migration, the awe-inspiring Ngorongoro Crater, Mount Kilimanjaro, the remote wilds of southern Tanzania and the vibrant Zanzibar Island: Tanzania has it all.
Introduction to Tanzania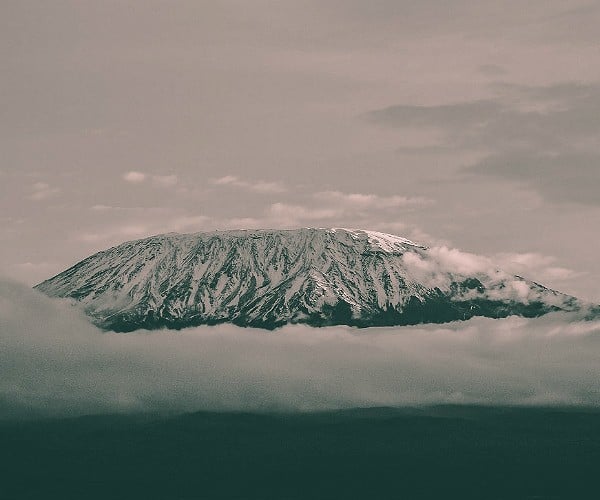 Best known for the Great Wildebeest Migration where two million grazers circle the endless plains of the Serengeti National Park in search for fresh pastures, Tanzania is rightly famed as one of the finest safari destinations in Africa.
In the north, The Serengeti is the main focus. Here, travellers revel in the quintessential East African safari experience: acacia dotted horizons, luxury tented camps, abundant predators and a lot of safari action. Trips to northern Tanzania are not complete without a drive down into the Ngorongoro Crater. An ancient volcanic caldera, this 20km area is breathtakingly beautiful and bursting with life. Travellers can easily tick off the big five in a single morning exploring this garden of safari Eden.
Other, smaller parks in the north include the dreamy Lake Manyara and the burnt red, baobab studded Tarangire National Park. Some travellers enjoy spending a few nights in one or the other, before heading to the Serengeti.
Flamingos dance, elephants wallow and photographers delight in the vibrant Lake Manyara. Tarangire is home to staggering elephant concentrations and is an exceptional safari destination in its own right. Both are beautiful parks, but the main event is always the Serengeti.
Of course, intrepid travellers are always drawn to the snowy peak of Mount Kilimanjaro. Treks can be private or set departures and last from six to nine days. With staggering views and unbeatable adventure, it is no wonder breathing a chilly sigh of relief from the roof of Africa is on many a bucket list.
Comprised of the untouched and action packed Ruaha National Park, and the watery, enchanting Selous Game Reserve, southern Tanzania offers true African wilderness for half the price as the north. Unique in its array of safari activities; romantic boat trips, fishing, walking and sleeping out under the stars; some travellers snub the famed north in favour of this pristine wilderness experience.
Most Tanzania safaris, whether north or south, are bookended with a few days relaxing on an Indian Ocean beach. The most popular choice is colourful Zanzibar Island, with its pristine beaches and an array of characterful boutique hotels. For those with specific beach interests, Pemba Island provides an off the beaten track island experience and Mafia Island is home to the biggest fish in the sea: the elusive whale shark. In Tanzania, there is a beach option for everyone whether travellers seek luxurious seaside relaxation, or intrepid ocean exploration.
The Great Wildebeest Migration
Tanzania's most famed attraction – the Great Wildebeest Migration – can be seen in the Serengeti year-round. They begin their journey in December to January when they start to congregate in the southern Serengeti plains of Ndutu, attracted by the nutrient soils to give their calves the best start in life.
Calving season spans across January to March. February is the only time of year the herds are always where they are expected to be – in Ndutu. In other times of year, they can be early or late as their movements can be unpredictable.
Calving season is a spectacular time to see the herds in all their glory: the plains are carpeted with life and brown specks span as far as the eye can see. In April and May, as Tanzania sees its long rains, the herds scatter before travelling north in June up the central and west Serengeti for the next main event of the year: crossing the Mara river. Wildebeest hurtle themselves into croc infested waters, sometimes thousands at a time. Crossings are unpredictable, although if you place yourself in the northern Serengeti (Lamai or Kogatende) in the months of July to October, then you have good chance of witnessing this amazing spectacle.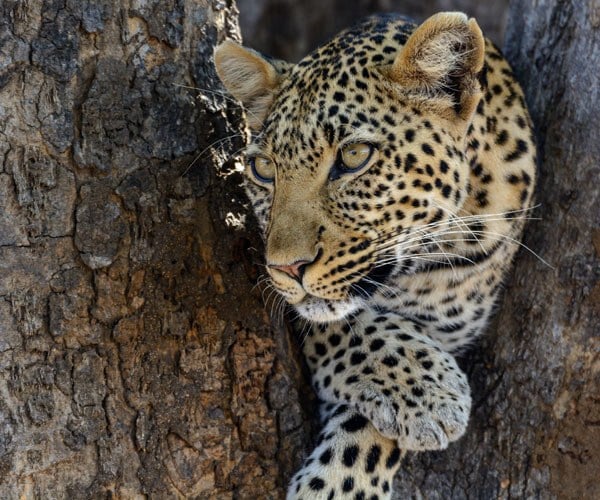 Usually associated with the Masai Mara, Tanzania is actually the best place to see the famed river crossings. Only some of the wildebeest enter Kenya's Masai Mara at some point between July and October, but they can always be found in The Serengeti crisscrossing the river until November when they make their way south again. The Masai Mara is therefore an extension of their route and by no means integral to their journey.
And so, they make their way south and the cycle begins again.
History of Tanzania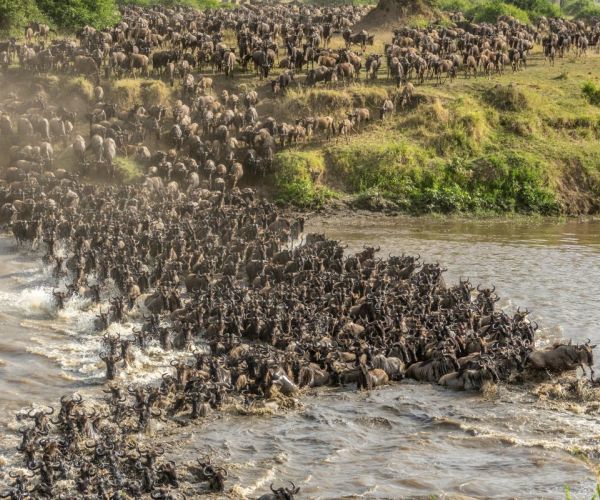 Formed in 1964, when Tanganyika and Zanzibar joined to create it, Tanzania has been at the forefront of African tourism for decades. Today, its tourism infrastructure is excellent with an efficient internal flight system and experienced ground operators.
But long before tourism, Tanzania's history is one of the oldest in the world. Often referred to as the "Cradle of Mankind", evidence of ancient hominoid settlements have been unearthed in Olduvai Gorge in northern Tanzania. Home to indigenous people, Tanzania began to be colonised in 700 by Arab traders and in 1500 when the Portuguese claimed parts of the mainland coast which they maintained until 17th century.
Comprised of mainland Tanzania, and what are now Burindi and Rwanda, Tanganyika was colonised by German East Africa in 1885. After World War I, under a League of Nations mandate, it became administrated by the British. Once part of Oman, Zanzibar was also made a British protectorate in 1890.
In 1961, Tanganyika got its independence and three years later Tanzania was born. Nowadays, Zanzibar has a fiercely independent spirit even though it is technically a part of Tanzania and remains a semi–autonomous region. Its Arabic influences live on today in Zanzibar and Dar es Salaam, one of Tanzania's biggest cities.
Culturally, both Tanzania and Zanzibar have held on to their identity despite centuries of colonisation. Identifiable by their colourful robes, Tanzania's Maasai people can be found in the north of the country, mostly around the Ngorongoro region but also in Arusha, as well as surrounding towns and villages. Travel south and the Muslin population grows around the mainland coast and in the Zanzibar archipelago.
Today, tourism is a big industry with many ground operators basing themselves in Arusha and Dar es Salaam. The backbone of Tanzania's economy however is agriculture, with mining also playing a huge part too.
Where to stay in Tanzania
When on safari, the best and only place to stay is in the parks themselves. This rule applies to most parks apart from the Ngorongoro Crater. The crater isn't very big, and although some accommodation options can be found on the crater rim, the more affordable options are tucked into the beautiful, rolling hills of the Ngorongoro Highlands. To get to the park gates from here, it is only a 20 minute drive.
With all the other Tanzanian safaris, basing yourself in the park is key to immersing yourself in the safari experience. There is nothing quite like falling asleep to buzzing crickets and grunting hippos, then waking up to the dawn chorus.
In the Serengeti, there is a huge range of options and locations. It is massive, so placing yourself in the right area for the time of year you are visiting is key for a successful safari. The general rule if travellers are hoping to catch the Great Wildebeest Migration, is to base themselves in the north of the park from July to October and in the southern plains from December to March. The months in between get a little tricky, as the Great Migration becomes harder to predict.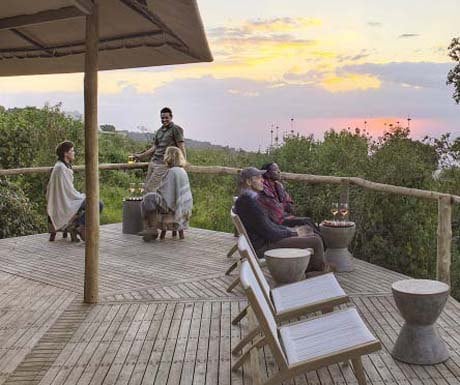 In the southern parks of Selous and Ruaha, location is not so important as the lodges tend to be in a similar area; where the wildlife are. Also, because these parks are so remote there are only eight or so camps in each one, so the decision is usually about which specific camp is best for you, over its specific location.
On Zanzibar Island, the best beaches can be found in the north and east of the island. The eastern coast can be tidal, so choosing accommodation carefully is key to an idyllic Indian Ocean experience. The beaches in the north are particularly idyllic; wide stretches of powder white sand, only interrupted by the lapping of turquoise waters epitomise what Zanzibar is all about. All along the coast, characterful boutique hotels can be found aroudn every turn.
Stone Town, Zanzibar's coastal hub, is interesting for a night or two. The Arabuc influenced coastal town is a myriad of local bustle, cobbled streets and rickety charm. But any more, and it can become a little chaotic. Also, there is no beach here (as is true for the whole of the west coast) so tourists tend not to stay here for long.
On the other islands in Zanzibar archipelago there are only a handful of lodges, so where to stay really depends on your budget, and which accommodation option is the most suitable.
.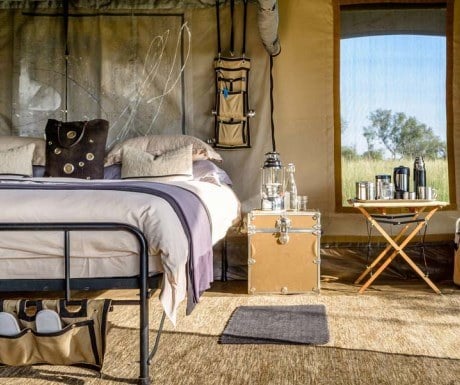 Accommodation in Tanzania
Even in the most inexpensive of Tanzania's safari camps, guests are amazed by little luxuries – which are safari standard. Whilst camping in such remote areas, many expect mediocre food, roll mats on the floor, condensation and general discomfort. They couldn't be more wrong.
Less tents, and more flats under canvas, tented safaris in Tanzania are heaven. Hot water, comfortable beds and the twinkling of the night's stars make Tanzania's impressive array of tented camps a truly sought after experience. Their intimate atmosphere and personalised service make them very special. However, such an experience means the camps are small, with only eight rooms or so, meaning travellers must book their place well in advance.
Although starry nights under canvas epitomise the romance of East African safari, some opt for a solid four wall experience. Most of the time, lodges will have extra perks like swimming pools and a few more mod cons. However, don't be fooled. Some hotel structures, especially in the Serengeti, compromise on luxury for a big solid complex. When staying in big hotels on safari, some of the experience is definitely lost. It is always better to go with the smaller, intimate options, whether than be under canvas or in a lodge.
It is also worth noting that in the Serengeti, due to the Great Migration moving locations throughout the year, some tented camps are semi-permanent, meaning they move two or three times throughout the year to be best placed to see the herds. This does not mean they are necessarily any less plush than regular camps – they are often in the best location and offer a barefoot luxury experience. Many tented camps are permanent, and some even offer swimming pools and spas: just because you are under canvas, it does not mean you are compromising on luxury.
Safari prices begin from around USD$350 per person per night. When it comes to safari, luxury is limitless (and so is price!) with the most expensive options at around USD$3,000 per person per night to stay in the private Singita Grumeti reserve in the western Serengeti.
For beach time, the best hotels in the Zanzibar Archipelago are the boutique ones. Prices vary from hotel to hotel hugely, with authentic, beach chic luxury options starting from around USD$180 per person per night, and going up to USD$1,000 per person per night for a private villa experience.
Places to visit in Tanzania
Tanzania is extremely varied. From the snowy peak of Kilimanjaro, to flat acacia-topped Serengeti horizons, the wild Mahale chimpanzees to the west, and glistening Zanzibar beaches; there is somewhere for everyone.
Tanzania is also a huge country. It would be a mistake to think you can cover it in a single trip. It would take multiple two week holidays to do this fantastic country justice. Therefore, visitors must decide which area to set their sights on. Any Tanzania safari can be bookended with beach time, so the crucial decision lies in where to safari.
The decision of where to safari in Tanzania can be split into two general areas: the north and the south.
Northern Tanzania is the most popular destination of choice as it is home to the country's most famous sites: the sweeping Serengeti plains, the Great Wildebeest Migration and the dramatic Ngorongoro Crater, as well as Mount Kilimanjaro. Safaris in the north are world-class. The wildlife is superb and the big five can easily be spotted in a week's safari.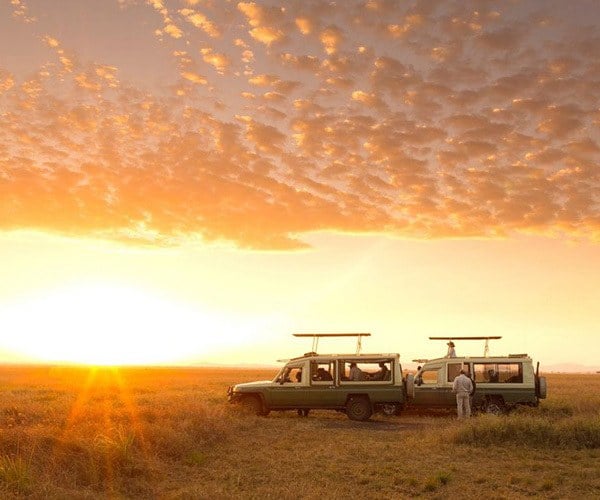 However, with impressive predator concentrations and the attraction of the Great Migration, so too come tourists. If you don't mind sharing your wildlife sightings with a few other vehicles, then northern Tanzania will provide the safari of a lifetime.
However, some prefer their safaris a little more on the wild side. These travellers head to southern Tanzania, mostly to the Selous Game Reserve and Ruaha National Park. Although these parks cannot contend with the famed Serengeti for their predator concentrations and are not home to the Great Wildebeest Migration, they are very special.
With only a handful of high quality (and low cost) lodges in each park, the experience here is all about being in the wilderness, away from the bustle of the beaten track. The lodges really are exceptional, and the game viewing enviable too. Ruaha National Park in particular is home to excellent concentrations of lion, buffalo and elephant. The Selous is the only place in Tanzania to see African wild dogs: the safari enthusiast's prize sighting. Further to this, when spending a few nights in each park, travellers can enjoy a range of safari activities which are not possible in the north due to strict national park regulations. These include fishing, boat trips, walking safaris and sleeping out under the stars.
West of Ruaha lies another world. Hardly any visitors travel to western Tanzania, simply because it is so far and the flights are extremely costly. However, the parks in this region – Mahale and Katavi – are utterly bewitching.
In the depths of dry season, the wild Katavi National Park offers some of Africa's most dramatic game viewing. Hippos struggle to survive in tiny pockets of water, lions prey on thirsty buffalo and catfish pile up, wriggling and flailing in shallow water. Dry season in Tanzania's wild west is a harrowing, yet eye opening experience. With only two camps to choose from, Katavi is even more off the beaten track than Ruaha and the Selous.
Then, there is Mahale National Park: home of the chimpanzee. Cosy in-between a labyrinth of green mountains behind and the crystal clear shores of Lake Tanganyika in front, sits one of the most incredible safari lodges on the continent, Greystoke Mahale. From here guests can spend time with these captivating primates, revelling in their playful, human-like nature. Mahale offers the ultimate off the beaten track adventure, and one of the most grounding wildlife experiences on the planet. It is not over the top luxury which makes it so special, but its unique location on the map and the unbeatable authenticity of the safari experience. Though, naturally, it is not cheap.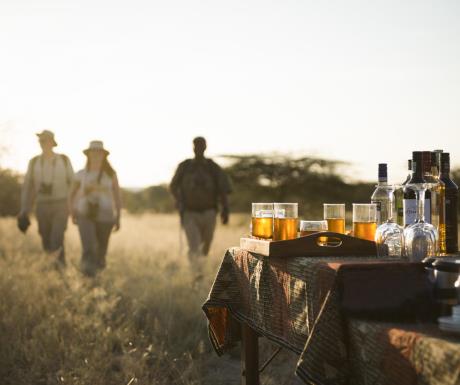 Things to do in Tanzania
Tanzania's bread and butter is the classic 4×4 game drives. Mostly, these vehicles have open sides to cater for easier game viewing. However, vehicles must be closed sided in the Ngorongoro Crater due to the steep descend required to enter it.
Therefore, if visitors drive to the Serengeti from Ngorongoro rather than fly, their vehicle will remain closed sided through their trip. All vehicles in southern Tanzania are open-sided.
Culturally, northern Tanzania has a lot on offer with patch-worked rolling hills peppered with Maasai bomas and villages, as well as many coffee plantations. A few lodges offer incredible non-safari activities, such as at The Highlands Asilia, where extended hikes and cultural experiences are encouraged.
In terms of safari activities, northern Tanzania only allows driving. However, things become a bit more relaxed as you head south. Enjoy fishing on the banks of the Rufiji River, pink sunset boat trips, intrepid walking safaris and exciting night drives. Another popular activity is fly-camping, where you head out into the bush with a chef and your guide. After a campfire dinner, guests spend the night with only a mosquito net for cover, falling asleep under the milkyway in all its glory.
On the beach, apart from relaxing by the sea, or your hotel's pool, there is lots to be explored. On Zanzibar Island, a day trip to the chaotic and charming Stone Town is always on the agenda. Wander around the cobbled streets and hire a tour guide to take you through Zanzibar's fascinating history, from its harrowing slave trade history to Freddie Mercury's childhood home. On the beach, activities are endless. Surfing, paddle boarding, water sports, swimming and boat trips are all popular on Zanzibar. In the wider archipelago, many travellers head to Mafia Island specifically to snorkel with the incredible whale sharks which call these waters home.
Food in Tanzania
Food on a Tanzanian safari is always delicious. For such remote locations, it is always a mystery to guests as to how night after night, chefs produce such high quality three course meals. In the top end camps, these would not look out of place in an Ottolenghi restaurant.
As guests quickly realise, anything is possible on safari: if you would like to try local foods, you need only ask, if you have any dietary requirements then chefs will make it happen.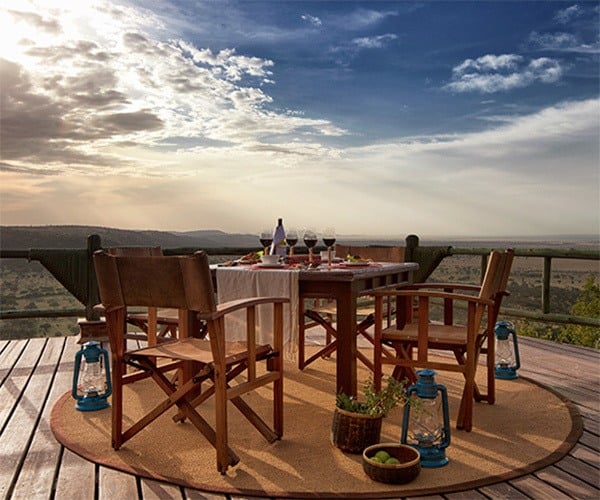 Great seafood is Zanzibar's forte. In any beach hotel, you will be greeted with fantastic seafood platters, dishes and starters. Due to its Arabic influences, Zanzibar is also fantastic at curry. Be sure to try your hotel's speciality curry, as it will be delicious. You can even head on a Zanzibar spice tour to learn about how its ingredients are grown on this fabulous tropical island. One particularly good spot for food is at Xanadu private villas on Zanzibar Island which is lucky enough to have a resident ex-Michelin star chef.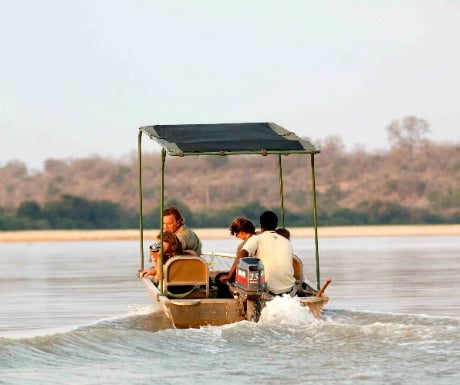 Getting around Tanzania
Tanzania's tourism structure is excellent. Little Cessna planes hop between all the safari regions, landing at airstrips only if guests for that particular camp are on board. These 12 seater planes have an efficient timetable, crafted with camps and parks to ensure they tick over like clockwork. However, their size means guests must book internal flights well in advance of travel, ideally on paying the safari deposit.
It would be a mistake to think you can drive between all of Tanzania's safari regions – it is a massive country. Even to get from the south to north of the Serengeti takes over a day's drive, requiring an overnight in Seronera (central Serengeti). If guests are combining two Serengeti locations, usually they will fly. Generally, it seems a waste to spend lots of money on a safari and spend most of it being bumped around, driving from A to B. It is better to fly quickly to your lodge so vehicle time is spend on game drives, enjoying the wildlife sightings, rather than hurrying to arrive into camp before nightfall.
The only exception to this is on a handful of trips in northern Tanzania. When guests are travelling to see the migration around February time, when the herds are in the southern Serengeti plains, they may not need to fly in or out. This is because the distance from Arusha to Ngorongoro, and from Ngorongoro to Ndutu (southern Serengeti) are all drivable. However, after their Serengeti safari, some guests still opt for flying back for a bit of rest-bite after an action packed safari. If guests are heading to Zanzibar, naturally they must fly.
When to visit Tanzania
Tanzania can be visited year-round. The main rainy season puts beach goers and sun seekers off, as it runs throughout April and May. In these months, animals tend to disperse and the grass is long so the wildlife is less concentrated and harder to spot. The southern parks of Selous and Ruaha are closed in these months as accessing the camps is too difficult.
However, some travellers revel in low season prices and visit the Serengeti and the Ngorongoro Crater throughout the rainy season. The resident wildlife in these areas is so good that even with rain, guests can still experience phenomenal wildlife action. It is also a very dramatic time of year to visit Tanzania: parks burst into green, the moon shines through fierce clouds and newborns wallow happily in the plentiful vegetation.
The high season for tourism in Tanzania runs from July until September. Expect warm tropical days, and cool nights. It is the most temperate time of year to visit for sun-seekers as great weather is almost always guaranteed. With good weather, comes high season rates. Some travellers therefore decide to visit in "shoulder months" such as June and November.
Although June sees the tail end of the rainy season, it is mostly sunny and dry with occasional scattered showers, so still a fabulous time to visit. November is technically Tanzania's "short" rainy season, however, rain may only fall for an hour a day in the afternoon. Aside from this small smattering, the parks are in desperate need of moisture, and the wildlife viewing is usually phenomenal.
The position of the Great Migration means deciding when to go to Tanzania is made more complicated. However, as a rule of thumb, February (calving season) and from July to September (when the herds cross the Mara River) are the best times to visit.
December, January and February are also fabulous times to visit Tanzania. Usually by December, the November "short rains" have passed, and the country sees a dry spell in these months, granting a perfect window for a Christmas or New Year getaway.
Events in Tanzania
Here is a comprehensive list of events in Tanzania, including the Great Migration's route around The Serengeti.
January
The Great Migration are arriving at Ndutu, southern Serengeti.
February
Calving season for the Great Migration in Ndutu, southern Serengeti.
March
The end of calving season for the Great Migration. Travel early. inthe month for best chances of catching them.
April
Rainy season in Tanzania and low season rates. Southern Tanzania closed.

May
Rainy season in Tanzania and low season rates. Southern Tanzania closed.
June
Shoulder season in Tanzania. Expect excellent rates and great wildlife.
Great Migration move north. Stay in central Serengeti (Seronera) and western Serengeti (Grumeti) for best chances of seeing them.
July
High season
Great Migration arrives in the northern Serengeti (Kogatende and Lamai) and begin crossing the Mara River. Visit in second half of the month incase they arrive late.
Zanzibar International Film festival
August
High season
The Great Migration cross the Mara River back and forth in the northern Serengeti.
September
Mostly still high season rates, but lots of special offers with free night deals
The Great Migration are still crossing the Mara River in the northern Serengeti.

October
Shoulder season. Excellent free night deals, reduced rates in many camps and exceptional wildlife viewing.
Great Migration still lingering around the northern Serengeti, though some may have began their descent south.
November
"Short rainy season" in Tanzania. However, showers usually only in the afternoon if at all and wildlife viewing especially in northern Tanzania is still exceptional.
Excellent reduced nightly rates.
The Great Migration can usually still be found in the northern Serengeti, though many will be heading south. Still base yourself in the north for the best chance of seeing them.

December
In early December good deals and reduced rates can be found, but over Christmas and New Year prices rocket.
Transitional month for the Great migration as they quickly head south for calving season. Hard to predict their location in December.
Luxury travel tips
Safaris are luxurious by nature. No holiday provides quite such an intimate and personalised experience. The food is always luxurious and the accommodation is always safari chic. However, there are varying degrees of luxury – and the price reflects this.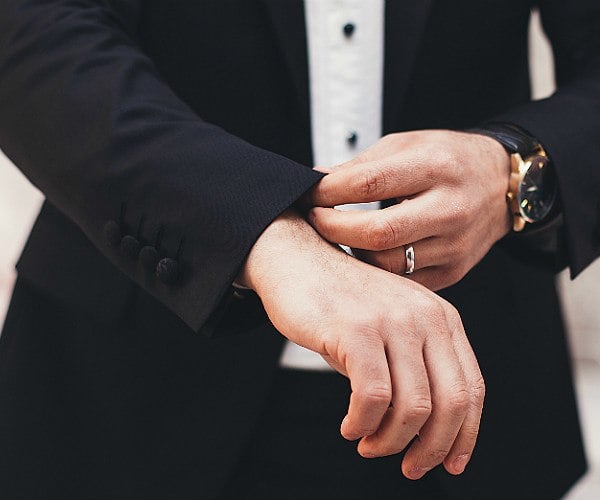 Safari lodges love honeymooners. If you are newly-weds, make sure you ask for the honeymoon suite. These usually have extra romantic mod-cons such as an outside bath or more spacious rooms. Not a honeymoon? No matter. Make sure you mention to your tour operator if your trip marks a special occasion. You will find your experience peppered with little luxuries to ensure you will remember your trip for years to come.
It can be tempting when looking at beach options to book a five star hotel. However, Zanzibar's speciality is characterful boutique hotels. Sometimes owned by safari companies, these hotels know how to make their guests feel special. They offer the personalisation of safari, but in a tropical beach paradise. The best boutique hotels on Zanzibar are the luxurious private Xanadu Villas, Zawadi and of course, the ultimate private island experience: Mnemba Island.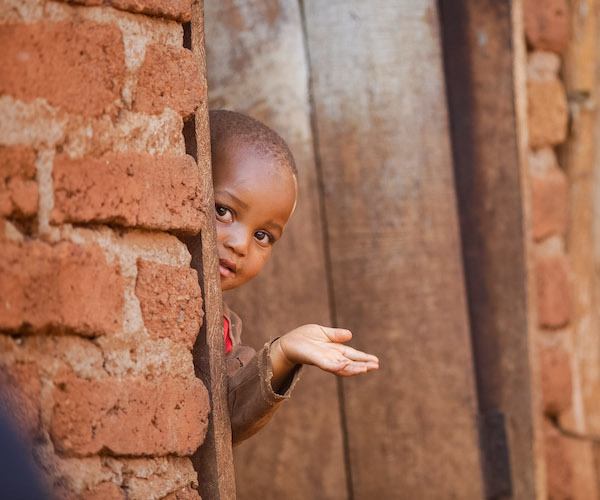 Language and culture
Like much of East Africa, in Tanzania the main language is Swahili. However, staff in beach hotels and safari lodges are also excellent at English. Even so, learning a few Swahili words is appreciated and often provides a fun task for visitors to Tanzania.
In northern Tanzania, the Masai traditions are embedded into the region's culture. Whilst some colourfully dressed Masai people may no longer tend cows, some still do, especially around the Ngorongoro region. Here, Masai tribes live in bomas scattered around the highlands.
Moving south, and Arabic influences are clear in Dar es Salaam and Zanzibar. In these regions there is a big Muslin population, marked by morning and evening calls to prayer which can be heard in Stone Town and Dar es Salaam. It is advisable for visitors to respect this culture, and dress appropriately when outside your beach hotel.
Useful phrases
Jambo – Hello
Asante – Thank you
Asante sana – Thank you very much
Habari gani – How are you?
Baadaye – See you later
Kwa heri – Goodbye
Lala salama– Goodnight
Nafurahi kukuona – Nice to meet you
Ndiyo – Yes
Napana – No
Tafadhali – Please
Tembo – Elephant
Simba – Lion
Sawa – Okay
Jina laku nani – What is your name?
Jina langu ni – My name is
Rafiki – Friend
Maji – Water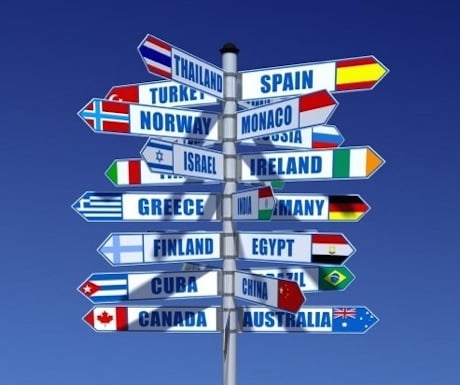 Weather in Tanzania
Visiting Tanzania soon? See below for the latest weather forecast for Tanzania.
TANZANIA WEATHER
Useful information
Currency
Tanzanian shillings are common in towns and can be used in camps and beach hotels. However, US dollar is more commonly used for in-camp transactions and tipping. See www.xe.com for current exchange rates with the British Pound and the American Dollar.
Power
Camps all have some form of electricity. In the Serengeti's mobile camps, guests may only be able to charge electronics in the main area. No converter is necessary, as most will take the standard British plugs. In other camps, charging is easy in your room. Electricity on the beach is easy with plugs in your rooms.
Telecommunications
It is unlikely you will get mobile signal on safari and if you do it will probably cost a lot. It is better to wait until you get back to your beach hotel or safari lodge and make your calls and messages from the provided free WiFi.
Timezone
GMT + 3 hours
The beauty of visiting Tanzania from the UK is that there is no jet lag, so you can begin your safari refreshed and rested.
Tipping
Tipping is expected on safari. Roughly, you should tip your safari guide $10 per person per day, and the same should go in the staff tip box at the end of your trip. Tip your guide at the end of your safari when saying your goodbyes.
WiFi
Free WiFi can be found in most safari camps, however, sometimes it may only be accessible in either your room or the main area. On the beach, most hotels have free WiFi throughout, but some of the more barefoot luxury options may only have access in main areas.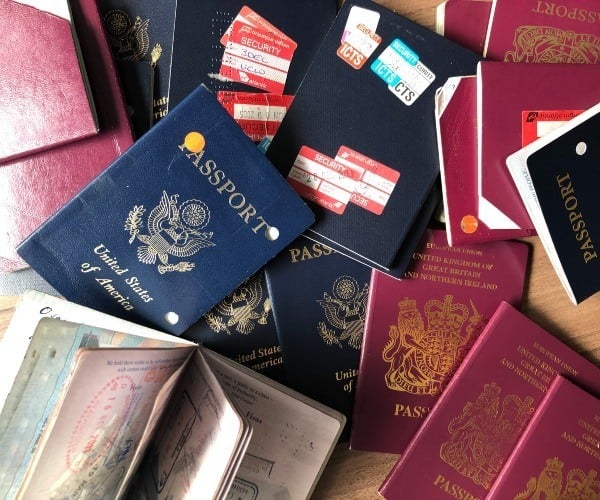 Want to contribute to our travel guides? Please contact us for details…