Men aren't always the easiest people to buy for, especially when it comes to buying a romantic gift. So, to make the task a little easier for you, here are 10 suggestions for you to make the process a little less challenging.  Whether the man in your life travels for business or pleasure, we hope you find some Valentine's inspiration here:
Pure Cashmere Travel Jacket from Brunello Cucinelli
Exuding elegance and charm, the pure cashmere travel jacket from Italian fashion designer Brunello Cucinelli is a great investment piece for the Summer season. Lightweight and breathable, it does not compromise on style, remaining smart and sophisticated – perfect for the modern discerning gentleman who likes to travel in style.
Danger Pour Homme from Roja Parfums
Danger Pour Homme, launced by Roja Parfums in 2011, is an Oriental fragrance for men. Top notes are bergamot, lemon, cumin, tarragon and lavender; middle notes are jasmine, lily-of-the-valley and violet; base notes are cedar, cloves, galbanum, oakmoss, patchouli, rhubarb, vetiver, woody notes, ambergris, castoreum, leather, musk, tonka bean and vanilla. Laden with aphrodisiac ingredients, it's the perfect Valentine's gift.
The "36 Hours" books from Taschen have their origins in The New York Times' highly acclaimed column '36 Hours' which served as a point of reference for the weekend traveller. Taschen's hardcover books are handsomely cloth-bound and include recommendations of must-see destinations in Europe, Canada and the USA.
See just how much you can make of your weekend getaways with these information-packed guides bursting with maps and insightful, colour-coded suggestions. Perhaps you could even use them to plan a Valentine's surprise!
Gift package from Rocca Family Vineyards
A special night for someone special… create the perfect, romantic evening for two with this exclusive gift package: a bottle of Rocca Family Vineyards' award-winning 2009 Estate Cabernet Sauvignon, two Rocca Family Vineyards etched Cabernet wine glasses and a heart-shaped 'Summer Cabernet Truffle' from Anette's Chocolates in Napa, all in a beautiful Rocca wooden wine box.
Eighteen months in development, King of Shaves are proud to announce Prostyle, their new design led, electrical grooming (eGrooming) range for men who want to 'Style like a King'. Conceived and produced in collaboration with cutting edge industrial designers, Prostyle combines effortless form and effective function, yet the range starts from just £15. King of Shaves is recognised as being in the vanguard of men's grooming and is the only male-centric brand to provide a total grooming solution, from shaving preparations and skincare, through high performance system razors to electrical grooming and styling products.
The Prostyle range comprises: Bodystyler – the total grooming and styling solution for all over your body; Precision Trimmer – helping keep your eyebrows under control and unwanted nose and ear hair at bay; Beard Styler – ensure your facial stubble is trimmed to your required length and groomed to perfection; Multi Styler – the complete facial grooming kit with everything you need to maintain your style. Each features a striking, minimalist design aesthetic in soft touch rubber and comes complete with all necessary accessories so you can style 'straight out of the box'.
The PowerDock 5 from Griffin Technology is a God-send for the man in your life who has more gadgets than he knows what to do with.  Fed up with seeing them little your home or hotel room?  Then buy him this space-saving charging station and you needn't worry any longer about them being scattered all over the place!
The Griffin Powerdock doesn't take up much more space than a single iPad and yet it will store and charge up to 5 iOS devices at one time, all from a single power source, so space for your own or your kids', too! Each charging bay is roomy enough to accommodate your iPhones, iPods or iPads in their cases. Griffin's own testing also indicates that PowerDock's 5V (2.1 amp) charging circuitry will also charge most Kindle and Android devices.
Tournée Business Leather Travel Organizer from Acqua Di Parma
Slim, compact and ideal for keeping everything needed close at hand when travelling, this Acqua di Parma travel organizer is crafted in Italy from luxurious buffalo leather that has been treated with a special vegetable tanning process to guarantee perfect durability. The interior features small pockets and compartments for travel documents, bills and coins of different currencies.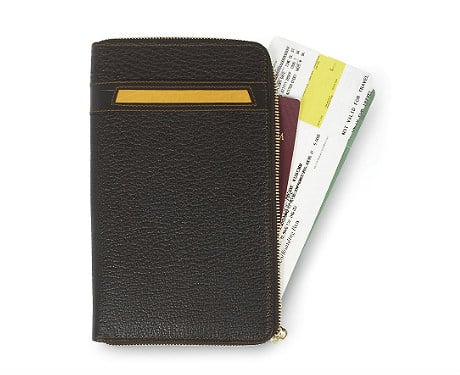 Charles Street Travel Spray from Mark Birley
Mark Birley's newest fragrance, Charles Street, is named after a street in Mayfair, London. This is where you find 'Mark's Club' – a private member's dining club launched by Mark Birley himself. Charles Street embodies Mark's Club's philosophy of 'Only the best' and 'Uncompromised exclusiveness' and represents the perfect fragrance for the modern gentleman. To create a sophisticated aromatic leather scent, mace, the vibrant red shell of the nutmeg spice is combined with coffee and vanilla.
Sullivan Brushed Twill Tan Shirt Pack from Moore & Giles
Moore & Giles>' Sullivan shirt pack is a smart and stylish option for keeping dress shirts well contained and wrinkle free while on the go. Crafted from our twill fabric and trimmed in our Titan Milled Brown leather, it offers room for up to five shirts to be packed compactly so that suitcase space can be maximized. A perfect companion for any of our travel bags, it also comes with an instructional folding board to ensure that packing up is easy and efficient and a leather collar stay case with six Moore and Giles collar stays for keeping collars crisp.
First Class Traveller Set from Kaplan MD
This eight-piece set from Kaplan MD contains convenient travel sizes of all four of their concentrate products, along with foam cleanser, clarifying toner and Lip 20 Clear Treatment, all in an elegant travel case.
Ideal for quick trips and unexpected getaways, this 2-3 week supply comes in a luxurious case and includes Purifying Foam Cleanser, Clarifying Toner, Cellular Rejuvenating Concentrate, Daily Moisture SPF 30 Concentrate, Night Replenishment Concentrate, Intensive Eye Concentrate and one full-size Lip 20 Treatment in Clear.