By
Paul Johnson
on Feb 03, 2015 in
Accommodation
,
Africa
,
Attractions
,
Featured
,
Food and Drink
,
Going Out
,
Hotels
,
Morocco
,
Regions
,
Travel Miscellany
When attending PURE Life Experiences in Marrakech last year, I knew I'd be in for some pleasant surprises. My last visit to the city had been 25 years ago and I was aware there had been many changes, particularly with respect to Marrakech's luxury offering and with the introduction of a number of high end hotels. What I hadn't given much thought to were the luxury experiences that are now available to accompany this transformation. Here are just three that I was lucky enough to sample during my few days spent working in the city.
Cookery workshop with a Michelin star chef
It's not every day you get to meet a Michelin star chef, let alone see him or her at work. Philippe Jourdin has two Michelin stars, as well as the much coveted Meilleur ouvrier de France, signified by the colours of the French flag on his collar in the picture below.
You might make the assumption that a Frenchman with such accolades to his name may have an air of arrogance but this couldn't be further from the truth. Philippe, who is Head Chef at the Royal Palm Marrakech and oversees all four of the hotel's fine dining restaurants, was charming, unassuming and a pleasure to learn from as he demonstrated how to cook sea bass with green asparagus and a crispy vegetable marinade.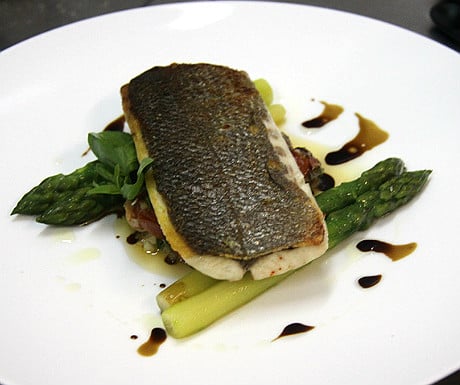 Although we might not have some of the luxuries of a Michelin star kitchen (eg. a vapour oven), we were shown how we could recreate the dish from the comfort of our own home. And what's more, we got to enjoy the best bit of tasting the creation at the end.
Drinking tea in a Berber village
About 45 minutes' drive from Marrakech, towards the mountains and into the desert, we reached a Berber village with a population of around 120. Children greeted us as we wandered down a track with a black slick running down it (waste from pressing olives). As we ambled along the narrow streets, it was clear this was an authentic experience and not a village that was accustomed to visits from outsiders. Among the hustle and bustle of passing donkeys and the occasional goat, children were coming up from the olive groves with bags laden with ripe, black olives. A couple of men were crafting some wood for a make-shift plough in an area where the streets opened out to the most beautiful view of a valley which the locals farmed. And there, perched on the cliff-top, a traditional Berber tent had been set up for us.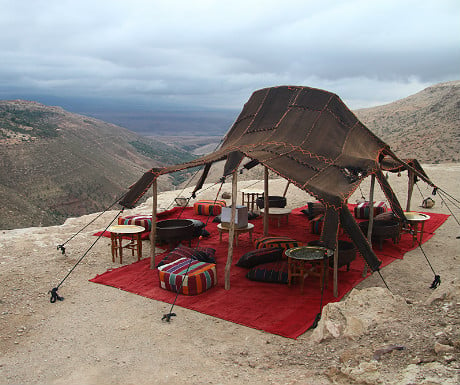 We watched as a local resident prepared tea for us, poured it from a great height – apparently more bubbles means greater happiness – and served it with a few local delicacies. This whole experience had been put together by Delight who will create this and other custom experiences for you.
Massage in the Medina
The old town – or Medina – in Marrakech lies within almost 12 miles of walls dating back to the 13th Century. Hidden away from the chaos is La Sultana – a lovely little 5 star hotel made up of 5 riads with tasteful interiors and a wonderful rooftop terrace with unique views over the Saadian tombs.
The moment you step inside, you leave the mayhem of the Medina behind but, for that added sense of relaxation, head to the spa where they use products that arouse the senses and reveal the secrets and benefits of the Moroccan cosmetics. I had the relaxing, signature La Sultana massage with orange blossom pure essential argan oil which left me feeling utterly relaxed after an intense few days of meetings and appointments, but there's an extensive range of other treatments to choose from, from facial massages and masks to body scrubs and beauty services.