By
Leah DeAngelis
on Jun 20, 2016 in
Accommodation
,
Adventure Travel
,
Food and Drink
,
Going Out
,
North America
,
Regions
,
Resorts
,
Restaurants
,
Speciality Travel
,
Travel Miscellany
,
USA
,
Washington
Nestled in the Cascades in central Washington, the mountain town of Leavenworth is known for its Bavarian theme and seasonal festivals. Summer's warm climate maximizes outdoor pleasures while German architecture showcases flowers exploding over balconies and hanging baskets throughout the village. All that color and sunshine makes a cheerful setting.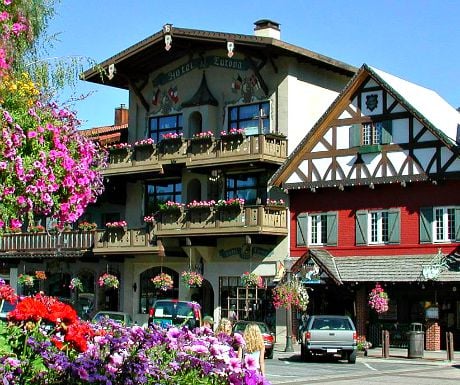 Enjoy shopping, beer gardens, and restaurants galore along the main street which smells of bratwurst wafting out of the Munchin Haus. Summer also offers a host of activities that aren't really about Bavaria, but rather embracing the natural elements of the area. Mountains and rivers provide endless opportunity for active pursuits like river rafting, climbing, biking and hiking which give you a natural and intimate glimpse of this gorgeous location. Here are four classic summertime experiences to savor on your trip to Leavenworth.
The namesake of a mountain silhouette resembling a woman sleeping, the Sleeping Lady Mountain Resort exudes an air of tranquility. You can't help but feel calm the minute you enter the forested grounds. The eco friendly resort is comprised of cabins that are cozy with rustic luxury. Butter soft sheets, organic coffee and quintessential Pacific Northwest decor with tall exposed wood ceilings create an atmosphere of escape from the outside world. You feel much farther away than you are–downtown is just a couple of minutes away by car.
The Sleeping Lady has an old-school appeal, like summer camp for adults. Cabins are tv-free and dog friendly. You will find plenty to keep you busy at the resort, including an activity center that caters to children, salt water pool, spa, gym, and a meandering art walk featuring whimsical sculptures like a fish with a man caught in his net and colorful giant salmon. Children love to try to spot the art. Hiking trails, fishing and horseback are available within a short walking distance from your cabin. Adirondack chairs are on the decks outside cabins for hanging out and visiting with friends. It's a perfect place for big families and groups.
A highlight of the resort, and a reason to stay all by itself, is the Kingfisher restaurant where they serve gourmet organic meals in a big lodge-like atmosphere. A breakfast and dinner buffet loaded with healthy homemade food with ingredients sourced as locally as possible (many straight from their own organic garden) nourishes body and mind before heading out for a day of activity. If you return, you are likely to see the same smiling faces as staff members seem to love it there and stay on for years. The Kingfisher is exceptional, but there are two other dining options on site, O'Gradys, which has more of a cafe atmosphere, and the Grotto, a bar with a cave-like interior and outdoor seating next to a soothing waterfall.
Horseback Riding with Icicle Outfitters
Located just next door to the Sleeping Lady is Icicle Outfitters where you can enjoy a guided trail ride. Family friendly and suitable even for children (six years old and up get their own horse, those younger are allowed to ride with an adult), you can choose from a two or four mile ride showcasing views of the Cascade Mountain valleys.  Icicle Outfitters also offers pack trips for those desiring a longer trip.
Tubing the Wenatchee River
The Wenatchee River flows right through town and offers a refreshing respite to summer heat. Numerous outfitters in Leavenworth will provide you with comfortable tubes and shuttle service to put-in and take-out points along the river. All you have to do is float and take in beautiful views of the mountains, river banks, and wildlife. Tubing typically runs through August.
Leavenworth is full of restaurants with patios, so you can enjoy sunny weather and comfortable summer evenings. The Latin restaurant South offers delicious food in a beautiful outdoor courtyard with bistro lights overhead at night and shady umbrellas during the day. South is a hotspot for locals as well as travelers, and chances are good that if you eat here at the beginning of your visit, you'll want to go back for more.
Enjoy Basil Margaritas and Warm Flour Chips with Guacamole and several varieties of Salsa as a starter. This alone is so enjoyable and filling you can make a meal out of it, but if you have any room left in your stomach, the Sweet Potato Enchiladas are wonderful. So is everything else on the menu which was inspired by the owners' previous life in California and travels through Mexico.