By
Paul Johnson
on Jun 26, 2017 in
Accommodation
,
Attractions
,
Europe
,
Family Travel
,
Featured
,
Food and Drink
,
Going Out
,
Leisure Travel
,
Regions
,
Speciality Travel
,
Travel Miscellany
,
United Kingdom
,
Vacation Rentals
,
Western Europe
After a lengthier-than-expected 12-hour drive (we faced a lot of congestion around Bristol), we were immediately put at ease when we arrived at our accommodation in St. Mawes on Cornwall's Roseland Peninsula, greeted by the words "Relax – it doesn't get much better than this" above the entrance. We were staying at a beautiful property called Stargazers in an elevated position on the outskirts of St. Mawes, owned and managed by St. Mawes Retreats. This luxury self-catering accommodation is stunning – even if it's just for the view alone and is one of 5 houses available in St Mawes from St. Mawes Retreats, accommodating anything from 2 to 14 guests.
The view from the rear of Stargazers looks out over the patio dining area and south-facing garden towards St. Anthony Head, a National Trust property on the southernmost tip of the Roseland Peninsula. It is a beautiful spot to simply relax and watch the world go by. The video below shows some timelapse footage that condenses an hour's activity into a short, 40-second clip.
The lighthouse that you see in the distance lies on the eastern side of the entrance to Falmouth harbour (also known as Carrick Roads) which is reputed to be the third deepest natural harbour in the world, after Sydney and Rio de Janeiro. Eagle-eyed readers might even recognise it from the introduction to TV's Fraggle Rock.
Whilst Stargazer's location might be its biggest selling point, there is still much to offer guests inside this detached, contemporary-style property. It sleeps up to 14 people across 5 bedrooms with Hypnos beds and 100% Egyption cotton linen to ensure you have a perfect night's sleep. The master bedroom also has some lounge seats so that you can enjoy the view from the privacy of your own bedroom should you wish.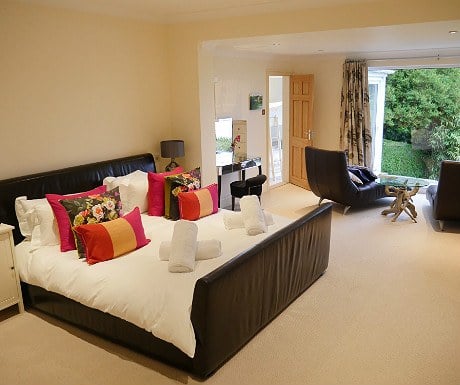 This leads through to a small bunk room – ideal for Mums and Dads who want to keep young children close by.
Both rooms have sliding glass doors that give immediate access to the outside and have shared access to a Villeroy and Boch bathroom with twin basins, a bath and lovely, walk-in shower.
Facing the other side of the property is another double room, tastefully decorated with a splash of colour.
This too has its own en suite.
There is also an en suite twin-bedded room on this floor…
…complete with teddies and crabbing buckets on the beds!
Whilst the vast majority of the accommodation is to be found on the ground floor, there is one further upstairs bedroom.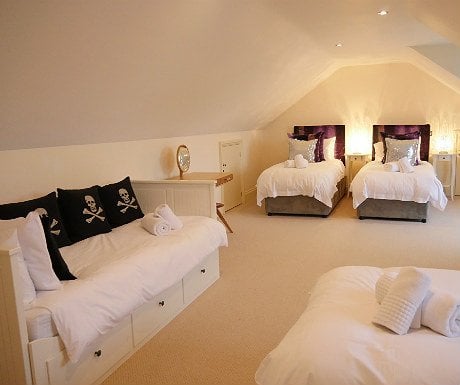 This is a versatile room that could be used by just two people, or by multiple children wanting to share in the excitement of a room together since there is lots of space.
A fourth bathroom can be found on the first floor also.
Returning downstairs the main living space comprises of an L-shaped leather sofa and artificial wood burner.
It's a great space for families to gather and enjoy each other's company or the view, or even to simply watch TV.
A neighbouring lounge allows children and adults to each have their own space to relax should they wish.
The two lounges are open plan and lead on to a dining room with a dining table and chairs that can comfortably seat 12 and additional seating in the window.
We were warmly welcomed with fresh flowers and scones, as well as a number of extras including jam and clotted cream – not to mention a bottle of Prosecco – in the fridge.
Of course, we enjoyed our scones the Cornish way, with jam first and then clotted cream on top.
Next to the dining area is a well-equipped kitchen with all the modcons that you might expect from a property of this calibre.
And beyond that, close to the entrace, is a small utility room with a bell sink, washing machine, tumble dryer and picnic basket. There's even a garage with table tennis and a pool table, too.
Despite the property being so well-equipped, if you don't wish to spend your time in the kitchen, you don't have to. St. Mawes Retreats offers a concierge service through which you can arrange anything from pre-prepared meals or a private chef for the evening, to in-house spa treatments and local boat trips. Ordering a meal ahead of your arrival is a great way to start your holiday. You can simply arrive to something like a homemade fish pie where all you have to do is pop it in the oven.
For dessert, you can choose from a variety of tempting options such as key lime pie, tiramisu, fruit crumble and clotted cream or this wonderful Cornish berry pavlova.
But for a special evening, St. Mawes Retreats will organise a top quality, private chef to come to Stargazers and cook for you – a great alternative to eating out, without the need to worry about taxis or babysitters!
Whilst we enjoyed nibbling on a few Padron chillies, we could watch our dinner being prepared (or, had we preferred, entertain ourselves in other ways until dinner was ready).
For our starter and main, the emphasis was on good quality, fresh local produce, such as this wild asparagus that was an accompaniment to our starter.
We began with crab from Newlyn, served with pesto, wild asparagus, borage, fennel (with a wonderful apple-then-aniseed flavour) and a drizzle of oil. With this we enjoyed the 2014 Trevibban Mill Traditional Method Brut from a Cornish organic single vineyard, made from Black Ewe grapes grown on mineral-rich slate soil close to Padstow.
For our main, we had 'surf and turf' – baby lobsters with 28-day aged beef (the sirloin end of a T-bone) – served with a Chilean Malbec (La Moneda Premium Collection 2016). The lobsters were around 8 years old, weighing around 300-400g, so still sweet to the taste.
The beef had had time to rest before being re-heated in a sauce reduction just prior to serving, but remained wonderfully pink and delicious.
The dish was served with Hasselback potatoes with rosemary, a leek gratin, sugar snaps, peas and broad beans, and baby gems.
Dessert consisted of sumptuous Amedei chocolate on an Amaretto base, served with clotted cream.
I would highly recommend this private dining experience, as well as the option to have an in-house spa treatment. I had the holistic massage which was very relaxing which covered back, legs, abdomen, face, arms and scalp, allowing healing energy to flow freely and smoothly throughout. My wife on the other hand enjoyed the INLIGHT organic full facial which left her feeling cleansed and revitalised.
Guests staying at Stargazers do not have to travel far to find things to see and do. Immediately next door is Lamorran Gardens, a beautiful subtropical Italianate-inspired garden, with both Japanese and Mediterranean elements which thrive in the local mircoclimate. Incredibly, the last frost here was back in 1987!
We met with Robert Dudley-Cooke, who acquired the property with his wife in 1982, and learnt all about how his labour of love evolved into the stunning four-acre hillside garden that you can visit today (open on Wednesdays and Fridays).
Also within a stone's throw of Stargazers is St. Mawes Castle, an English Heritage property and one the best-preserved of Henry VIII's coastal artillery fortresses. Built in 1538, it was an important gun emplacement right up until the Second World War, despite being somewhat overshadowed by the much larger Pendennis Castle on the other side of the bay.
Make sure you take up the offer of the audio guide as this is a great way to learn about the castle's history and what times were like at key stages of the castle's past.
Just as we were hearing all bout the Spanish Armada, a beautiful galleon (apparently a Ukrainian vessel, we later heard) passed by, giving us a visual recreation as well as an audio one!
For something the kids will love, simply head into St. Mawes with a bucket and a crabbing line and, with the right bait, it will only be a matter of time before you start hauling a few of these crustaceans in. The children will have great fun with this, for sure.
They're only small and not for eating so be sure to release them back once you've had your fun!
Only a little further afield is the village of St. Just. You can walk a couple of miles along the coast to the church there (or take the car). This 13th century church has a 6th century Celtic heritage and occupies a unique waterside semi-tropical garden setting. In fact, legend has it that Joseph of Arimathea brought Jesus ashore here.
For those looking for something a little more active, there is a wealth of watersports to enjoy. We had a family windsurfing lesson in the sheltered Percuil River, but equally you could enjoy activities such as sailing, kayaking, paddle boarding and fishing.
I would also highly recommend taking a mini cruise on a rib boat with Mark Bower of St. Mawes Kayaks as that offers you a fantastic way to view St. Mawes and the Roseland Peninsula. You can see a variety of points of interest, whether it be where they've been spotted filming Poldark or taking in the cruise ships and superyachts of Falmouth harbour.
Of course, no trip to Cornwall is complete without visiting some of the beautiful Cornish beaches. Crantock and Hollywell beaches are said to be the best for surfing, but we found we could have plenty of fun by just pottering around the more local beaches. Body boards for guests' use can be found in the garage at Stargazers and are a perfect way for the children to burn off a little energy!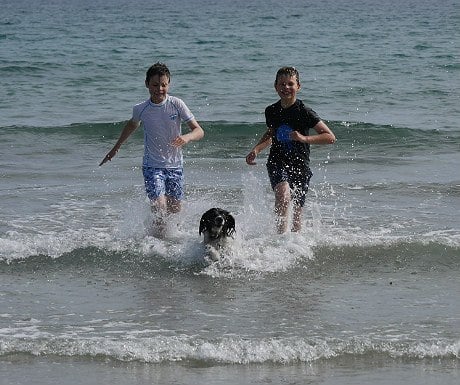 For a short round-up of our stay, we hope you enjoy the following video:
Disclosure: Our stay at Stargazers was courtesy of St. Mawes Retreats.