By
Judy Johnson
on Jul 07, 2017 in
Accommodation
,
Europe
,
Featured
,
Food and Drink
,
Hotels
,
Leisure Travel
,
Regions
,
Speciality Travel
,
Travel Miscellany
,
United Kingdom
,
Western Europe
Anyone for tennis? These words are synonymous with Wimbledon but there is a new venue rapidly gaining recognition as THE place to warm up before the two weeks before the famous Championships.
This is The Boodles at Stoke Park – a glorious setting for a wonderful event for the tennis fan but also appreciated by the players who are able to hone their game in convivial surroundings away from too much intrusion by the media.
Tennis fans have amazing close up view of the play and are even able to join question and answer sessions with their favourite players. Unfortunately as at Wimbledon the weather can cause problems but this did not dampen the spirit of this amazing showcase of talent.
The Boodles celebrated its 16th year at Stoke Park in 2017 and is now firmly established on the social and tennis scene.
The sponsors – Boodles, Patek Phillipe, Perrier-Jouet, Audi, PlayBrave and Stoke Park were the kind sponsors of the 2017 event.
Fine Champagne and surroundings along with beautiful cars and diamonds set the scene for the five day event which is reminiscent of a stately home garden party with tennis. The matches were played on grass courts approved by the Wimbledon ground staff and cut according to their instructions.
The Executive Chef at Stoke Park, Chris Wheeler, supervised the magnificent three course lunch and afternoon tea for guests which was presented with a tennis theme and much flair along with superb wines along with the free flowing champagne. The "Chef's "Boodles" Tennis Ball" dessert was a showstopper – a white chocolate tennis ball filled with lime glazed vanilla and mascarpone cheesecake complete with white chocolate net inside – all served to 450 people! This is mass catering of Michelin star quality and can only be described as a triumph.
Boodles showcased their new designs this year entitled the poetry of landscape which were fantastic.
Stoke Park is a wonderful hotel at which to stay if you want to watch another day's tennis or live too far away from the venue to make the round trip in one day. The whole event is much worthwhile making as much of it as possible. Tickets are already on sale for 2018!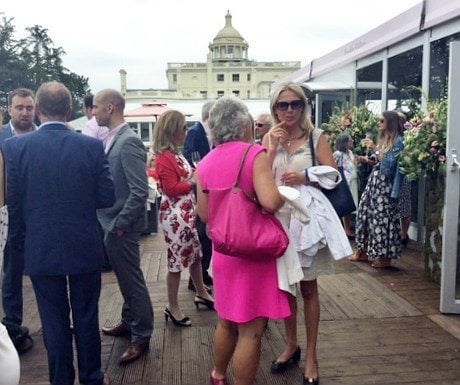 Disclosure: Our stay was courtesy of Stoke Park.