By
Paul Johnson
on Mar 01, 2019 in
Accommodation
,
Europe
,
Featured
,
Food and Drink
,
Going Out
,
Hotels
,
Regions
,
Restaurants
,
Spain
,
Travel Miscellany
,
Western Europe
My recent trip to Gran Canaria with Hyundai UK included two amazing experiences (if you haven't already read about them, see my posts titled 'Climbing a via ferrata in Gran Canaria' and 'Taking a helicopter ride in Gran Canaria') but what I haven't yet shared with you is where we stayed and where we dined during our short break there, so I'm taking the opportunity to do just that in this post.
For many years, Gran Canaria has been well known for its beautiful beaches, incredible dunes, rugged landscapes, fertile ravines and wonderful weather, but it is comparatively recently that the island has gradually positioned itself as a destination that appeals to luxury travellers. Of course, there are many great places to stay and eat on this Canarian island, so here I'm just sharing a very small snapshot from the experiences of my own trip which focused on the southern tip of the island which I hope you find useful if you ever plan to visit the area yourself.
Lopesan Baobab Resort
We stayed at the African-inspired Lopesan Baobab Resort in Meloneras. The Lopesan Hotel Group is a family-owned business that has grown to be one of the leading tourism companies in the Canaries and now has 22 hotels across Gran Canaria, Fuerteventura, Germany, Austria and the Dominican Republic.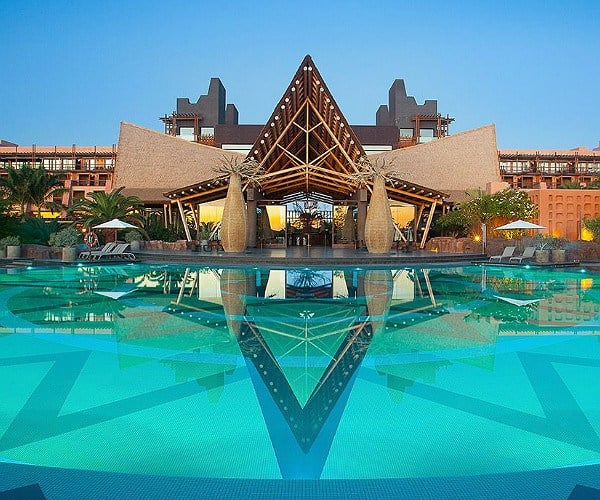 This upscale hotel is quite unique in appearance, and quite different from other hotels in the group, drawing on its continental neighbour by bringing a taste of Africa to Gran Canaria, with Africa-themed decor and even safari lodge style staff uniforms.
Rooms are spacious and with a few African touches here and there.
Bathrobes were provided and the contemporary bathroom had a screened-off wet room area with a wonderful rain shower and separate bath.
Corallium toiletries were supplied, from Lopesan's own spa brand (there's a Corallium Spa at another of the group's Meloneras hotels).
The room also had a balcony looking out over the hotel's grounds with the mountains beyond and the sea to the right.
Oh, and there were some goodies in the room, too – some fizz and a Hyundai rucksack in the distinctive signature colour of the Hyundai i30 Fastback N that we were driving that weekend. (You can read more about the car in my other posts.)
I used room service on arrival and had a very pleasing club sandwich. The food at the hotel is good as you'll discover from our restaurant experience which follows.
Akara
The Lopesan Baobab Resort has no less than nine different restaurants and bars. Among them is Akara, their African restaurant in the Canaries, giving you – as they claim on their website – "the unique opportunity to visit the continent without leaving Meloneras".
In all honesty, I wouldn't have said the dinner was especially African-inspired but it was very good and the best of all the places we dined at during our stay.
We began proceedings with a pumpkin and anise cream soup with quail. This was full of flavour and the small pieces of quail were very succulent.
This was followed by a stand-out course of wreckfish with lemon, cilantro and roasted sweet potato mash. In all honesty, I didn't know what wreckfish was but have since discovered it is a deep-water marine fish found in the Atlantic (and elsewhere). It was mild and slightly sweet in taste, allowing the other flavours to also come through.
A main course of beef tenderloin in a mushroom sauce with baked potatoes and seasonal vegetables was also enjoyable.
This was nicely rounded off with a lemon cream, with ground mint and crunchy cinnamon.
La Punta Yacht Club
Lunch was at La Punta Yacht Club at nearby Pasito Blanco. This is a very peaceful, relaxing resort with a beautiful marina.
The restaurant is situated at the tip of the harbour wall with decked areas basking in the sunshine and looking out over the sea.
We enjoyed some Canarian classics here such as pimientos de Padrón, named after the region in Galicia where are they grown, although they originate from South America. This is a simple dish of salted Spanish green peppers fried in olive oil but always a winner in my book. Peppers that ripen later in the harvest can be hotter so every now and then you can be in for a surprise!
The setting for La Punta is certainly a major plus point. It has a very laid-back feel to it – a very charming location right by the water's edge and with beautiful views.
Of course, a taste of the Canaries wouldn't be complete without trying the famous Canarian potatoes! Served with a spicy mojo rojo sauce (made with red chillis and garlic), they are boiled in very salty water with their skins still on, until all the water has evaporated and they go a little wrinkled and have a white film of salt left on them. Delicious! Potatoes are a firm favourite in the Canaries… did you know they grow twenty different varieties on the islands?
La Punta is in such a nice, relaxing setting that, had we not got the challenge of a via ferrata ahead of us, we could have easily whiled away the rest of the afternoon there. For your reference, please also note that La Punta is a private location in the Summer months but open to the public in the off season.
El Churrasco
We also enjoyed a dinner at El Churrasco situated on Meloneras' Boulevard El Faro, next to another of the Lopesan hotels: The Lopesan Costa Meloneras Hotel. There are three El Churrasco restaurants in total, with the other two being in Las Palmas and one in Tenerife.
Our starter was perhaps a little underwhelming – a tomato stuffed with tuna and a marie rose sauce – but tasty nevertheless. This was followed by an asparagus dish with some sausage on the side which struck me as a slightly odd combination.
But the highlight of any meal at El Churrasco comes from the meats prepared on the charcoal grill. The restaurant prides itself in offering the finest cuts of meat to ensure an excellent gastronomic experience that is full of flavour. My steak was beautifully cooked – nice and pink – and served with chips and grilled vegetables. I would definitely return for the steak alone!
I passed on desert but a top tip if you do visit El Churrasco Meloneras is to book a table by the window as this is apparently a great place to watch the sun set. It was an enjoyable evening but for me – and based just on the experience of these two meals alone – not quite in the same league as the previous night's dining experience at Akara, despite the two being ordered the other way around on Tripadvisor.
The following map shows the locations of all the places mentioned in this article:
Disclosure: Our trip to Gran Canaria was sponsored by Hyundai UK.