7 reasons to visit Harrogate, North Yorkshire, UK
Often called "The Jewel of the North", Harrogate attracts visitors for its urban charms, stunning gardens and its position as a Gateway to the Dales. It is close to Nidderdale, an Area of Outstanding Natural Beauty, as well as the UNESCO world heritage site of Fountains Abbey and Studley Royal Water Garden. Within easy travelling distance of Harrogate are castles, stately homes, abbeys,  cathedrals and medieval market towns.
The Spa
It was something in the water – some hoped for cures for epilepsy and scurvy – that first enabled Harrogate, with its 85 wells and springs, to boom. The opening of the Royal Baths in 1897 confirmed its status as one of the world's premier hydrotherapy centres. Visitors of note included Oscar Wilde, Tsarina Alexandra of Russia and Winston Churchill. Today the Royal Pump Rooms are a museum which celebrate the town's glamorous spa history. A strong sulphuric pong to the water is unlikely to tempt you to drink the water but back in 1926 consumption peaked at 1,500 glasses a day.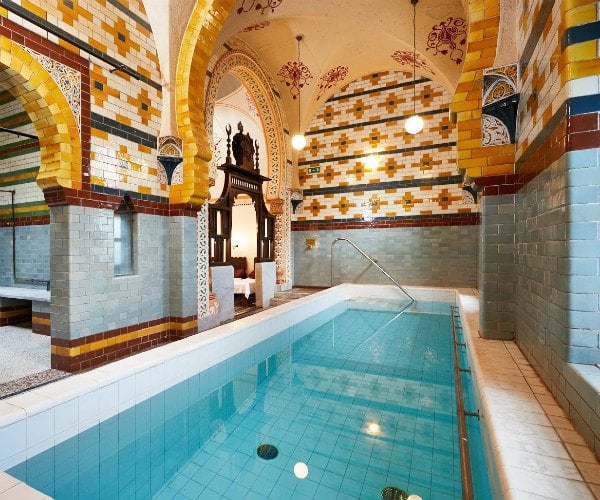 In 2004, a £1m refurbishment not only restored the Turkish Baths to their original Victorian splendour but also installed a menu of contemporary treatments to encourage visitors to Harrogate for some pampering.
Fine gardens
As regular winners of Britain in Bloom, Harrogate's civic gardeners seem to have greener fingers than their competitors. Swathes of formally planted gardens cut through this pretty town. There is a plethora of hanging baskets cascading down towards the 17 acres of the Valley Gardens. With their band-stand and model boating pool these gardens have been awarded English Heritage Grade ll status. In The Stray's 200 acres, 7 million crocus flower amidst the trees' spring blossom.
In addition Harrogate hosts two flower shows, including floristry and flower arranging, one in spring and the other in the autumn, attracting gardening enthusiasts from the rest of Britain and beyond.
Betty's Tea Rooms
Betty's was founded, in 1919, by Swiss baker and chocolatier Fritz Bützer who allegedly lost his job offer letter during a rough sea cruising to Britain and accidentally ended up in Harrogate. Nor is there any explanation of why he choose the name Betty's for his tea rooms.
A century on, people queue for a table, unless they have reserved a table for the full afternoon tea. Waitresses are dressed in black and white, as if it were still 1919 and the suffragettes had just won them the vote from the Prime Minister, David Lloyd George. Many guests depart with a quarter or more of loose tea as a souvenir, chosen from an extensive range from Assam through Lapsang Souchong to whatever the Z of tea is.
Cultural hotbed
Throughout the year many cultural events are held at the Harrogate Convention. It's an eclectic mix ranging from the Czech Symphony National Orchestra to the Knitting and Stitching Show. Harrogate's festivals include Children's, Comedy, Crime-writing, Gilbert and Sullivan plus the renowned Literary Festival.
Many cultural visitors also call into the Mercer Art Gallery to catch the latest exhibitions.
Country Living St George Hotel
Situated across the road from Harrogate's Theatre and just two minutes stroll from the Turkish Baths, this hotel brings the stylish pages of the
Country Living Magazine
to life in an urban setting. Set in a rambling Grade 2 listed Edwardian mansion, the hotel promises, "An escape from everyday life." Exuding a 
Country Living
heritage, the hotel creates an eclectic rural style in the heart of Harrogate.
With tall Palladian symmetrical columns, the two AA Rosette Swaledale restaurant provides an example of Harrogate's fine dining sourced from local produce: fish from the seas off Whitby, Dales-bred lamb, plus local beef and duck, fresh asparagus and rhubarb in their season.
Shopping
Harrogate has four distinct shopping districts: Montpellier, Kings, West Park and the Victoria Quarter. Then there are the charity shops of Beulah Street too.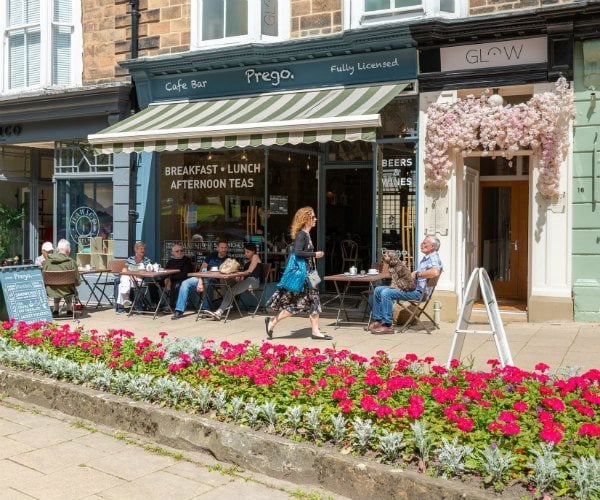 For big name brand stores, the Victoria Shopping Centre is at the heart of the Victoria Quarter. But many visitors seek out the flower decked charm of the Montpelier Quarter with around 50 independent shops, restaurants and pavement cafes. Amongst the boutiques, delis and galleries there are some avant-garde and quirky offerings.
Britain's home of cycling
Harrogate created cycling history when it provided the first finish line of the 2014 Tour de France which attracted massive crowds to the town.
Offering a vast range of challenging and spectacular routes, many with breath-taking views of the local landscape and landmarks, Harrogate provides a perfect venue for many cycling road races.
Did you enjoy this article?
Receive similar content direct to your inbox.