With an achingly beautiful coastline, the Middle East is blessed with continuously spectacular landscapes within which a melting pot of fascinating culture beckons. Increasing in popularity to explore by yacht, the Arabian Gulf is home to some of the most incredible sights, magnificent architecture and extraordinary splendour. Offering sparkling seas and powdery shores, the lure of majestic cities, ancient mosques and bustling bazaars deliver an abundance of adventurous opportunities. A getaway by yacht brings a whole new perspective to this treasure trove of discovery.
Capital city and largest of the seven Emirates that make up the UAE, Abu Dhabi is filled with magic. Translated from Arabic as "father of the gazelle", Abu Dhabi is the country's political and industrial hub as well as being steeped in history and culture. A city of contrasts, the minarets and domes of traditional mosques are nestled amongst contemporary skyscrapers and luxury hotels, with the neighbouring rolling desert dunes dotted with camel trails proving a constantly popular attraction. This cosmopolitan location boasts one of the lowest crime rates in the world as well as the highest per capita income.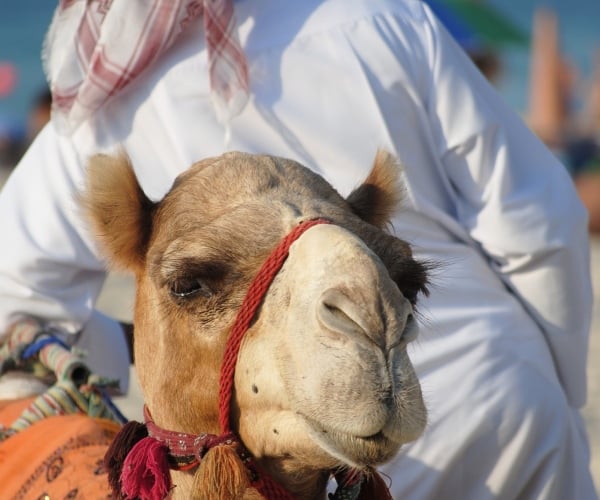 Yas Marina is one of Abu Dhabi's finest superyacht marinas, offering a range of excellent restaurants and leisure facilities, alongside 227 fully serviced berths. This vibrant marina, situated on Yas Island, boasts iconic views of the Yas Viceroy Hotel and the Yas Marina Circuit, famous for the Abu Dhabi Grand Prix. As the sun sets, the waterside promenade becomes a bustling scene, where nightlife and entertainment abound.
Take a cruise to picturesque Nurai Island whilst keeping an eye out for dolphins that frequent these waters. Situated to the east of Abu Dhabi, in the unspoiled Arabian Gulf, this idyllic slice of paradise is a perfect retreat for those seeking peace and quiet or wanting time to enjoy the water sports equipment. Inspired by "nur", the Arabic word for "light", the island certainly lives up to its name; it is blessed with transparent waters and sparkling beaches together with sensational uninterrupted views over the gulf. Here you can take your pick of many lunchtime options, from the rustic chic vibe of Frangipani to stylish French cuisine at Nurai Terrace.
Back at Yas Marina indulge in some fun – whether you fancy going to the Waterworld, Warner Bros Park or the Ferrari World theme park. World-renowned Yas Waterworld is an iconic destination and promises a great adventure, with over 40 exhilarating rides and countless attractions for all ages. If you fancy a night-time visit, Cinema Under the Stars is a must. The indoor theme park featuring superheroes and animation from Warner Bros is the largest in the world with state-of-the-art rides and interactive family-friendly entertainment. The final choice of Ferrari World theme park offers the unique opportunity to ride the Formula Rossa world's fastest roller coaster, dare to go on Flying Aces the highest roller coaster in the world and view an impressive exhibition of Ferrari cars.
Anchor at Emirates Palace Marina to take advantage of some of the most impressive sightseeing in this region. This prestigious marina development was built specifically for large superyachts and offers instant deep-water access to the clear seas off Abu Dhabi's corniche, together with full superyacht facilities and services of the luxurious Emirates Palace Hotel. Here you can relax on the members terrace in an exclusive haven, overlooking the most glamorous yachts in the region.
Visit the fabulous Sheikh Zayed Grand Mosque, one of the world's largest that uniquely captures influences between Islam and world cultures. Architectural styles from different Muslim civilizations celebrate cultural diversity by creating an inspirational haven. There is capacity for an incredible 40,000 worshippers and visitors with theopen-door policy attracting global tourists who flock to marvel at the impressive onion-top domes, reflective pools in the courtyard and the iconic prayer hall filled with sunlight. The mosque also houses the world's largest handmade chandelier and carpet which are a sight to behold. This original landmark is one of the most photographed monuments in Dubai.
Bringing life to the shared stories of humanity, the Louvre Abu Dhabi is a cultural beacon, a museum rooted in universal human values representing the dynamic nature of the contemporary Arab world. The choice of works for collections in the museum is carefully selected, offering visions of cultural progression and mankind's achievements that induce respect, curiosity, self-reflection, and learning.
Shopping is a popular pastime, with a multitude of luxury brands available in Abu Dhabi. The Galleria on Al Marayah island has 130 of the world's most renowned brand outlets or alternatively the Avenue at Etihad Towers is a truly exclusive boutique experience. Malls here are spacious, modern and air-conditioned offering a vast choice of retail outlets and buzzing with activity. During Eid or Ramadan, malls are become special venues for events such as dance or cultural shows and often feature international acts
For an evening treat perhaps plan an exclusive sunset dining experience 225m in the air on the helipad at the St Regis Abu Dhabi, or visit the timeless Pearls & Caviar in the Shangri-La Hotel for fine dining in a glamorous setting whilst the exquisitely hand-crafted regional Italian specialities found at renowned Abu Dhabi restaurant, Mezzaluna, are exquisite. The choices are all equally appealing and there is something for everyone.
Whilst on a yacht charter in the Arabian Gulf, visit Sir Bani Yas, one of the largest natural islands in Abu Dhabi within the eight wildlife reserve desert islands. Explore the natural environment with a range of activities such as nature drives, guided tours, kayaking and mountain biking. Here you can get up close and personal with the islands' giraffes from a specific viewing platform, take 4×4 trips to view gazelles, oryx, hyenas and cheetahs in their natural home. If you are looking for adventure, there is horse riding available at Sir Bani Yas Stables, together with a range of marine activities including diving at the local water sports centre.
Cruise to Dubai where the Bulgari Marina is a prestigious landmark uniting an exclusive destination with exceptional services, located just 2 minutes from Jumeirah. This is Bulgari's first ever yacht club, overlooking a 50-yacht marina and it exudes a cool Mediterranean vibe. Superb amenities combine with a range of leisure facilities with something to suit families and couples alike. Dubai is a magnet for shopping with tax-free status and countless boutiques to enjoy, this may be a good time to indulge in a little retail therapy away from the yacht.
No visit to Dubai is complete without going to the Burj Al Arab tower. This magnificent glass sail-shaped building rises majestically from the waters of the Arabian Gulf, situated 280m offshore from famous Jumeirah Beach. Offering exceptional hospitality and repeatedly voted the world's most luxurious hotel, the finest experiences, restaurants, and service are available here. Another must-see is Dubai Miracle Garden, that comes to life annually from mid-November to mid-May. Filled with scents and colour, the garden features 150 million flowers arranged intricately into arches and patterns.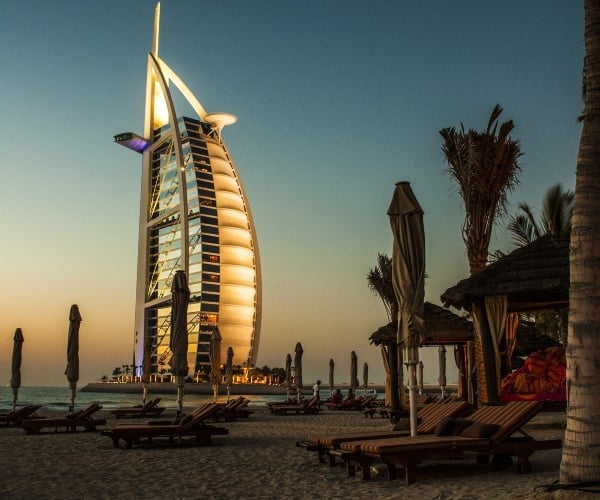 Thrill-seekers will relish time in Dubai with many exciting opportunities on offer. Take a breath-taking freefall through the skies of Dubai at the iconic Palm Jumeirah or maybe over the Arabian Desert. Plan the adventure of a lifetime on an authentic desert safari, led by a conservation guide, spot exotic wildlife, spend the night at a Bedouin camp and dine under the stars. Nerves of steel will be called for on the XLine, one of the steepest and fastest ziplines in the world set in Dubai Marina, measuring 1km with an incline of 16 degrees, it averages 80km/h. Dual lines weaving through skyscrapers and across the water mean you can share this daredevil activity with a friend or loved one!
Nicholas Dean is Managing Partner of Ocean Independence. Ocean Independence is a global leader in luxury yachting, providing a bespoke experience across yacht charter, sales and management.
If you would like to be a guest blogger on A Luxury Travel Blog in order to raise your profile, please contact us.