Whether it's a classic mulled wine on a cold winter's day, a whisky by a roaring log fire, a celebratory glass of fizz or some other tipple that takes your fancy, Christmas is a time of merriment that's often filled with a variety of festive drinks. Let's not also forget the many non-alcoholic options that are available nowadays, not to mention Brits' love of tea and coffee. Here we offer you plenty of hearty inspiration for your fridge, cellar, drinks cabinet or kitchen cupboards this Christmas.
For our other Christmas gift guides, please visit the following links:
20 luxury travel gifts for him this Christmas (2022) – US & Canada edition
20 luxury travel gifts for her this Christmas (2022) – US & Canada edition
20 luxury food treats to enjoy this Christmas (2022) – US & Canada edition
20 luxury drinks to enjoy this Christmas (2022) – US & Canada edition
20 luxury travel gifts for him this Christmas (2022) – UK & Europe edition
20 luxury travel gifts for her this Christmas (2022) – UK & Europe edition
20 luxury food treats to enjoy this Christmas (2022) – UK & Europe edition
Thank you, and happy shopping!
Smoked Somerset Cider Brandy from Fortnum & Mason
Somerset apples have been used to produce apple brandy since before the days of King Charles II, and Fortnum & Mason believe our all-new Smoked Apple Brandy is worthy of any royal. Crafted in smoked oak casks in the English Countryside, the 3-5 year old apple brandy has been infused with smoky vanilla undertones. The result is a fresh, floral and highly versatile spirit – best served as an after-dinner digestif or as part of a delicious cocktail.
Classics Mixed Case 2022 from Corney & Barrow
The title says it all! This case from Corney & Barrow highlights some of the standout producers from across the world. Experience the exceptional, hand-crafted quality of Delamotte Champagne, one of the oldest Houses, based in France. Le Faite is indeed a celebration of the phenomenal quality of wines found in Gascony. There are also masterclass examples of reds from the Mitjavile family and Domaine Labruyère. Why not celebrate the big events in style this Christmas?
This case of 12 wines contains 2 x Champagne Delamotte Brut NV; 2 x La Faite Blanc AOC Saint Mont Producteurs Plaimont 2017; 2 x Sauvignon Blanc Cakebread Cellars 2020; 2 x Pinot Noir Muddy Water 2018; 2 x L'Aurage 2016; and 2 x Moulin-à-Vent Champ de Cour Domaine Labruyère.
X MUSE (pronounced 'Tenth Muse') is inspired by the spirit-making traditions of Scotland. The historical influences call for a luxury drink with a unique and speciality blending process. X MUSE is the first luxury blended vodka of its kind to be produced using barley. It perfectly blends two heritage varieties of barley – Plumage Archer and Marris Otter – both of which are grown in the UK and distilled separately. X MUSE draw on the history, craftsmanship, experience and elegance of the past to employ craft and new methods, expertly blending heritage barley with the purest water to produce a delicious, elegant vodka of the richest, deepest character and qualities.
X MUSE's process is unique and it is this careful orchestration of barleys, prized for their flavour rather than their yield, that makes this vodka smooth, rich and complex. Sip luxury, straight from your glass without having to mix in any other flavours. It is smooth and pure, bursting with expert notes and flavours. Or use as an essential component for luxury cocktails and martinis.
Jack Daniel's Gentleman Jack from The Whisky World
Introducing Jack Daniel's Gentleman Jack, an enticingly smooth and supple whiskey that offers a true taste of Tennessee refinement – and now available with your choice of personalised engraved message from The Whisky World, the go-to online destination for a wide range of whiskies, spirits and gift ideas. The Whisky World's bespoke engraving service is the perfect way to show someone you care, and the ideal solution for Christmas, birthdays, weddings and more.
Visitors to the American South will need no introduction to the sugar maple tree, with its breathtakingly beautiful autumn foliage – and it is the sugar maple that gives Gentleman Jack its velvet-rich character. This whiskey from the creators of the world-renowned Jack Daniel's is mellowed not once but twice by passing through multiple layers of sugar maple charcoal, resulting in a supremely complex spirit of unforgettable character and distinction.
Christmas Drinks Cabinet Hamper from Harvey Nichols
Any yuletide beverage conundrums are solved in considerable style by the Harvey Nichols Christmas Drinks Cabinet Hamper. Lift the lid to discover a party just waiting to happen…
There's the now iconic Snow Globe Orange & Gingerbread Gin Liqueur (grab it while you can because it sells out rapidly every year), frivolous fizz for celebratory toasts, warming glögg for cold evenings, four pre-mixed festive cocktails to make hosting effortless, the finest sherried Scotch to leave out for Santa on Christmas Eve, gin and tonic with a figgy pudding twist, red wine, white wine, and lots of naughty nibbles to line the stomach. Consider the Christmas drinks cabinet well and truly stocked. Now all you have to do is eat, drink and be merry.
Christmas Spirit from Black Cow Vodka
All the ingredients of Christmas pudding, macerated into a velvety smooth Black Cow vodka. The recipe for Christmas Spirit was created at our kitchen table using an assortment of winter fruits and spices: brown sugar, currants, figs , raisins, orange zest, lemon zest, cinnamon and vanilla.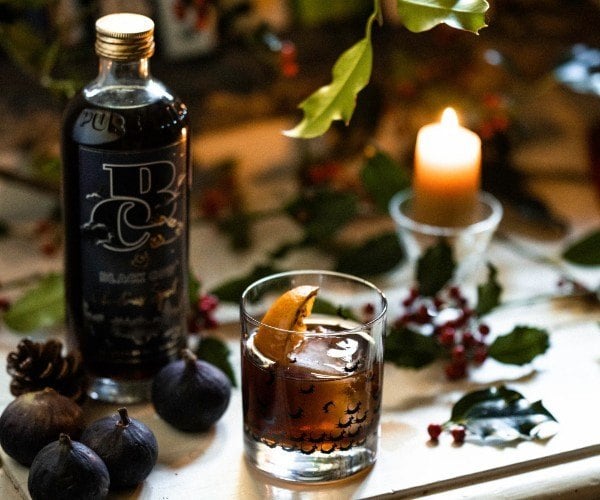 The International Wine and Spirit Competition (IWSC) awarded Christmas Spirit a dazzling 96 out of 100 points at its 2021 competition, describing the vodka as "super complex with raisins, prunes, nutmeg and cinnamon flavours packed in. Controlled, well balanced with some bitter touches on the finish.
Founded by some of the world's best bartenders, Whitebox Cocktails create truly exceptional ready-to-serve cocktails made with the finest spirits. Make someone's Christmas a very merry one indeed with the Classic Cocktail Gift Pack (£34), the ultimate grown-up selection box for the cocktail lover in your life.
Each box contains six best-selling Whitebox classics including their iconic Pocket Negroni (100ml, 21.8% ABV), along with 100ml single serve cans of Prêt à Boire Boulevardier (22% ABV), Classic Cosmo (16.8% ABV), Freezer Martini (34.4% ABV), Chipper's Cherrywood Old Fashioned (32.2%) and Squeezy's Margarita (19% ABV). Take the guesswork out of the perfect pour this festive season. Just chill, pour and enjoy world-class cocktails, ready to enjoy in the moment!
Festive gin hamper from Shed 1 Gin Distillery
An atmospheric artisan micro gin distillery on the edge of the English Lake District, Shed 1 Gin Distillery is known for their range of award-winning premium gins. This Christmas, create your own delicious festive tipple gin hamper as an indulgent treat or a luxury gift. Just be sure to include their Limited Edition Festive Bramble Gin Elixir. Created by hand in small batches from locally foraged fruits and organic heritage apples, this is a true gin with the warm, rich, sweetened, smooth comfort of a real liqueur. It really is Christmas in a glass! Gin hampers available from £25. Shed 1 plant a tree for every online order.
Spiced Christmas tea from Betty's
Betty's Spiced Christmas tea is blended with tangy lemon, fruity orange and mellow, warming spices – perfect for the festive season. For the perfect cup we recommend that you use one tea bag per cup, add freshly boiled water and infuse for 3-4 minutes. The spicy flavour is best appreciated without milk.
The Globetrotting Coffee Luxury Hamper from The East India Company
Once coffee came to Britain in the 1650s, The East India Company helped fuel the London Coffee House boom and with it, the future City of London. Explore coffee beans from far-off lands on a journey from Asia, to Africa and the Americas, together with some delightfully moreish sweet treats too.
A large double-walled glass mug is a great way to appreciate fine coffee – why not brew up, pour a cup and settle down for a light read? The Book of Coffee is full of revealing facts and anecdotes about this celebrated bean. This luxury cotton-lined wicker gift hamper is guaranteed to satisfy all your curiosities about coffee.
Twelve Days from Hook Norton Brewery
Twelve Days from Hook Norton Brewery is strong dark porter beer, with a malty palate and nutty overtones, that give way to a lyrical sweetness. A great beer for those long winter evenings. It has been described as Christmas in a bottle! Best enjoyed not too far from a roaring log fire.
Christmas Hot Chocolate Gift Set in a Canvas Bag from Chococo
Spend Winter evenings sipping the frothiest, single origin hot chocolates and delving into festive chocolates with Chococo's Christmas Hot Chocolate Gift Set, beautifully packaged in a sustainable canvas bag.
The gift set includes 72% Ecuador origin hot chocolate flakes in a reusable tin (vegan-friendly chocolate); hot chocolate shaker – easy to use and electric-free; enamel mug featuring Chococo's Hug of Hot Chocolate design; and a box of 8 Dorset Sea Salt Caramel Stars Chocolates, all packed in a sustainable Chococo canvas bag.
Signature Christmas Cocktail Gift Set from Imp & Maker
Imp & Maker's Signature Christmas Cocktail Gift Set makes the perfect Christmas Cocktails for friends' colleagues and loved ones this festive season. For their delicious Signature Cocktails Gift Hamper, they've teamed up with the incredible Tom Savano, the Luxury make-your-own cocktail brand that oozes quality, for cocktails that are easy to prepare and connect with your inner mixologist every time!
Christmas cider from Marks & Spencer
Citrus and spice-flavoured cloudy winter cider, made with vintage English apples and clementine juice for a warming flavour. Expertly blended for M&S by Sandford Orchards in Devon. With its festive flavour and seasonal spices, this cider is a perfect match for roast pork, baked gammon and a Christmas Yule log. Best served chilled.
Cranberry juice from Frobishers
Looking for a refreshing and flavorful juice to enjoy? Look no further than our Frobishers' cranberry juice! Their cranberries are harvested just as the white berries blush a deep, luxurious red signalling tip-top ripeness. This delicious drink comes in a convenient 250ml bottle, perfect for enjoying over ice, mixing with Sloe Gin, or in other cranberry juice cocktails. Give it a try – you won't be disappointed.
Cocktails & Nibbles Box from Rick Stein
With cocktails created by Charlie Stein, this gift set is a ready made Christmas party, complete with shaker to show off your bartending skills. Perfect cocktail condiments include nuts and olives developed to Rick Stein's specification and recipes and Sea Salt biscuits made in Cornwall. Not forgetting the all important cocktails which serve up to six drinks.
---
IMPORTANT NOTICE:
If you are reading this article anywhere other than on A Luxury Travel Blog, then the chances are that this content has been stolen without permission.
Please make a note of the web address above and contact A Luxury Travel Blog to advise them of this issue.
Thank you for your help in combatting content theft.
---
Dry Ginger Ale from Folkington's
Folkington's Dry Ginger Ale is made from West African ginger root and blended with carefully-selected botanical extracts made in small batches. Ingredients are always sourced sustainably by returning to the same farms and farming communities each year. This contributes to their long term sustainable income, and also ensures Folkington's drinks have a unique consistency in both quality and taste.
Gingerbread Latte Cream Liqueur from Tesco
This Tesco Finest gingerbread latte flavour Irish cream liqueur has aromas of gingerbread and coffee with hints of Irish single malt whiskey, all enveloped in velvety Ballyrashane double cream. It is perfect served over ice or in a liqueur coffee with a whip of cream.
Spending an extended period outside on a chilly winter evening? Why not enjoy something warm, fruity and lightly spicy from Majestic? Best of all, you can make this in bulk and cater for a few friends with minimum effort. It's a real taste of Christmas.
Non-alcoholic drinks from Crossip
Regardless of the reason for choosing alcohol-free, Crossip believe the drinker should expect more. Soft drinks and mocktails just don't cut it. Neither do alcoholic spirit imitations whose flavours get lost as soon as they're mixed. Texture, depth and mouthfeel are everything when creating a mature and sophisticated drink, whether as a fancy cocktail or with a simple mixer.
Try Dandy Smoke, inspired by their favourite smoky, dark spirits – ideal for sour cocktails or with cola and a squeeze of lime. Pure Hibiscus, on the other hand, is inspired by their favourite Italian bitters and aperitifs – the perfect 0% option for a Negroni or Spritz. And Fresh Citrus is inspired by their favourite fruity botanical spirits – superb in a Mojito, Cosmo or just with tonic!
If you represent a product that you'd like to see feature in a future article like this one, please click here to subscribe to the retailer channel of A Luxury Travel Blog's mailing list.