By
Paul Johnson
on Mar 28, 2013 in
Argentina
,
Brazil
,
Chile
,
Colombia
,
Cruises & Boat Travel
,
Ecuador
,
Featured
,
Peru
,
South America
,
Speciality Travel
South America is very proud of its Roman Catholic heritage and traditions, and none more so than the present with the recent appointment of the first South American Pope, Pope Francis. If you are deliberating on where to go in South America this Easter, then here are 10 ideas that will help you make up your mind.
Hangaroa Eco Village & Spa, Easter Island
Where better to spend Easter than on Easter Island? Hangaroa Eco Village & Spa is the new incarnation of the Hotel Hangaroa, a property intimately linked to the history of the island. For many years this was literally the only place to stay on the island, and famous names like Chilean poet Pablo Neruda and Thor Heyerdahl stayed there having been captivated by the mysteries of the island. While the number of visitors was once a trickle, today the island is more popular than ever. Over 50,000 people visited the island last year and tough subjects, such as limiting the number of visitors in future years, are on the lips of those who are involved in the stewardship of Easter Island.
Hangaroa Eco Village & Spa aims squarely at the luxury traveler. The Mana Vai spa offers a range of therapies, massages and treatments, many based on natural products from the island. The resort pool is set amidst tropical native plants, flowers and trees. The resort will keep a discreet profile despite a superb location midway between the airport and Hanga Roa town. Chillean poet Pablo Neruda described Easter Island as "a secret island, a rose… of purification, a golden navel". It is likely that on your visit to this remote, mysterious place, which is emblematic of the world's environmental fragility, you'll feel that not much has changed since Neruda visited.
Casa Gangotena, Quito, Ecuador
Visit Quito – the second highest capital city in the world – during the Easter festival and you will be in for a treat. There's a colourful procession through the streets on Good Friday, with around 100,000 participants winding their way through the Old Town.
Stay at Casa Gangotena, overlooking Plaza Francisco, and be in the heart of the action as well as close to many of Quito's museums and historic churches. Sophisticated and eclectic, historic yet contemporary, here style, passion and service blend seamlessly and delightfully. Despite its tranquillity, a stay here puts you in among many restaurants and bars that occupy the buildings of former palaces. Don't forget to try the hot chocolate at Casa Gangotena's internal courtyard – it is Easter afterall.
El Casco Art Hotel, San Carlos de Bariloche, Argentina
Located in one of the most beautiful spots in Patagonia, on the shores of Lake Nahuel Huapi El Casco Art Hotel blends with an awesome landscape; together with its stylish architecture and comfort, El Casco offers its guests a unique and memorable experience. The modern version of El Casco was conceived as an Art Hotel, with a magnificent collection of more than 500 paintings and sculptures of Argentine Art.
Those looking for a chocolate fix this Easter will be pleasantly surprised since Bariloche is the southern hemisphere's answer to Switzerland. That not only means clear blue lakes and snow-capped mountains, but also a plethora of chocolate shops since the city happens to have a thriving chocolate industry.
Peru's Inca Trail with peruforless.com
Peru's Inca Trail has been re-opened following its annual maintenance and Easter marks the start of dry season, making this the perfect time to visit the Andes and tackle one of the world's most iconic treks. The four day Inca Trail to Machu Picchu is a world-renowned trekking route that is celebrated for its scenery, fascinating archaeology and of course, its dramatic conclusion at the fabled citadel of Machu Picchu. There are numerous treks in the region but this is the only way to reach Machu Picchu by foot and beat the crowds to explore the ruins in peace.
For travellers who wish to get a taste of adventure while not straying too far from comfort and luxury, there are now a variety of luxury trekking options in the region, including a luxury or 'glamping' Inca Trail trek and a lodge-to-lodge trek that eschews campsites for luxurious mountain lodges.
Float down the Amazon in a floating boutique hotel, complete with personal chefs, king size beds, air conditioning, and hot showers. Choose either the Delfin I or II, wood-paneled boats with three decks each, respectively. Your days are occupied with pre-planned day-trips on the surrounding river, or to nearby port-towns, while your nights are spent lounging in an on-deck Jacuzzi with panoramic views of the Amazon River and rainforest.
Multi day tours leave from Nauta, a port town just outside the Pacaya Samiria National Reserve, which is a well-known home to the legendary pink dolphin of the Amazon.
Privacy is the ultimate luxury! If you are searching for a family friendly spring break destination, then look no further than 4Volcanoes Lodge in the lake region of mega-diverse Ecuador. You find this gem of a spacious, secluded villa in a lush valley of the Andes mountains, just one hour from Quito international airport. The stylish, open plan Lodge, as recommended by Conde Nast Johansens Luxury Guide, can be rented for exclusive use for no more than ten guests.
Large living rooms have wall-to-ceiling windows and wood burning fire places. No two families have the same needs, and while the villa is equipped with many useful amenities for a self catering vacation, you can add your tailored service package with a private chef, chauffeur, child care arrangements, inhouse Spa services or mountain guiding as you wish.
The bilingual staff at 4Volcanoes Lodge is available to cater to any of your need, how about an Easter egg treasure hunt in the garden for your children?
The equatorial climate guarantees lots of sun for outdoor activities and the vivid indigenous culture is definitely worth a visit. An extensive perennial garden features a walkable labyrinth, and a hidden orchid patio envelopes a romantic hot tub, where you can enjoy some time away from it all. Act fast though – the Lodge is available for just one group at a time! 4Volcanoes Lodge is also pleased to offer a 10% discount to readers of A Luxury Travel Blog.
Machu Picchu with SA Luxury Expeditions
Clinging to verdant mountains and nestled below two arching peaks, Machu Picchu is perhaps the world's most impressively-placed city. The famous Inca citadel, one of the New Seven Wonders of the World, is the perfect place to splurge this year for your Easter vacation. SA Luxury Expeditions is a small South America luxury tour company that operates private excursions in Peru. Their 6-day Machu Picchutour is an ideal way to visit Peru during the Spring holidays, highlighting the best of Peru and culminating at the intricately designed and magnificently placed Machu Picchu. Three of the five nights in this inclusive package are spent in Cuzco, the former capital of the Inca Empire, which today is a dazzlingly mix of ancient ruins, colonial opulence, and modern luxuries. Individual day tours of Cuzco and the Sacred Valley are designed to lead up to the highlight of the trip, a privately guided tour of the Machu Picchu citadel.
During the week of Easter, called Semana Santa, Cuzco's cobblestone streets overflow with religious processions. Like its architecture, Cuzco's religion is a blend of old and new Catholic beliefs interspersed with local indigenous traditions, practiced since the reign of the Incas. The Monday before Good Friday, for example, is dedicated to the Lord of the Earthquakes, El Señor de los Temblores, who is credited with ceasing an earthquake in 1650. In celebration and reverence, an image of a black crucified Christ is paraded through the streets, much like Incan mummies were before the Conquest. Although no time is a bad time to travel to Machu Picchu and Cuzco, visiting during Semana Santa gives special insight into the diversity and living culture of Andean Peru.
Casa San Agustin, Cartagena de Indias, Colombia
This Easter why not try Casa San Agustin's luxury suite and yacht package? With 3 nights accommodation in a luxurious suite, you'll cruise on the Caribbean Sea for a day excursion on a private yacht to explore the beauty of Islas del Rosario. Back on shore, enjoy a handcrafted cocktail before dinner in Casa San Agustín's open-air courtyard.
Afterwards, pop into Café Havana – Cartagena's most exclusive club – located in the lively Getsemaní quarter, and dance to hip-swinging beats of rumba with the locals well into morning.
Copocabana Palace, Rio de Janeiro, Brazil
All eyes will be on Rio in the coming years, what with the 2014 FIFA World Cup and the 2016 Olympics, so why not take the opportunity to visit this Easter before the city is the subject of much media frenzy? The place to stay on any visit to Rio must surely be the Copocabana Palace situated right on the world-famous Copocabana Beach. The hotel is exceptionally well-equipped given its city centre location, and comes complete with swimming pool, tennis court, fitness centre and spa.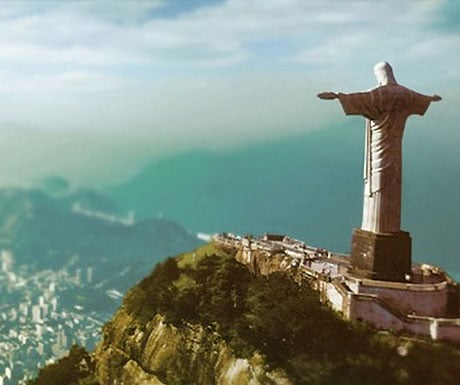 Despite Brazil being a devoutly Roman Catholic country, Easter is a relatively subdued affair in Rio, perhaps because it comes on the back of the much more extravagant celebrations of Rio Carnival held just weeks earlier. It is nevertheless a perfect opportunity to have a break and enjoy a little R&R.
Galapagos cruise with Totally Latin America
The Galapagos Archipelago is a living and breathing set of islands born from an underwater volcano. Moving eastwards at a rate of 2 inches per year, it's a land where strange animals found nowhere else on earth dominate the unique landscapes. Located 600 miles east of mainland Ecuador, the Galapagos Islands are made up of 13 large islands and over 100 small islets, rocks and reefs. Straddling the equator, the remote islands were once home to only pirates, buccaneers and whalers. In 1835, only when the young and relatively unknown British naturalist Charles Darwin arrived in the Galapagos did the true significance of the islands become apparent. Although the mission of his ship (the H.M.S Beagle) was to charter the unknown waters of South America, his discoveries in the Galapagos would go on to change the way we think about the creation of life for ever.
Nowadays, the Galapagos Islands are one of South America's best attractions. Considered to be one of the "New 7 Wonders of the World" – the islands attract more than 200,000 visitors annually, and the most popular way to navigate the Galapagos is on a multi-day cruise aboard a luxury cruise ship. Popular vessels include the M/Y Grace- named after her late owner Her Serene Highness Princess Grace of Monaco, the brand new Ocean Spray Catamaran – widely considered to be the best boat in the Galapagos and the S/S Mary Anne – a 172 foot yacht known in the sailing world as a barquentine. Take advantage of the very best Ecuadorian hospitality aboard a luxury Galapagos cruise ship booked through Totally Latin America and discover one of the world's greatest natural wonders- the Galapagos Archipelago.