By
Paul Johnson
on May 16, 2017 in
Attractions
,
Europe
,
Featured
,
Food and Drink
,
Going Out
,
Leisure Travel
,
Regions
,
Restaurants
,
Road Travel
,
Speciality Travel
,
Travel Miscellany
,
United Kingdom
,
Western Europe
Cumbria isn't one of the easiest counties to get around if you don't have your own transport. Not only is it the third largest county in England, but it is also the second most sparsely populated, meaning that most things tend to be a drive away. The county is far easier than many people realise to get to, though. In as little as 2 hours and 24 minutes on the train from London Euston, you can be in Lancaster, which is where I collected my rental car from Hertz for the purpose of sharing a 3-day culinary adventure across Cumbria and the Lake District. Cumbria is just a short drive from Lancaster and for this assignment I was behind the wheel of an immaculately-presented Volvo XC60, not too dissimilar from my own vehicle at home as it happens – an XC90 in a very similar colour – but with enviably fewer miles on the clock… just a paltry 281, in fact!
This was my planned route over the course of the next few days:
With the boot suitably loaded with gear (cameras, drones, tripod, etc.), it was time to get out and explore…
Affectionately Known as 'Ye Auld Grey Town' and widely considered as the 'Gateway to the Lakes', many tourists visiting the Lake District begin or end their journey by calling in on the historic market town of Kendal, perhaps best known as the birthplace of modern day energy bars for it is here that mint cake was born. Extremely high in sugar and with a hint of peppermint, Kendal mint cake was in fact discovered by accident when trying to make peppermmint creams. It achieved worldwide recognition in 1953 when Edmund Hillary and Tenzing Norgay made the first successful ascent of Mount Everest, with this sugary snack being one of the items in the team's provisions.
Today, Kendal has two producers of mint cake and we called in on the oldest these, Quiggins, which formed in 1840 and has been making mint cake in the town since 1880, to see this process first-hand. A large vat of glucose, water and sugar is brought to the boil before being taken off the heat to allow the addition of fondant, which apparently aids the binding process, and peppermint essence. The resulting viscous liquid is then poured into moulds where it quickly sets. What the photographs don't show you are the smells and sounds – the vapour from the peppermint essence is so pungent that it can actually cause a mild irritation to your eyes.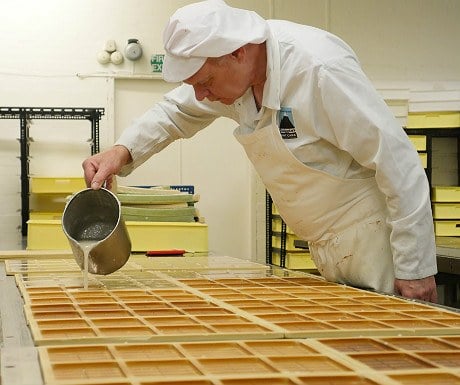 A day or two later, once the mint cake has fully cooled, it is passed to the floor above for packing.
The workforce required for the entire operation is relatively light, although there is some machinery to help with this process.
On the way out of Kendal, I drove to Low Sizergh Barn, a traditional working farm and shop stocking local produce from freshly-baked loaves to the farm's own free range eggs and locally-reared meat. You'll also find a wonderful cheese counter here, recognised by The British Cheese Awards, with three cheeses made from the local herd: Kendal Creamy, Kendal Crumbly and Kendal Crumbly with Red Onion.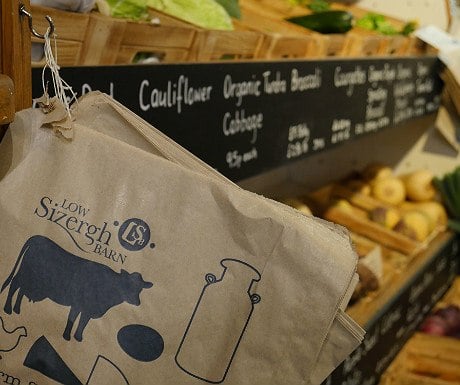 One of the things that makes this farm shop a little bit different is that it has an upstairs café from where you can watch the cows being milked.
From around 3.45pm each day, you can watch from a viewing platform close to the shop entrance or, for a view from above, take a seat in the café by a window overlooking the barn. As you enjoy your coffee and cake, you can also marvel at the spectacle of a herd of around 120 dairy cows passing through. This is a firm favourite with younger children especially!
Another interesting aside to this enterprise is that, as part of the Growing Well scheme, Low Sizergh Barn Farm also offers a friendly, non-threatening and non-judgemental workplace to anyone recovering from mental health problems.
From Sizergh, I drove along the A590 towards the Furness and Cartmel Peninsulas, a much-overlooked part of Cumbria relative to the Lake District which enjoys the lion's share of the tourist limelight. And just off from the busy A590, which runs all the way to Barrow-in-Furness in the west, is WRS Architectural Antiques – an antique and architectural reclamation business based at Yew Tree Barn. Once positioned on the main road, an arguably much-needed bypass completed in 2008 meant that the villages of High Newton and Low Newton were effectively 'skipped'.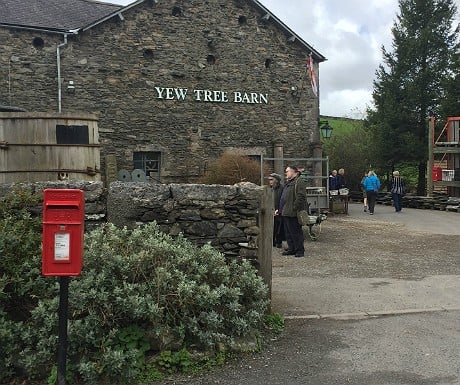 This was no doubt a worrying time for local businesses that depended on the passing trade; however, in the case of this particular business and with the expansion of Harry's Café Bar on the site, and the strong support of local customers, WRS has not looked back and continues to offer a very diverse range of antiques, from bath tubs to benches and a lot more besides.
The menu the café includes items such as smoked haddock chowder and venison burgers and, for those just looking for elevenses or a mid-afternoon treat, there's a tempting array of cakes to choose from.
Meanwhile, those just using the A590 for their daily commute now have minutes shaved off their journey time each day, so it seems everyone's a winner.
Also close by is the picture postcard village of Cartmel, famous for its 12th Century Priory (and, much more recently, sticky toffee pudding). The village has become quite fashionable in recent years and enjoys an ever-increasing amount of attention thanks to various celebrity endorsements. (Chris Evans regularly mentions it on his breakfast radio show on BBC Radio 2.) Despite being a small village, Cartmel has four pubs and even a restaurant with two Michelin stars (L'Enclume).
Also close is the fishing village of Flookburgh where you'll find a number of houses with signs outside saying that there are potted shrimps or cockles for sale. Local fishermen risk the perils of the sinking sands of Morecambe Bay by driving out on their tractors to see what they can catch. Small brown shrimps are collected (not what many might typically regard as a shrimp – these are just a few centimetres long) are peeled and potted by families at home, before being distributed throughout the country – even to upscale retailers such as Harrods. The dangers of this job and not to be underestimated – tractors are sometimes lost to the sinking sands and a disaster in 2004 saw at least 21 illegal workers tragically lose their lives to the rapidly-changing tides.
For more of a taste of the first day of my 'delicious drive' with Hertz, I hope you enjoy the video below:
Disclosure: This post is sponsored by Hertz.