An active family holiday in Scotland: Day 7
We practiced on the moorings at Otter Ferry today – both hooking on to them and safely leaving them. We had arrived in darkness the previous night and anchored just a short disstance away from them. Whilst we were fine with what we had done, the moorings would have given added peace of mind (particularly if we had been sailing without an experienced skipper) and would no doubt have been what we would have chosen if arriving in daylight.
Attaching to a mooring is made extra easy because there's a prominent sign that says just £10 is payable to the local pub, and it can be paid by BACS so you don't even need to go ashore if you don't want to.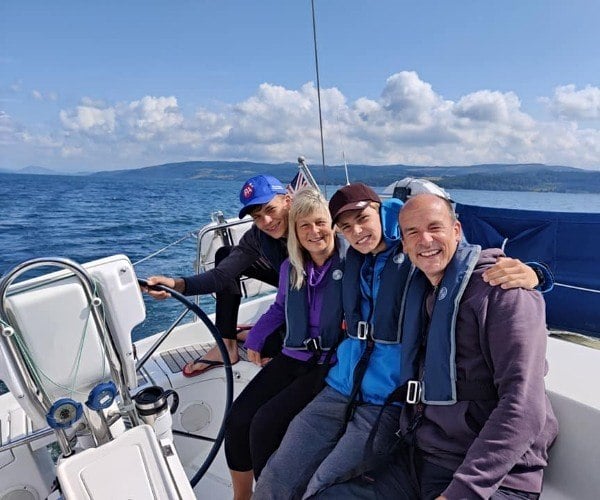 After a bit of pratice, we sailed to an anchorage at Ardmarnoch Bay and had lunch. In the afternoon, the wind picked up and we sailed on to
Portavadie
which began its transformation into an upscale marina in late 2009 (and opened the following year). In getting there, we reached speeds of about 8 knots; the wind regularly picked up to between 20 and 25 knots so we put a reef in our sail.
Not for the first time, we also spotted the distinctive Waverley paddle steamer which was in the area. Remarkably, she's the last seagoing passenger-carrying paddle steamer in the world.
Just as we came into the marina, a solitary dolphin arched its way out of the sea a couple of times, almost as if to tell us we had reached Portavadie, before disappearing off. Perhaps distracted, I stupidly managed to drop a fender into the sea but thankfully we were able to retrieve it, and my pride wasn't dented too much! All in all, it was another great day with
Go West Sailing
.
An active family holiday in Scotland:
You can read the full trip by clicking on any of the links below: Day 1:
Mossyard
Day 2:
Mossyard – Kirroughtree – Glentrool
Day 3:
Glentrool
Day 4:
Glentrool – Largs
Day 5:
Largs – Scalpsie Bay – Tarbert
Day 6:
Tarbert – Ardishaig – Otter Ferry
Day 7:
Otter Ferry – Ardmarnoch Bay – Portavadie
Day 8:
Otter Ferry – Ardmarnoch Bay – Portavadie
Day 9:
Portavadie – Largs
Day 10:
Largs – Glasgow
Diclosure: Our sailing holiday was sponsored by Go West Sailing.
Did you enjoy this article?
Receive similar content direct to your inbox.