Portavadie is much more than just a marina. It's a luxury resort with a variety of accommodation options from luxury apartments and lodges to guest bedrooms, couples hideaways and motorhome facilities. It's also home to a restaurant, bar and shop, as well as spa and leisure facilities. We took the opportunity to use the gym and enjoy a family Leisure Experience which provided us with access to the resort's outdoor infinity pool as well as the pool, sauna and steam room inside. For the first time in our trip, the weather wasn't quite so favourable so this actually worked out really well for us. In fact, I think there's some kind of magical charm to swimming outside in the rain – for the record, though, here's what to expect on a good day.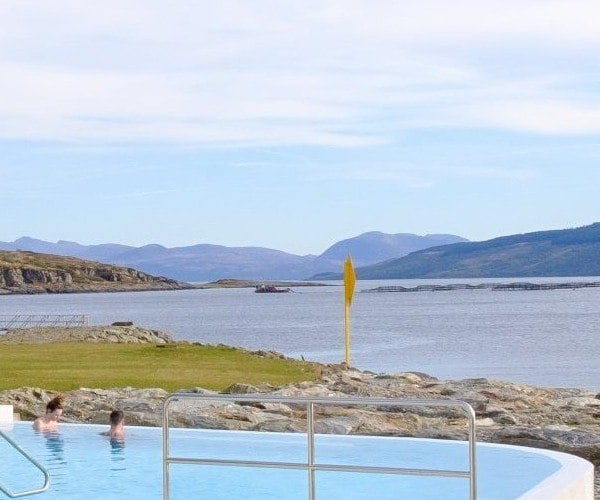 If you ever fancy a little bit of a pamper on your sailing holiday with Go West Sailing, then a stop at Portavadie is highly recommended. The spa uses ishga products which have been developed in the Outer Hebrides, using the highest quality and purest Scottish seaweed combined with water from a natural spring situated on the beautiful Hebridean Isle of Lewis.
Having successfully dodged the worst of the day's weather, we set off and motorsailed along the Kyles of Bute, a narrow sea channel that separates the northern end of the Isle of Bute from the Cowal peninsula on the Scottish mainland, spotting one or two seals along the way as well as the Maids of Bute (two painted structures on land – see midway through this post) which we had seen last year. The forecast had not been good but, although there wasn't much wind or it wasn't so favourable for the direction in which we were travelling, we were fortunate for the most part.
As we neared Port Bannatyne, our stop for the evening, we saw around a dozen porpoises darting below and occasionally breaching the surface. They were quite nippy little things – unlike dolphins which can grow up to 4 metres long, porpoises are typically around 1.5 metres in length and can reacher faster speeds, meaning they're not the easiest to photograph!
Situated on the east coast of the Isle of Bute, Port Bannatyne was our home for the night. There's been a harbour there since 1801 but it really developed in the 1900s as a quieter alternative to the much larger Victorian resort of Rothesay, the main town on Bute, which is just a mile and a half away.
An active family holiday in Scotland:
You can read the full trip by clicking on any of the links below:
Day 1: Mossyard
Day 2: Mossyard – Kirroughtree – Glentrool
Day 3: Glentrool
Day 4: Glentrool – Largs
Day 5: Largs – Scalpsie Bay – Tarbert
Day 6: Tarbert – Ardishaig – Otter Ferry
Day 7: Otter Ferry – Ardmarnoch Bay – Portavadie
Day 8: Otter Ferry – Ardmarnoch Bay – Portavadie
Day 9: Portavadie – Largs
Day 10: Largs – Glasgow
Diclosure: Our sailing holiday was sponsored by Go West Sailing. Our use of the mooring and leisure facilities was courtesy of Portavadie.