In the morning, we let the dog stretch his legs and took him for a short stroll just out of the campsite. Turning left out of the site, we by chance stumbled upon the Glentrool Kindness Path where the local villagers had taken it upon themselves to decoarate stones along a 200m or so stretch of the footpath.
They had been decorated in all manner of ways, invariably with the sole aim of brightening up your day. Messages such as 'Be-YOU-tiful' and 'Say something nice to the person to your left' could be found along the way, as could small stones painted as ladybirds for children to take as a keepsake. There must have been several hundred painted stones along the route.
Visitors are invited to paint stones themselves so that the project can grow further. For more inspiration, see the Glentrool Kindness Path Instagram page.
This pleasant distraction aside, our real reason for being in the area was to explore another of the 7stanes – seven sites across southern Scotland famed for their world-class mountain biking. And it just so happened that the start of the Glentrool mountain biking venue was only two miles away.
The routes at Glentrool are more suited to beginners, with green and blue routes available. But don't let that put you off if you prefer something more challenging: there's also The Big Country Route – a 36-mile/58-km forest route that's estimated to take riders anything from 3.5 to 7 hours to complete.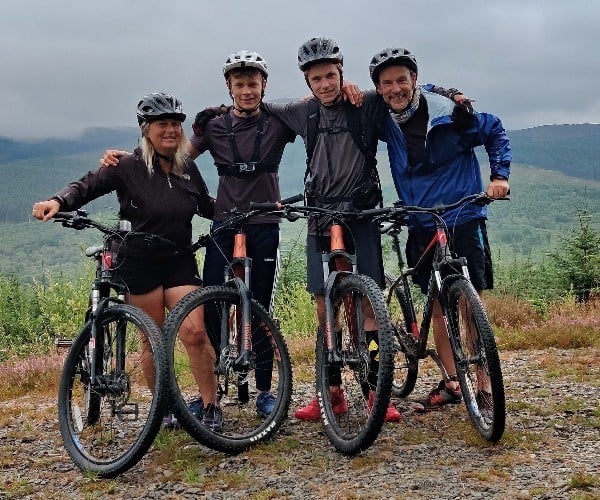 The routes we did involved a fair amount of climbing – in fact, it felt a little relentless at times as, every time we thought we were getting to the top, we turned a corner only to find there was still some way to go – but wouldn't be at all arduous to a seasoned mountain biker, I don't think. Once at the top of your chosen route, the descents down are enjoyable and tend to be mostly made up of narrow tracks with some loose gravel and occasional berms as you wind your way back to the car park.
In the evening, we went into Newton Stewart – a typical Scottish town just a 10-15 minute drive from Glentrool. It does not have the most attractive high street, but stroll along the River Cree which runs parallel and you'll find it's a little more picturesque. We had planned to eat at The Crown on the recommendation of the campsite but that wasn't possible due a wedding function. The alternatives didn't seem so appealing, nor were they that highly rated online, so we opted instead to head to the local Sainsbury's and cater for ourselves back at the motorhome.
This part of Scotland – the Galloway Forest Park – enjoys Dark Sky status and is just the fourth Dark Sky Park in the world (and first in the UK). And it just so happens that Glentrool is home to one of three Dark Sky visitor centres in the area. Sadly, though, it was cloudy… we weren't having much luck, but it gives us a good excuse to visit this part of Scotland again some time.
An active family holiday in Scotland:
You can read the full trip by clicking on any of the links below:
Day 1: Mossyard
Day 2: Mossyard – Kirroughtree – Glentrool
Day 3: Glentrool
Day 4: Glentrool – Largs
Day 5: Largs – Scalpsie Bay – Tarbert
Day 6: Tarbert – Ardishaig – Otter Ferry
Day 7: Otter Ferry – Ardmarnoch Bay – Portavadie
Day 8: Otter Ferry – Ardmarnoch Bay – Portavadie
Day 9: Portavadie – Largs
Day 10: Largs – Glasgow