An active family holiday in Scotland: Day 6
We did a bit of pontoon practise with
Go West Sailing
this morning – practising our 'spring starts' where the stern stays close to the pontoon, as well as practising coming into a pontoon – before heading out to sea, when something immediately caught our eye. We motored out to what looked like dolphins or minke whales in the distance.
It turned out to be dolphins – scores of them, if not more than a hundred, it was hard to estimate. They were jumping and playing around the boat, as a couple of other boats came to join us and admire the spectacle. It was quite incredible. I've seen dolphins in the wild on numerous occasions in various different parts of the world, but never quite like this.
Goodness knows how much time elapsed whilst we were observing them – it was one of those occasions where you lose all sense of time and are just mesmerised by what's happening before you.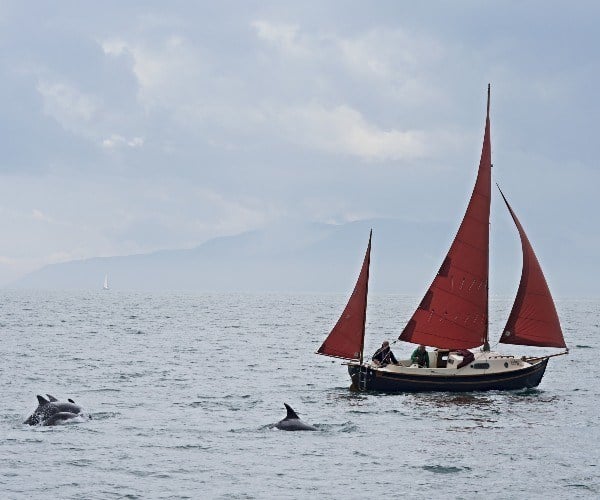 A couple of hours must have passed and we headed back to Tarbert for lunch before sailing to an anchorage at Ardishaig where we had a swim, some dinner, played cards and rested before going for a night sail.
The night sails are always an interesting experience. You lose the ability to judge distances, and have to rely more on lights (and the stars if they are visible and you have the knowledge). Using a torch to check for lobster pots or drifting debris, we headed for an anchorage at Otter Ferry. There's also a curious calmness that comes with the darkness, and some skippers would say they actually find it easier to navigate at night.
And, whilst the night sail was great fun, the dolphins stole the show today…
An active family holiday in Scotland:
You can read the full trip by clicking on any of the links below: Day 1:
Mossyard
Day 2:
Mossyard – Kirroughtree – Glentrool
Day 3:
Glentrool
Day 4:
Glentrool – Largs
Day 5:
Largs – Scalpsie Bay – Tarbert
Day 6:
Tarbert – Ardishaig – Otter Ferry
Day 7:
Otter Ferry – Ardmarnoch Bay – Portavadie
Day 8:
Otter Ferry – Ardmarnoch Bay – Portavadie
Day 9:
Portavadie – Largs
Day 10:
Largs – Glasgow
Diclosure: Our sailing holiday was sponsored by Go West Sailing.
Did you enjoy this article?
Receive similar content direct to your inbox.